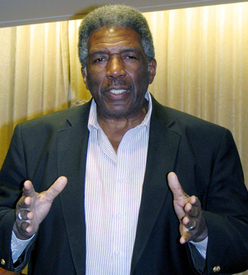 OAKLAND, Calif. — In a midnight action Dec. 5, Oakland's City Council responded to a wave of community opposition by referring a controversial measure for more apartment-to-condominium conversions for further study. It will now be taken up by a blue ribbon commission already charged with examining a separate proposal requiring builders to include housing for low-income residents.
As many as 150 people had gathered at City Hall earlier in the evening, with many submitting cards to speak on the measure. Dozens of members from community groups, unions, faith-based organizations, environmental groups and more had participated in a press conference before the meeting, denouncing the plan as a grave threat to the ability of working families to continue to live in Oakland.
The proposal, introduced by City Council President Ignacio de la Fuente along with Councilmembers Desley Brooks and Henry Chang Jr., would have allowed conversion of 800 to 1,500 rental units per year into condos and ended a requirement that each converted apartment must be replaced by a new rental unit. Instead, a fee of up to $18,000 per unit would go to help first-time buyers with down payments.
While its authors called the proposal the "Affordable Homeownership Initiative," opponents charged the new measure would instead open the way to evictions and displacements of working-class renters, including many racially oppressed minorities.
"The people who are pushing for this are developers," Oakland Tenants Union leader James Vann told the press conference. "No tenants are urging the City Council to pass this so their mortgage payments will go up two-and-a-half or three times what they are paying in rent."
Several speakers pointed out that tenants will not be able to afford to buy their units, which will sell for a projected minimum of $375,000. They warned of community-wide effects from a cascade of evictions and displacements.
With renters making up 60 percent of Oakland's population, and the city already falling short by 40,000 rental units, the proposal "is a serious matter, with a devastating social impact," said Francis Chang of the Asian Pacific Environmental Network. Citing his family's suffering in an earlier condo conversion eviction, Chang said, "We must not let this happen again to our neighbors."
Former City Councilman Wilson Riles, a councilmember when the current conversion ordinance was passed, urged keeping its requirement to replace lost rental units. In 1981, he said, "the condominium craze had just started. Seniors, working families, students — people who make this city a diverse, vibrant community — were being forced out on the street, and out of the city altogether." The council responded by linking any conversion to creation of a rental unit somewhere in the community, he said.
Most of the condos will be priced much higher than the developers are projecting, warned Amie Fishman, executive director of the East Bay Housing Organizations coalition. Proposed subsidies to lower income buyers will have little effect, she said, resulting in "displacement and disruption of communities that are the bedrock of this city."
Affordable housing advocates plan to release proposals soon, as task forces make public the projections for city policy they have developed in preparation for the inauguration of progressive former Congressman Ronald Dellums as Oakland's mayor next month.
mbechtel @ pww.org