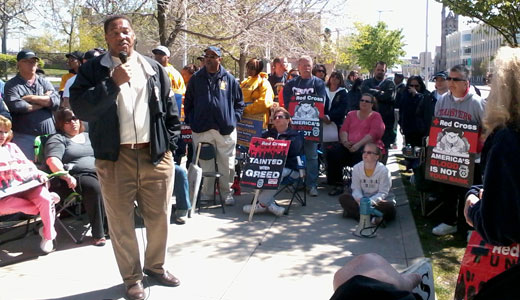 CLEVELAND – Buoyed by delegations of dozens of fellow strikers from Toledo and Lansing, Mich., 250 Red Cross blood service workers, members of Teamsters Local 507, entered the third month of a bitter strike with a spirited rally in front of the agency's headquarters here April 18.
They cheered Bill Dudley, speaking for 150 members of United Food and Commercial Workers Local 75 forced to strike Toledo Red Cross in late March.
"Red Cross puts profits above people," Dudley said, adding that the strike has broad community support. Lucas County Commissioners passed a resolution backing the union the previous day, he said, and similar action is expected at next week's Toledo City Council meeting.
"On May Day we are holding a big rally at the Government Center in downtown Toledo," he said. "Congresswoman Marcy Kaptur will speak. We are going to win."
Mike Parker, secretary-treasurer of Teamsters Local 580 in Lansing, said the strike is "part of a much larger fight. We are on the front lines of a war on working men and women in this country."
Last week, Red Cross held a "phony bargaining session," he said, after 150 members of his local and the Office and Professional Employees walked out.
"These people have no soul," he said. "They don't care if you and your child have no health care and low wages. We are out because we have no choice. They care about people with multi-million dollar homes on the beach and elevators in their garage. They are rotten, greedy bastards."
He praised the stamina of the Cleveland strikers.
"I know it's tough," he said. "I can't imagine what it's like to be on strike over eight weeks. We haven't won yet, not yet. But we will win because we stand on the right side. We want to build solidarity. We want to build community. We want to help our kids get to college."
Al Mixon, principal officer of the Cleveland local, said the strike was having a big financial impact on Red Cross. The agency's blood drives in the 19-county Northern Ohio Region are down from 25 a day to four, he said.
"To use a sports analogy, we are close to the goal line and we can't afford to fumble now."
The agency, he said, "is playing on the bad economy" to impose contract terms. It sent discs to employees with its health care proposal, he said, stating that the Red Cross "reserves the right to change or terminate employee health care benefits at any time for any reason."
Long stalled talks are set to resume Tuesday, he said. "We are in a war," he added.
The Red Cross, he said, hopes to pay for $40 million in fines imposed by the Food and Drug Administration for tainted blood by taking it out of its employees.
Stacks of door hangers urging residents to withhold blood donations until the strike is settled were distributed.
"My husband has a lot of medical problems," Judy Wickham, a Cleveland nurse, said. "We can't afford the prescriptions. We are three months behind on our electric bill. We went to a food bank last week for the first time. One hundred twenty-four dollars [in strike benefits] is not a lot, but it's enough. I'm not crossing [the picket line]!"
Flyers at the rally stressed that the Red Cross has "capitalized on the merits of Disaster Services" to gain public support, but "Blood Collections and Disaster Services are two completely separate entities."
The blood is collected free of charge from donors and sold to hospitals for $250 to $500 a pint providing the agency with $2 billion in annual revenues.
The collection workers average around $15 an hour and face heavy production goals. In Toledo, the agency is seeking to eliminate two of the three 10-minute breaks employees receive during a 12-14 hour day, union officials said.
In Lansing, the agency is defying orders by the National Labor Relations Board to open its books and has hired a top anti-labor law firm to appeal the case in federal court.
While the agency's board was previously based on blood donors and community representatives, "during the Bush years a coup occurred that brought in right-wing CEOs from Walmart and other companies," said Chuck Musser, a mobile unit assistant in Lansing. "They are anti-people and anti-labor. They want part-time employees with no benefits and minimum wages."
The proceeds of blood sales now benefit the agency's 20 top executives, he said, including CEO Gail McGovern who gets over $1 million in salary plus perks and received $400,000 for moving into a new home.
Photo: Teamster leader Al Mixon speaks to the solidarity rally in front of Red Cross headquarters in Cleveland April 18. PW/Rick Nagin