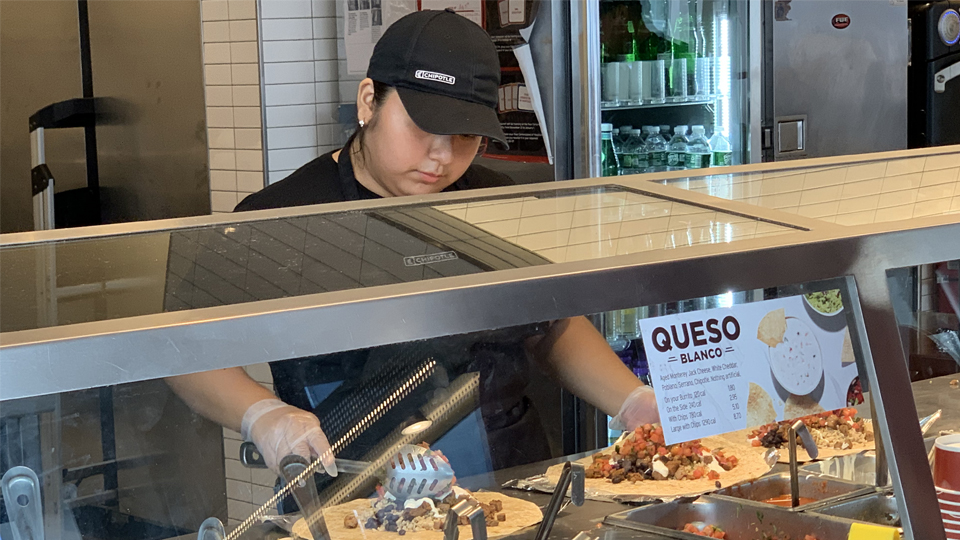 NEW YORK—Ed Dealecio needed more hours, but his boss decided to hire more employees instead of offering Dealecio and his co-workers more shifts. Dealecio has worked for almost three years at a busy Chipotle burrito restaurant in midtown Manhattan. During the pandemic, he found himself facing more financial pressure. He's still paying off his student loans and has experienced a rent hike.
Dealecio was one of many Chipotle workers cited in a record-breaking $20 million settlement agreement against Chipotle for violating the city's Fair Workweek Law. The settlement was announced by New York City Hall on Aug. 9 and impacts up to 13,000 workers.
The complaint outlined more than half a million labor violations by the company between 2017 and 2022. Any Chipotle employee in the city can claim $50 for each week worked during this time. Mayor Eric Adams called this "the largest worker protection settlement in New York City history" and the largest fair workweek settlement in the country so far.
New York City's Fair Workweek Law was enacted on Nov. 26, 2017, one of the first laws of its kind in the country. It was designed to protect workers' rights when it comes to scheduling and layoffs. Under the law, workers have the right to a long-term regular schedule.
Employers must publish the schedules at least two weeks in advance. If the employer makes changes to the schedule within that two-week window, employees are owed $10 for each change, increasing to $15 for each change made within one week of the schedule. These charges are increased if employees have their hours reduced, up to $75 per change with less than 24 hours notice.
Additionally, employers must pay a $100 premium to employees who are asked to work both a closing shift and then an opening shift a few hours later the following day, commonly referred to as a "clopening." The employee is also allowed to reject a clopening without the risk of penalty.
Other parts of the law specify how and when employers can lay off their workers. Companies may only lay off employees for economic reasons and must start with employees that have worked for the company for the shortest amount of time. Employers must also give their employees a written explanation for termination or a reduction of hours, may not fire or reduce a worker's hours without just cause and must offer shifts to current employees before hiring more workers.
The city was given evidence that showed Chipotle violated almost all of these provisions. The Service Employees International Union's (SEIU) Local 32BJ played a major role in building a case against the fast food company between 2018 and 2019. The union cooperated with Chipotle workers in dozens of locations to gather evidence of the company violating the Fair Workweek Law.
Dealecio is one of the many Chipotle employees who expect to be compensated as part of the settlement. Dealecio tells People's World that he hopes he and his co-workers "eventually get unionized so we don't have to keep worrying about laws being broken that affect us," because he says "the job is stressful enough as it is."
Within days of the announcement, labor leaders and elected officials attended a rally and introduced two pieces of legislation to expand the tools the city has to enforce the Fair Workweek Law.
One bill gives the city the power to deny or revoke the restaurant permits of offenders. The other grants the city's Department of Consumer and Worker Protection (DCWP) the power to force companies who violate the Fair Workweek to schedule a training session with all their employees where they will be informed of their rights by the DCWP.
The company will compensate the workers for their time in this training session, as well as for travel time if the session is held somewhere other than the workers' typical work location. This is a major step in labor protection for the industry, which is known to flout labor laws.
Holding service industry bosses accountable
Across the nation, there have been other recent examples of service and retail companies being forced to pay penalties after violating Fair Workweek laws. The same day that New York City announced the settlement with Chipotle, it also ordered a Dunkin' Donuts store in Staten Island to pay $260,000 in restitution and civil penalties after committing many of the same violations as Chipotle.
In July 2021, a Pizza Hut located in the Bronx and a McDonald's in Brooklyn were required to pay more than $90,000 and $130,000, respectively, by the DCWP for the same scheduling violations.
In Philadelphia, Del Frisco's Double Eagle Steakhouse, an upscale restaurant in Center City, reached an agreement with the city to pay 90 workers $24,500 for labor violations. Philadelphia's own Fair Workweek Law went into effect two years ago. This is the largest settlement based on the law to date. The city may see another major settlement soon: Two Walmart employees have filed a class-action lawsuit for a series of scheduling violations.
The Chipotle workers' victory comes on the heels of other labor victories in New York City's service and retail sector. The Amazon Labor Union on Staten Island made national news when workers won an NLRB representation vote, Starbucks workers in store after store are also winning votes, and app-based delivery workers are organizing for more control over their work experience.
Roberta Wood, a member of the Labor Commission of the Communist Party, notes that these victories are undoubtedly linked to the way that the pandemic's consequences fell unevenly on retail and service workers.
"The essential worker," she said, "became an identity that these workers proudly leveraged to demand justice for abuses that have been present in the industry long before COVID-19."
With the public more concerned about the safety and well-being of employees, workers have been able to spearhead organizing campaigns that have led to the passage of labor protections that had never been seen in this industry before. More importantly, this concern has also created leverage for these workers to call on the government to enforce laws that have been routinely broken in the past.