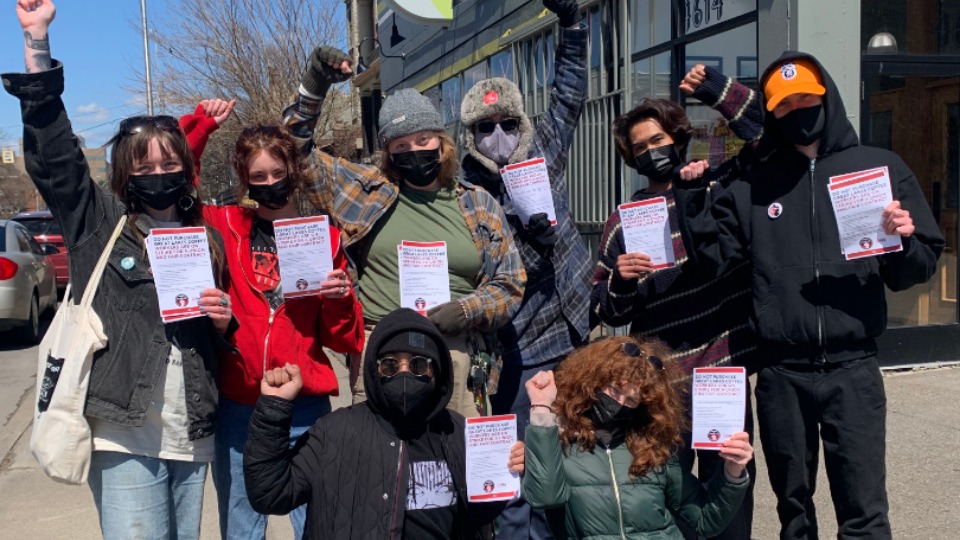 DETROIT—Baristas across the nation have created a wave of organizing and have done what so many other workers in varied industries have only dreamed of: They're taking control of their workplaces. Starbucks unions have now popped up in 16 different locations; workers from Tennessee-based Three Brothers Coffee voted to unionize despite the company's best anti-union efforts; and baristas at 15 of the 18 Louisville locations of Heine Brothers' Coffee are now planning to form a union.
The same barista power has infected Detroit.
After baristas at Great Lakes Coffee in Midtown Detroit decided to organize, Comrades in Coffee was formed. With the support of UNITE HERE Local 24, Local 24's president Nia Winston—who is on the picket line every morning alongside the Comrades—and several political organizations, the Comrades in Coffee are gaining influence. Having already persuaded nine different restaurants, cafes, and markets to stop selling the roasters' coffee, the Comrades continue to pop up all over the metro Detroit area and are garnering support from people and politicians alike.
Although officially not much has changed just over the 60-day mark, the energy still runs high.
"It's been taking over our social lives in a really good way—this is my new personality—I am a comrade," laughs Lea Green, who, alongside Beck Kaster, recently spoke to People's World. "When we chose the name Comrades in Coffee, we wanted to be more open to bringing in other baristas and not just [those from Great Lakes Coffee], to give more baristas more power and comfort to come forward, to encourage and stand in solidarity with them."
Every day these Comrades wake up and go to their respective picket lines, which have been at Great Lakes Coffee locations, shops still selling the roasters' coffee, and rallying with Starbucks baristas.
The movement has not been without its hiccups and obstacles.
A labor board charge was filed against the Comrades for being "violent and aggressive" at their picket lines despite a lack of evidence. The interesting thing is that these charges come from Coffee Creations Inc., which is the parent company for Great Lakes Coffee's satellite locations. "We're assuming they're going to say being at the [Rivertown Market location] is secondary picketing which isn't allowed," said Kaster. "Seems like they're just trying to scare us."
Meanwhile, the owners of Great Lakes Coffee, Greg and Lisa Miracle, have taken other indirect approaches to their striking baristas as well. "The Miracles are saying Midtown doesn't exist—they're saying [we] are trying to unionize a location that doesn't exist."
The Midtown location has always been the flagship store and even their website still includes the official story behind the Midtown location of the coffee roasters.
Although denying the Midtown location's existence seems a little unorthodox, it does put the Miracles in good company alongside Founders Brewing Company management, who, a couple of years ago, claimed they didn't know that one of its employees, Tracy Evans, was Black.
According to Green and Kaster, Great Lakes Coffee has been espousing anti-union rhetoric at recent barista training sessions. "They're saying the union will only separate us—that it's the relationship to the company that brings us closer together."
Something similar has been said by Amazon CEO, Andy Jassy, this past week:
"First, at a place like Amazon that empowers employees, if they see something they can do better for customers or for themselves, they can go meet in a room, decide how to change it and change it," Jassy said. "That type of empowerment doesn't happen when you have unions. It's much more bureaucratic, it's much slower."
These arguments are clearly the more polite version of what Starbucks CEO Howard Schultz recently said to striking baristas—"If you hate Starbucks so much, why don't you go somewhere else?"—but the underlying statement is always an appeal to some sort of "work family" or how such organizing affects the owners, much like the approach the founders of No Evil Foods took while union-busting in 2020 and 2021 who appealed to some sort of "humanity" by crying in front of several employees who would soon be laid off.
The true irony here is the use of "family" is meant to placate and pacify workers, appealing to some sort of comfort and security. It's the company, however, that acts as the final arbiter and benefactor of all power struggles in and outside the "office." The "work family" is the perfect family insofar as it retains its power, gets its surplus enjoyment (value), and those at the top can "pick and choose" (re: hire and fire) its members.
A moment at the Comrades in Coffee's rallies is enough to see that these baristas are serious about what they want, determined to be there every day until they get it, and have not lost a drop of the enthusiasm with which they started. Simply put, they know how to make striking fun.
During a time when it seems our last (revolutionary) resort is to the principle of "pessimism in theory, optimism in action," the Comrades in Coffee—in conjunction with all the baristas organizing their coffee shops, Amazon workers unionizing from scratch, etc.—are giving us a lesson in making the impossible possible.