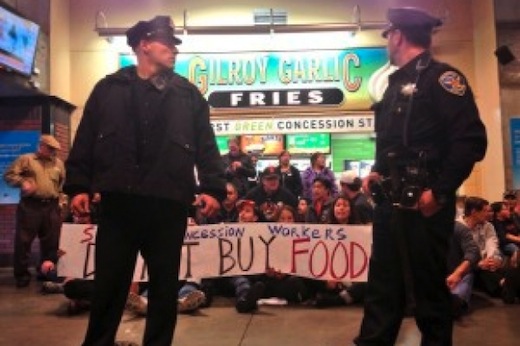 The San Francisco Giants' 2010 and 2012 World Series victories have had many effects, including showcasing elite Venezuelan baseball talent. The championships caused the team's value to skyrocket and allowed its ownership to rake in millions in increased ticket and concession prices at AT&T Park. But for the workers employed at the park over those same three years, pay raises have been a giant zero.
The nearly 800 stadium employees are represented by Unite Here Local 2, and have been in a bitter contract dispute with the Giants' subcontractor, Centerplate. According to union officials, the workers make an average of $11,000 per year. Such low pay makes it very difficult for working families to survive in an area like San Francisco. And with no raises since 2010, and taking into account inflation, they have actually had a wage cut.
So on June 18 during a Giants game, the union and supporters held a protest picket and sit-in in front of the garlic fries vendor behind home plate. Ten protesters were arrested. This follows a May 25 strike; union members authorized up to five days of strikes in an overwhelming vote.
The union is also resisting attacks on employees' health care benefits. In a recent interview, a union spokesperson explained that workers only gain the subsequent month of health care coverage by working 10 games or events. That threshold is already a challenge – especially in months with fewer home games – and now Centerplate wants to raise it to 12.
While Centerplate is directly responsible for the demands for cutbacks and refusal to pay a living wage, the San Francisco Giants are also culpable. AT&T Park has approximately forty concession stands and each one brings in up to $30,000 per game. However, 55 percent of that goes to the Giants, leaving very little after Centerplate pays its operational costs. The Giants claim that Centerplate is the sole party involved in the labor dispute, but it is clear that if the team took a smaller percentage of concessions revenue – especially at a time when the team is having record-breaking success – these workers could be guaranteed good pay and benefits.
The workers only have one ask of fans attending: Enjoy the game but don't buy any food. This continues to be the request for sports fans to show their solidarity with the concessions stand workers on days that they are on strike at AT&T Park.
It is only fitting to close with the baseball classic, "Take me out to the ball game, take me out with the crowd," only this time, the crowd is standing for social justice, dignity on the job, a living wage and good benefits for the concessions stand workers of Unite Here Local 2.
A petition campaign to support the AT&T Park workers can be found at: http://www.thegiantzero.org
On Twitter, use the hashtag #GiantZero to learn more.
Photo:Protesters sit-in in front of a garlic fry stand urging Giants fans not to buy any food ( via SF Appeal.)