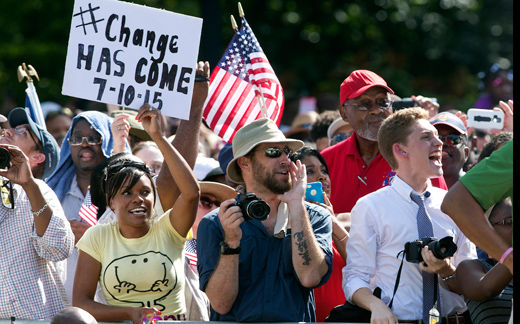 CHARLESTON, S.C. – South Carolina on Friday removed the symbol of racism and hatred, the Confederate flag, from the grounds of the State House. The action came after a state and nationwide outcry following the murder of nine African Americans at the Mother Emanuel Church here.
The state's Senate and House voted to remove the flag.
A huge and diverse crowd cheered as honor guard officers from the South Carolina Highway Patrol marched to the base of the flagpole on the South Carolina Capitol grounds. A roar went up from the crowds as the flag lowered and they burst into song when it was finally down.
"South Carolina taking down the Confederate flag – a signal of good will and healing, and a meaningful step towards a better future," President Obama tweeted on Friday.
Chants of "take it down" eventually morphed into chants of "U.S.A." as the flag was lowered.
The flag came down almost four weeks after the massacre of nine black churchgoers, including longtime State Sen. Rev. Clementa Pinckney. The admitted killer, 21-year-old Dylan Storm Roof, entered the Emanuel AME Church downtown here and sat praying with the congregation before he sprayed them with gunfire.
Roof, a self-proclaimed white supremacist, was pictured on his and other websites holding up Confederate flags at memorials to Confederate soldiers and generals.
Association of the flag with the horrific killings sparked a renewed movement from one end of the country to the other to take down the Confederate flag not only here but at locations across the country. Many have been removed.
"This is a real victory – one we've been working toward for 15 years, and it opens the door to even more victories across the nation," said Cornell William Brooks, speaking for the NAACP. "This symbol of hatred and intolerance does not belong in our public spaces or on government property."
The NAACP is calling on people to let their state legislators and governors know that it is time to ban display of the Confederate flag on any government property.
Last year California passed a law banning the display or sale of the Confederate flag or any representations of the Confederate flag except for educational or historical purposes.
"This should be the standard for the entire nation," Brooks said.
Photo: People cheer as an honor guard from the South Carolina Highway patrol removes the Confederate battle flag from the Capitol grounds in Columbia, S.C. | John Bazemore/AP