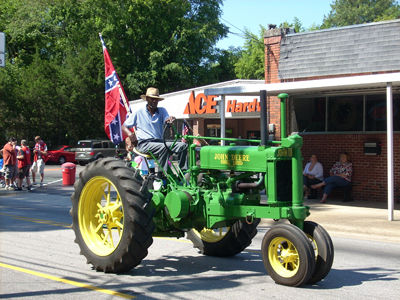 DANVILLE, Va. – Many of us remember the outrage over the slaughter of nine innocent people in an African American church in Charleston, S.C., this summer.
Their accused killer was photographed holding a Confederate flag. Dylann Roof owned a racist website that featured neo-Nazi and other racist posts along with racist views about African American people.
Outrage over the carnage resulted in the Confederate flag being removed from the South Carolina Capitol. Other communities followed suit, removing flags and other tributes to the Confederacy.
But not everyone was happy with this assault on Confederate "heritage" that started days after the shooting. What many Southern communities now see is a new, fired up breed of racist.
Let me introduce you to what's called a "flagger." They're proud of what they consider their Southern heritage. They honor the so-called Lost Cause and the discrimination and racism that went with it. No tragedy is going to change their minds about this because in many cases they feel it's an extension of their interpretation of Christian faith.
A violation of the Confederate/Southern heritage
Flaggers look for what they perceive as a violation of the Confederate/Southern heritage. They're mad as hell that the distorted Civil War narrative that they grew up with is changing. Saying that the Civil War was about slavery is stating a fact they can't digest.
It is "the heritage that my grandfather passed to me that fought those low-down, invading, murdering, raping, looting, burning heathens from the North," said Herman White, speaking a two separate Confederate flag-raising ceremonies here in September.
Flaggers protest events they think put the Confederacy in a bad light. They zero in on some communities where Confederate flags have been removed from private property, and stick the flags up wherever they can.
In Petersburg, Va., a caravan of flaggers hoisting Confederate flags on cars and pickup trucks was pelted with plastic water bottles by residents of the African-American neighborhoods the caravan provocatively drove through. It was reported that the flaggers were upset that local police didn't do more to arrest suspects.
When some Southern states, such as Virginia, remove the Confederate flag from specialty license plates, flaggers accused state officials of caving to "political correctness." Similar accusations came from flaggers in response to an art show taking place inside a building that used to serve as a chapel under the Confederacy in Richmond.
"It's a spit in the face of those veterans and the people who honor those veterans," claimed Barry Isenhour, a member of a group called Virginia Flaggers.
Dig a little deeper and you will see the flaggers and the Ku Klux Klan share some of the same slogans. When a Confederate flag was removed from the Danville Museum of Fine Arts and History, speaker after speaker said this was "cultural genocide." The cultural genocide motif is used by the Loyal Knights of the Ku Klux Klan based in Pelham, N.C.
The South has been peppered with many more events like the ones cited above since the June 18 Charleston shooting.
More than 50 pro-Confederate-flag events were held over the first weekend in July around the country, mostly in the South, the Southern Poverty Law Center reported.
From July 17 to Aug. 26, the SPLC counted 218 pro-flag rallies, almost all in the former states of the Confederacy. The SPLC estimated total turnout at more than 20,000. A rally in Ocala, Fla., drew about 5,000.
Flaggers are notorious for inflating their crowd estimates for rallies. Organizers in Burlington, N.C., said thousands of people would show up for their rally. Police estimated 1,500 in the crowd.
The same was true here in Danville. According to organizers up to 2,000 people were expected to converge for a rally from around Virginia. Only 300 showed up.
Flagger groups have ties to the racist Sons of Confederate Veterans
Where do the supporters come from? Flagger groups have ties to the racist Sons of Confederate Veterans (SCV). Removing Confederate symbols has pushed the SCV to take a more aggressive stance than it has in the past.
"I can assure you that the SCV has not and will not sit idly by as these people pervert our noble heritage and birthright with their lies," said SCV head Charles Kelly Barrow.
For these Southern white people, the Confederate flag has been used as a sign of resistance to change. The flag is used to intimidate and frighten African Americans, and also anyone else who disagrees with the flag-wavers.
The SCV could be off to a good start in gaining new members. While most Americans support taking down Confederate flags, the numbers change when you look at race and education. Polls show wide support for taking down Confederate flags from government property because it is offensive – especially to people of color. But, according to a CNN poll in July cited by the Southern Poverty Law Center, a slim majority of whites with a college degree see the Confederate flag as a symbol of heritage and pride, while 41 percent see it as a racist symbol. Among Southern whites without a college degree, 73 percent see the Confederate flag as a symbol of Southern pride, and only 18 percent see it as racist. The numbers are opposite among Southern African Americans: 75 percent see the flag as a racist symbol, while 11 percent see it as a sign of pride. It will be a difficult task to change white Americans' minds and convince them that the Confederate heritage and flag are racist.
"It is no accident that Confederate symbols have been the mainstay of white supremacist organizations, from the Ku Klux Klan to the skinheads," Historian Gordon Rhea said in a 2011 speech to the Charleston Library Society. "They did not appropriate the Confederate battle flag simply because it was pretty. They picked it because it was the flag of a nation dedicated to their ideals, i.e., 'that the negro is not equal to the white man.' The Confederate flag, we are told, represents heritage, not hate. But why should we celebrate a heritage grounded in hate, a heritage whose self-avowed reason for existence was the exploitation and debasement of a sizeable segment of its population?"
Rhea continued, "It is time for Southerners to squarely face this era in our history so that we can finally understand it for what it was and move on."
Ultimately, reality will catch up with neo-Confederate flaggers.
Even with entrenched opposition from racists and people who don't understand history, the SPLC says the Confederacy's tight nostalgic grip could be easing. The group notes that in states across the South, Confederate flags, statues and other symbols are continuing to be removed from public display.
Photo: Part of the 2012 4th of July parade in Hope Mills, N.C. Gerry Dincher/Flickr/Creative Commons.