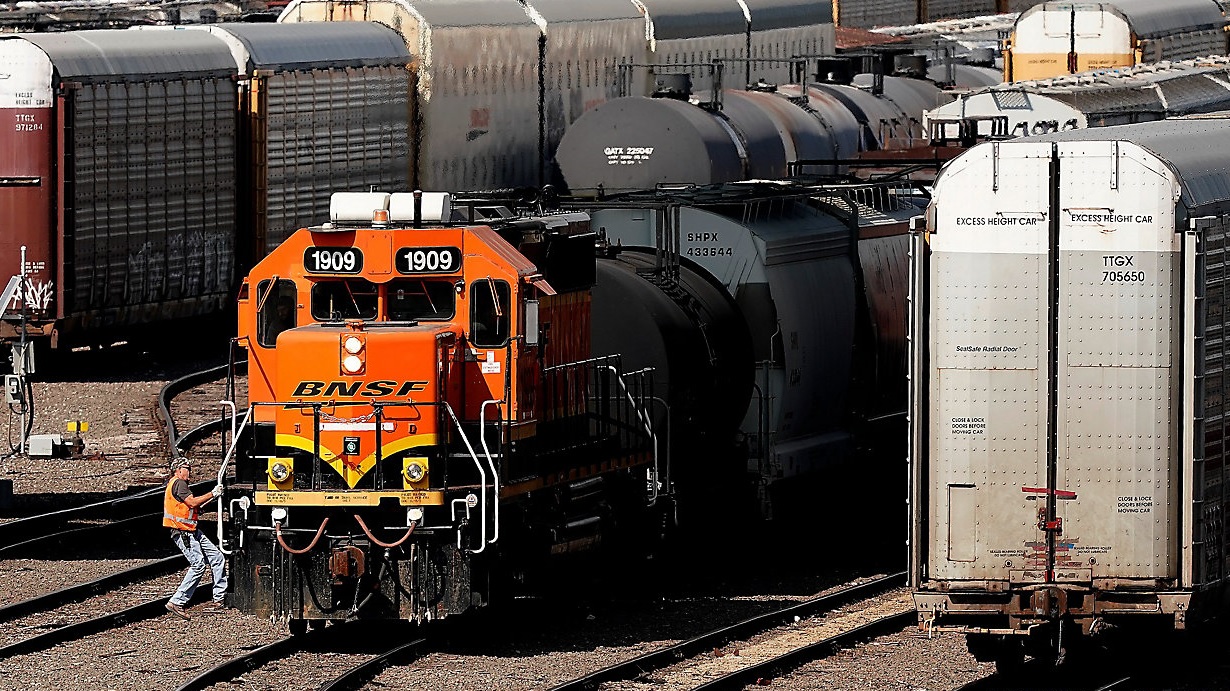 The late Auto Workers President Walter Reuther once warned that what workers won at the bargaining table "could be taken away at the stroke of a pen" by lawmakers. The congressional effort underway today proves his point. Lawmakers may be about to do exactly what Reuther warned about.
And it's not just Congress that unions and progressive lawmakers are angry about. "President Biden should be declaring that he will sign no deal that does not include the seven days of sick leave that the House added to the deal, the sick leave the workers are entitled to," Democratic Rep. Ro Khanna of California declared last night on national television. "Biden should be putting the pressure on the Senate," he said.
When Biden was a senator in the first George Bush administration, he was one of very few who voted against a deal involving Congress forcing a settlement on rail workers. At the time he used the argument that it was unjust for Congress to step on the collective bargaining rights of workers. His failure now to insist on Senate inclusion of sick leave, therefore, is particularly disappointing to rail workers and unionists across the board who backed his election against Donald Trump.
Meanwhile the rail unions are saying the company executives, awash in unprecedented profits, are lying when they say they cannot afford to pay for sick days. They point to unprecedented profit levels in the industry.
By a 221-207 virtual party-line vote, the House put the Senate, President Biden and freight railroads all on the spot, by adding seven days of paid sick leave to a previously passed freight railroad contract. Three Republicans joined all 218 Democrats to vote for paid sick leave. The other Republicans opposed it.
The AFL-CIO strongly supported both the main rail pact and the extra sick days, and is urging members to call their senators at (202) 224-3121 to approve both. Senate action was scheduled for today, just a week before a Dec. 9 deadline when workers could be forced to strike. It was unclear whether there would be one Senate vote or two.
"While the tentative agreement unions negotiated this year included many critical gains—significant wage increases, caps on health care premiums and prevention of crew reduction—it also fell short by not including provisions on paid sick leave or fair scheduling. It's now up to Congress to do the right thing by passing paid sick days for rail workers," the AFL-CIO said.
The main contract, with zero sick days, was OKed 290-137, and freight rail bosses cheered it, before the lawmakers added the sick days. The bosses urged senators not to tinker with the basic pact and its 24% raise over five years, but little change in onerous working conditions. Sick days were the main sticking issue which landed the mess on Capitol Hill.
The two House votes, and attaching the sick days to the main pact, put the Senate on the spot. There a confluence of odd bedfellows, ranging from Sens. Bernie Sanders, I-Vt., and Kirsten Gillibrand, D-N.Y., on the left to Josh Hawley, R-Mo., Ted Cruz, R-Texas, and Marco Rubio, R-Fla., on the far right, all vowed to oppose any imposed contract without sick days.
Republican hypocrisy is in full view, however, with people like Hawley and other Republicans saying they support sick days but oppose the original pact which, of course, amounts to killing everything workers negotiated in the collective bargaining process.
House Republicans split against the main rail pact, with 79 for and 129 against. They spent most of the three-hour debate on Nov. 30 in Biden-bashing, blaming the president for not forcing the unaltered pact on his party and the rail unions. Some were downright nasty. Rep. Rick Crawford, R-Ark., for one, called the president "Joe Union Biden." Senate Republicans bashed Biden, too. Cruz and Rubio, at least, are considering GOP White House runs.
Biden board proposed pact
A Biden-named board proposed the pact in mid-September. Eight of the 12 unions bargaining with the big Class I freight railroads such as Burlington Northern Santa Fe and the Union Pacific OKed it. But four unions, including the three largest, which represent more than half of the nation's 115,000 freight rail workers—including the engineers and trainmen—split, with one for and two against, all by narrow margins.
Had any one union of the 12 been forced to walk after a legal "cooling off period" ended on Dec. 9, the others promised to join them, bringing freight rail commerce to a halt. That concerned Biden, who urged quick Senate OK while remaining silent on the sick leave issue.
"Let me say that again: Without action this week, disruptions to our auto supply chains, our ability to move food to tables, and our ability to remove hazardous waste from gasoline refineries will begin," Biden's statement said.
The Biden-named board had ducked the sick leave issue in its recommended contract—the one the House approved. And in bargaining, before and after the union votes, the freight railroads flatly refused to discuss paid sick leave, except that one small union won one day.
"Let me be clear, we are all here today due to the inability of the railroads to negotiate paid sick leave, period," said Rep. Donald Payne, D-N.J., Democratic leader in the debate. He called paid sick leave "an essential component of any humane and decent work environment."
Speaker Nancy Pelosi, D-Calif., argued strongly for the main pact, then disclosed the planned second vote to later attach the sick days.
"We all know that for too long the railroads' ownership have made obscene profits on the backs of workers," Pelosi said. "Selling out to Wall Street and its outrageous precision scheduled railroading, they have slashed jobs, increased hours, and cut corners on safety while demanding more and more from the workers.
"And rather than reinvesting their profits into the workers over the past decade they have given $150 billion in handouts to their corporate executives and wealthiest investors. It's just not right," Pelosi declared.
"No one should be at risk of losing his or her job by staying home when sick, needing to see a doctor, or getting lifesaving surgery," said Payne. "It is progress the agreement provides some time off for routine preventive and emergency medical care, but what we need is paid sick leave for railroad workers and for every American. I hear this every place I go. Not just the railroads."
The AFL-CIO had the last word, in a series of supportive tweets:
"Rail workers are an integral part of the supply chain that makes America's economy run. As essential workers, they showed up day in and day out through the pandemic to keep our country moving forward.
"They deserve good wages, fair treatment and vital protections like paid sick leave. As Congress begins deliberating over imposing a contract on these workers, we urge our elected leaders to keep their actions and thoughts firmly focused on workers and their families."