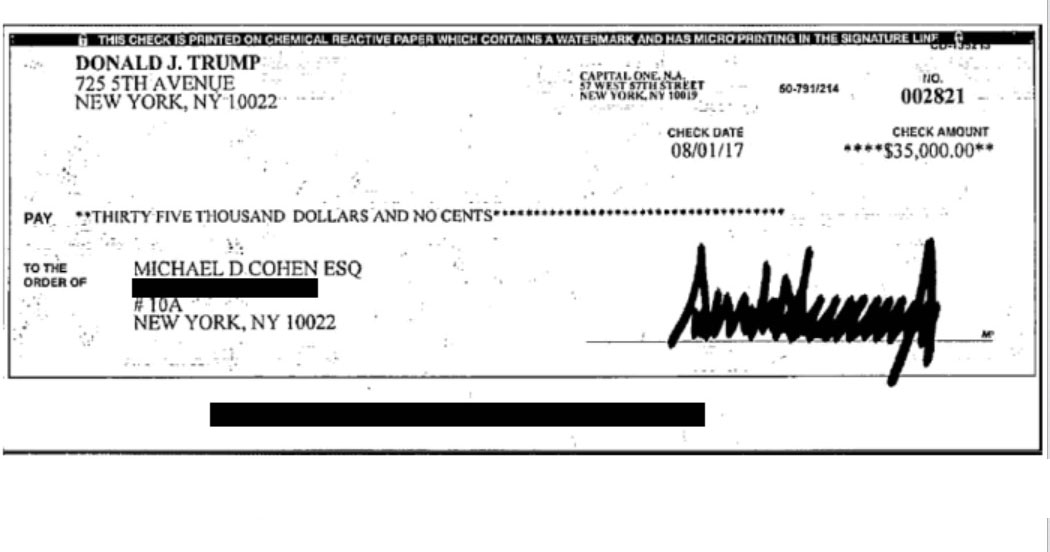 WASHINGTON—President Donald Trump's former "fixer" and lawyer presented a House committee yesterday with documentation proving the president committed criminal violations of campaign finance law well after the beginning of his tenure in the White House.
One of the documents provided to the committee was a copy of the $130,000 wire transfer from Michael Cohen, the president's personal lawyer, to the attorney for Stormy Daniels. The transfer was hush money to prevent Daniels from endangering Trump's election chances by revealing an affair he had with her.
The real bombshell, however, was a second document, a copy of a check showing further proof of the hush money payments that had been made. It was a $35,000 personal check signed by the president himself. The check, reimbursing Cohen for the hush money he had paid to Daniels, was dated Aug. 1, 2017—seven months after Donald Trump moved into the White House. Not taking into consideration documents that the Special Counsel or other prosecutors may or may not have, the check constitutes the first physical proof that criminality by Trump continued after he became president.
In another bombshell, Cohen told Congress that Trump knew in advance about the emails regarding Hillary Clinton that were in the possession of WikiLeaks. "Oh that WikiLeaks, I love WikiLeaks," Trump had declared at one of his campaign rallies.
Cohen said he was at Trump Tower when Roger Stone, the longtime Trump confidante, called the office. Cohen said Trump clicked on the speakerphone, and he heard Stone say that a massive dump of emails damaging to Hillary Clinton was about to come from WikiLeaks. "Oh wouldn't that be wonderful," Trump said, according to Cohen.
Cohen accused Trump of being skilled as a "racist, a liar, a con man, and a cheat."
In one case, Cohen mentioned how adept Trump was at combining two, three, or all of these skills at once. The former "fixer" described how at an art auction Trump had put up a straw man to bid on a painting of himself to make it look like someone would pay heavily for the honor of owning a picture of Trump, He described how Trump arranged with him (Cohen) to repay the man. Cohen told how later Trump tweeted about how pleasantly surprised he was that someone paid so much for a painting of himself.
Cohen also described how Trump encouraged him to lie about a Trump Tower project in Moscow. The idea was to tell people Trump had given up on the project much earlier than he had actually done so. Part of the reason Cohen has been sentenced to three years in jail is that he has pleaded guilty to earlier lying to Congress about that deal.
Cohen says Trump did not directly tell him to lie, but that "he would look me in the eye and tell me there's no business in Russia and then go out and lie to the American people by saying the same thing."
Cohen said that "in his way, he was telling me to lie."
Cohen apologized to the members of the House Oversight Committee for his own lies. "I am ashamed that I chose to take part in concealing Mr. Trump's illicit acts rather than listening to my own conscience."
Cohen also said that Trump made racist comments about African Americans, saying at one point that black people would never vote for him because they were "too stupid." Cohen said that he and Trump once drove through a Southside neighborhood in Chicago and that Trump remarked, "only black people could live that way."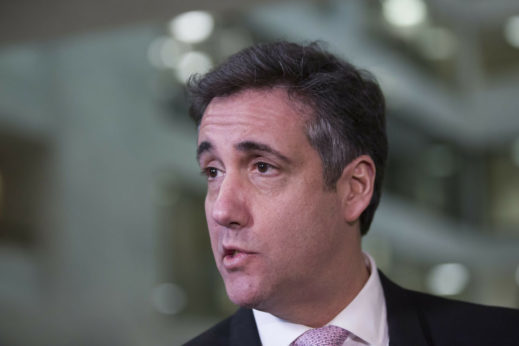 Cohen, who has been cooperating with special counsel Robert Mueller's investigation, begins a three-year prison sentence in May. He was sentenced for lying to Congress in 2017 and committing campaign finance violations while he was working for Trump.
He met with the Senate intelligence committee for more than nine hours behind closed doors on Tuesday and will appear in private again on Thursday before the House intelligence panel.
Republicans attempted to discredit Cohen at the House Oversight hearing today, saying, essentially, that he was an admitted liar who didn't deserve to be believed now.
The chair of the House Oversight Committee, Democrat Elijah Cummings, started out the session by warning Cohen not to lie again to Congress, and he seemed almost suspicious of Cohen as the hearing began. He appeared to feel satisfied, however, after Cohen presented his documents, that the former "fixer" was providing Congress and the American people with real information this time.
Cohen had hoped to come away from this mess with far less than a three-year sentence. Special Counsel Robert Mueller had, in fact, urged a lighter sentence because Cohen had cooperated in his investigation. Federal prosecutors in New York, however, said Cohen's own misdeeds required the longer sentence. It is still possible for time to be shaved off his sentence if between now and May prosecutors think Cohen is providing them with useful information.
This article includes reporting from the Associated Press.