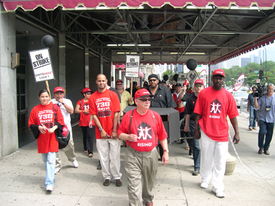 CHICAGO — Three years to the day since workers at the downtown Congress Hotel went on strike, the strikers and their union, Unite Here Local 1, joined leaders of the city's religious, labor and community groups for a funeral-themed rally.
The June 15 "funeral" was held to mourn the loss of quality at what was once a world-class hotel, quality that has plummeted since management attacked the union, workers said.
Hundreds picketed in front of the hotel, chanting, singing, clapping noisemakers and holding signs. Afterward, as a band played mournful, funeral-like music, the crowd marched around the building carrying a black coffin, declaring the hotel "dead," and then giving it a "proper burial."
The Congress Hotel "is stinking up the town like a festering corpse with a stench of death," said Henry Tamarin, president of Local 1, Chicago's 14,000-member hospitality workers' union. "This hotel, once a great hotel, has now died," he said. "Let's bury it." But, Tamarin was quick to add, "the strike against the Congress is alive and well."
About 130 workers walked off the job in June 2003 when the hotel unilaterally imposed a 7 percent wage cut, eliminated family health insurance and pension benefits, and threatened to outsource union jobs.
At the rally, members of United Food and Commercial Workers, Service Employees, Teamsters, United Steelworkers, United Electrical Workers and Jobs with Justice — all wearing matching union-made T-shirts — marched in the picket line in a colorful display of solidarity with the strikers.
The union estimates the hotel could have made at least $70 million more in revenue if it had been operating at average downtown occupancy and room rate levels over the past three years.
"We are struggling for equality and for a better future for our children," said Delores Contreras, who worked at the Congress Hotel for three years, and now works at the Radisson Hotel.
"We are all human and we deserve respect as workers," she said. "Over the last three years the strike has made us strong. We have to work for a better life as immigrants, to pay the rent, bills and feed our children."
Contreras' 11-year-old son, Alejandro Veldez, said he missed school that day to show support for his mother and the strike. He told the World that when he grows up he wants to help other unions and strikers "because the union fights and gives a voice for the workers."
According to leaders in the hospitality industry, the hotel is an embarrassment that undermines proper standards. Hundreds of customers have reportedly complained about poor service and unsafe, unsanitary conditions since workers walked off the job in June 2003. Some customers even admitted that if they had been informed about the strike they would not have booked rooms at a struck hotel.
Marc Gordon, president of the Illinois Hotel and Lodging Association, testified at a hearing at City Hall that the hotel "has long been plagued by a lack of proper maintenance, cleanliness and service."
Rosa Sabala, a mother of three, worked at the Congress Hotel for seven years. She told the crowd at the rally she was sad to hear about complaints from the customers. "We made sure the hotel was always clean, so that we could give the customer the best service," she said in Spanish. Today, she added, "it's like the hotel is dead."
"We are workers, and we only ask for justice," she said.
Omar Lara agreed. He worked at the Congress for 10 years. "We are hoping to negotiate a contract for medical benefits and better salaries," he told the World. "We are fighting a just struggle."
Another worker, Gus Greer, an African American who worked at the hotel for 35 years, told this reporter that when he heard about the strike he walked out and has not looked back since. Currently he works as a bus driver and is not sure if he would return to his former banquet and bartending duties if a contract is won. Nevertheless, three years later, Greer says he continues to join the picket line, putting in at least 15 hours every week.
Asked whether he has a message to his fellow strikers, he said, "Don't go back in there until you get that contract!"