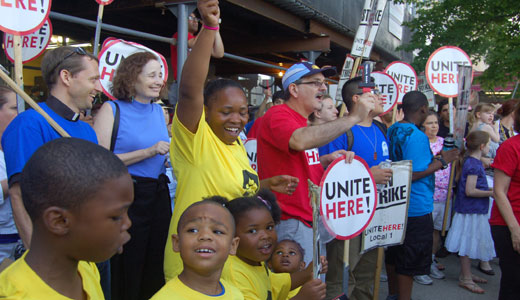 CHICAGO – It's the longest strike in American history and still going strong.
"We're not only fighting for ourselves, we're fighting for all the workers of Chicago," said Lola Contreras, one of 60 Congress Hotel workers who marked the 9th anniversary of the strike here June 15.
Contreras addressed hundreds of supporters who jammed the sidewalk in front of the hotel marching in a festive block-long picket line. Strikers' families, other union members, clergy and community activists joined in.
The picketers, who marched to lively music provided by members of the Chicago Federation of Musicians, booed patrons who crossed the line to enter the hotel, some stepping out of luxury autos.
The scene included several gigantic inflatable rats to draw attention to attempts by the Congress Hotel owners to break the hotel workers' union by hiring non-union replacement scabs in 2003. The workers struck when owners refused to recognize the citywide collective bargaining agreement negotiated by Unite Here with the downtown hotels, and unilaterally imposed lower wages and benefits.
The strikers, mainly Latino immigrant and African American workers, have been maintaining a daily picket line for over 3,000 days. Asked what kept him going, striker Efrain Cortina said, "You don't look at it as if it's just for yourself. You look at all the union members."
Bringing solidarity from the rest of the trade union movement, Chicago Federation of Labor President Jorge Ramirez said it was hard for many to comprehend how long the strike had lasted. He lauded the courage and persistence of the strikers.
"I may be the president of the CFL, but you are the leaders of the labor movement," he said.
"The Congress Hotel owners are really evil," said Henry Tamarin, Unite Here Local 1 president. "Today there are just 12 full-time workers here. The rest of the workforce is being hired through temp agencies. It started here and is spreading to the rest of the hotel industry."
Tamarin said it was good to see, among others, members of the Chicago Police Department, who along with other public workers have had their own contract issues with the city.
"There are also many young people here today who have grown up with this strike," said Tamarin. "They are learning what the fight for workers' rights is all about and they will have to carry it on."
Tamarin said the workers and Unite Here would fight for as long as it took to get a fair contract. "We're not going anyplace, we're still here and we're going to be loud and proud at our protests," said Tamarin. "We'll be back!"
Photo: Workers show their solidarity, and drive home the point that they're not going anywhere. John Bachtell/PW