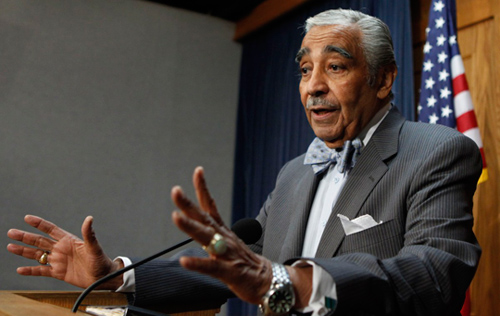 Sixteen Democratic members of the U.S. House of Representatives have signed a letter calling on President Obama to withdraw sanctions on seven Venezuelan government officials, and also to withdraw the language of an executive order justifying the sanctions.
The sanctions to which the letter refers were based on legislation voted by Congress in December and signed by the president on Dec. 18. On Mar. 9, after the arrest of several Venezuelan political figures whom Venezuelan President Nicolas Maduro accused of plotting a coup, President Obama issued an executive order declaring an "emergency" on the basis of a supposed "unusual and extraordinary threat" to the United States and its interests by Venezuela, and imposed the sanctions, mostly on mid-level security personnel.
The sanctions prevent them from traveling to the United States and freeze any assets they might have in this country.
Some politicians, such as Republican Sen. Marco Rubio of Florida, called for even tougher sanctions, but many policy experts worried that the whole thing could backfire on the government. And indeed it did: At the Organization of American States' Seventh Summit of the Americas in Panama on April 10 and 11, President Obama ran into a hailstorm of criticism from the great majority of Latin American and Caribbean states.
Major international organizations in the area and beyond, such as the Union of South American Nations (UNASUR) and the Latin American and Caribbean Community of Nations, all condemned the sanctions, which they see as a reminder of the number of times in the past when the United States has moved to destabilize and overthrow governments it didn't like, especially in Latin America.
In Venezuela itself, 10 million people (out of a national population of 30 million) signed a petition denouncing the sanctions and the statement that Venezuela is a "threat."
The United States was forced to backtrack on the "threat" language, pointing out that it was only used because it has to be invoked when the president is going to impose sanctions on a country – the United States doesn't really think Venezuela is a "threat."
The congresspersons who signed the letter are all Democrats: Hank Johnson of Georgia, John Conyers of Michigan, Barbara Lee of California, Raul Grijalva of Arizona, Keith Ellison of Minnesota, Jose Serrano of New York, Sam Farr of California, Karen Bass of California, Janice Schakowsky of Illinois, Jim McDermott of Washington, Bobby Rush of Illinois, Sheila Jackson-Lee of Texas, Michael Capuano of Massachusetts, Charles Rangel of New York, Chellie Pingree of Maine, and Earl Blumenauer of Oregon.
The letter points out that by issuing the statement and imposing the sanctions, the Obama administration undermined the goodwill that derives from Obama's radical change of U.S. policy on Cuba.
Readers who wish to ask their own congresspersons to adhere to the congressional letter can contact them at the official U.S. Congress website: https://www.congress.gov/members
Further, readers are urged to help by signing and circulating a School of the Americas Watch petition demanding that the U.S. government withdraw the sanctions and the "threat" statement, which can be found here: http://org.salsalabs.com/o/727/p/dia/action3/common/public/?action_KEY=17590
Photo: Rep. Rangel is one of 16 lawmakers calling on Obama to lift sanctions against Venezuela. | Manuel Balce Ceneta/AP