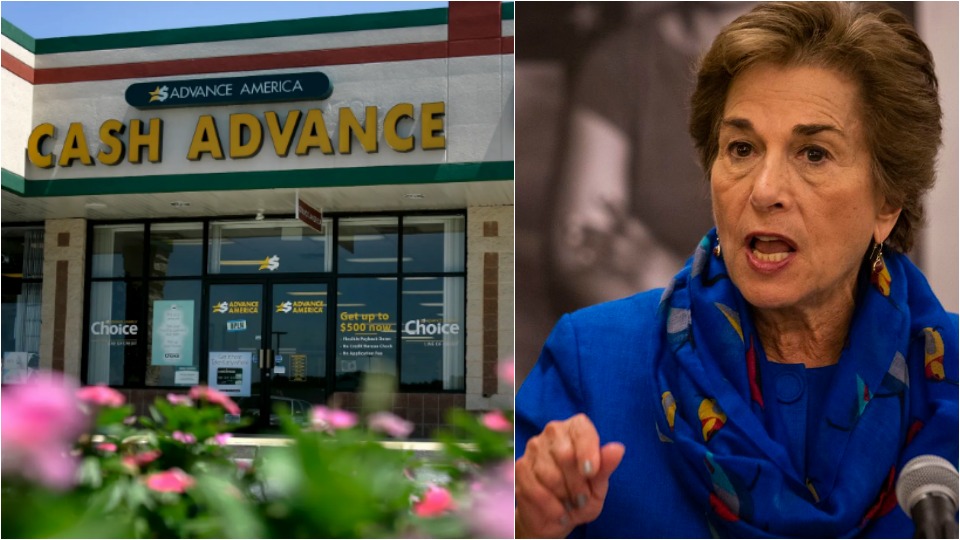 WASHINGTON —Well, that didn't take long.
A week after the U.S. Supreme Court unanimously handed one of the sleaziest sectors of the corporate class, payday lenders, a big judicial win, lawmakers took up the suggestion by the ruling's author, Justice Stephen Breyer, that they could reverse the victory.
So consumer advocates trooped up to tell the House Consumer Protection Subcommittee on April 27 to do so.
They testified how payday lenders gouge consumers with triple-digit interest rates and interest piled upon interest. And they urged lawmakers to restore the Federal Trade Commission's authority to levy heavy fines against such gougers and rip-off kingpins.
And witnesses backed HR2668, by panel chair Rep. Jan Schakowsky, D-Ill., and Rep. Tony Cardenas, D-Calif., to explicitly give FTC that authority to financially clobber the crooks.
Payday lenders are notorious for lending money to poor and working-class people, often people of color who live from paycheck to paycheck, by advancing them money charged against those checks. Annual interest rates run into the triple digits or more. AMG—the payday lender which sued the FTC—charged monthly interest of 30% in the example Breyer cited.
HR2668 and the hearing cheered the National Consumers League, which has campaigned against the scourge of payday lenders for decades. The court's April 22 ruling "put the interests of a convicted scammer above the needs of fraud victims," said John Brevault, the labor-backed consumer group's Vice President for Public Policy.
"We are incredibly disheartened at the decision to deprive the FTC of one of its most effective tools for clawing back criminals' ill-gotten gains. This decision will embolden the criminals who annually defraud millions of consumers, costing them billions of dollars and untold emotional damage.
"We hear practically every day from victims of scams whose financial lives have been ruined by scammers. Consumers need and deserve a consumer protection agency empowered to make them whole. Congress should urgently pass legislation restoring the FTC's authority to obtain compensation on behalf of fraud victims."
The justices had overturned a $1.3 billion FTC fine against payday lender Scott Tucker and his company, AMG Capital Management. The fine equaled the amount AMG cleaned out from consumers from 2008-2012. Besides charging 30% monthly interest on a typical $300 loan, Tucker, now doing time for racketeering, would keep piling up the charges, interest upon interest—and principal—month after month, just like the rest of the industry.
The only way the consumer could avoid such massive financial weight: Decipher the legalistic fine print in AMR's loan contract. That pact said the only way to opt out was not only to pay off the whole loan after one month but to refuse in writing to let AMR roll it over.
Breyer wrote the FTC went too far and misinterpreted section 13(b) of its 107-year-old law in justifying its high fines against AMR and similar scammers. He said that section let FTC seek court injunctions against such practices, but that's all. It could use another section, and a drawn-out process, to seek unspecified smaller fines to deter prospective financial exploitation, not to reclaim past damages, he added.
Not enough to stop them
Witnesses and legislators said that's not enough to stop payday lenders.
"For decades, the Federal Trade Commission has protected consumers by seizing and returning stolen money to victims of fraud," Schakowsky said. The court benefited "scammers and criminals everywhere." HR2668 "will restore the agency's authority to provide relief for victims of fraud and scams" and "get money back in the pockets of hard-working Americans."
Due to the latest ruling and ones before it also hobbling the FTC, "The agency that is supposed to be protecting me–and my 86-year-old mother and my teenage daughter, and my former students who are now in the military–no longer has the tools to do its job," University of California law professor Ted Mermin testified. It's short-staffed, too, he added.
Without the authority to levy the heavy fines "the FTC is unable to perform its most basic function: Getting money back for the people it has been unlawfully taken from," added Mermin, who also directs the California Low-Income Consumer Coalition.
With the U.S. emerging from the coronavirus pandemic, the need for a robust FTC  increases, he warned. As the economy recovers from virus-forced shutdown, "unfair and deceptive practices of all kinds will continue to besiege us. They will especially target seniors, veterans, low-income communities, communities of color, and mom-and-pop businesses."
"The need for public enforcement capacity" from the FTC "is acute" because 90% of low-income people can't afford to hire private lawyers to pursue scammers, and because legal aid clinics are overburdened and understaffed, Mermin explained.
While it did not testify to the panel, the Chamber of Commerce, as might be expected, sided with payday lenders and other corporate scammers.
"The FTC is arguing for a legislative change under the guise it needs the appropriate tools to combat 'scams,'" the corporate lobby said.  "However, instead of asking for a legislative solution that empowers the agency to target such abhorrent practices," FTC wants "a sweeping expansion of its authority" to let it "universally seek monetary damages."
That statement, inadvertently, pointed up the real impact of the court's ruling: That it lets all businesses, not just payday lenders, engage in such practices without the FTC's threat of high fines deterring them—a point USPIRG made in its denunciation of the decision.