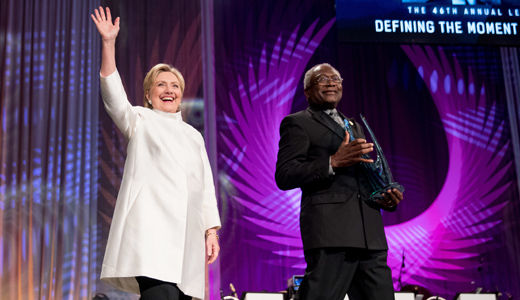 WASHINGTON — President Barack Obama on Saturday presented Hillary Clinton with the Congressional Black Caucus's Phoenix award, which recognizes "a leader who is the first, in his or her chosen field, to make a global or national groundbreaking achievement and whose vision, perseverance and lifework has created opportunities for African Americans and minorities."
Obama made the presentation during the 46th Annual Legislative Conference (ALC) of the Congressional Black Caucus Foundation (CBCF), held here Sept 14 to 18.
There were more than 100 seminars, panels and roundtables which addressed topics such as criminal justice reform, police brutality, economic opportunity, health care, education and the environment.
The theme of the conference was "Defining the Moment, Building the Movement."
"It's a pivotal moment in time for African Americans and the actions we take today will reflect upon future generations," said A. Shuanise Washington, president and CEO of the CBCF, a non-partisan, non-profit, public policy, research and educational organization.
In presenting the award to Clinton, Obama made clear he believes that as President, Clinton will continue the progress he has made toward health care being a right, not a privilege, toward better education for all, toward reforming our justice system and toward raising the standard of living of millions of people.
"There is one candidate who will advance those things," Obama said. "And there's another candidate whose defining principle, the central theme of his candidacy, is opposition to all that we've done."
In accepting the award, Clinton said she knows her achievement of becoming the first woman to run for President from a major party could not have been possible without the struggles of courageous women who came before her.
"I dedicate this award," she said, "to all trailblazers who came before me who I am following in their footsteps. Women like [U.S. Representatives] Barbara Jordan and Shirley Chisolm. And I dedicate the award to everyone who has been helping Americans break the barriers that are holding us back."
Clinton continued, the election this November "is not about golf course promotions or birth certificates. It comes down to who will fight for the forgotten."
She pledged that as President she would fight for raising the minimum wage, a justice system "that actually delivers justice," and for "good schools and good teachers no matter what zip code they live in."
Both Clinton and Obama urged the audience to make sure everybody they know votes in November.
"If I hear anybody saying their vote does not matter," Obama said, "that it doesn't matter who we elect [I say] 'read up on your history.' It matters.
"We've got to get people to vote."
However, the President also warned the audience that there are "those who are still trying to deny people the right to vote, [so] we've got to push back twice as hard. Right now, in multiple states, Republicans are actively and openly trying to prevent people from voting. Adding new barriers to registration. Cutting early voting. Closing polling places in predominantly minority communities. Refusing to send out absentee ballots. Kicking people off the rolls, often incorrectly."
He concluded by saying "change doesn't come from some ruler, but it comes from the bottom up, from us; from the actions we take, whether it's women seeking the right to vote, or a young John Lewis leading a mighty march in Selma.
"We do our part to slowly, steadily, make our union a little bit more perfect."
Clinton said that "as a country we have a moral obligation to rise up and make it possible for all our children to reach their dreams.
"We can't let Barack Obama's legacy fall into the hands of someone who doesn't understand that, whose dangerous divisive vision for our country will drag us backwards."
Photo: Democratic presidential candidate Hillary Clinton accompanied by James Clyburn, D-S.C., right, takes the stage to receive the Phoenix award at the Congressional Black Caucus Foundation's Phoenix Awards Dinner at the Washington Convention center, in Washington, Sept. 17. Andrew Harnik | AP
Obama's Full 2016 Congressional Black Caucus Speech