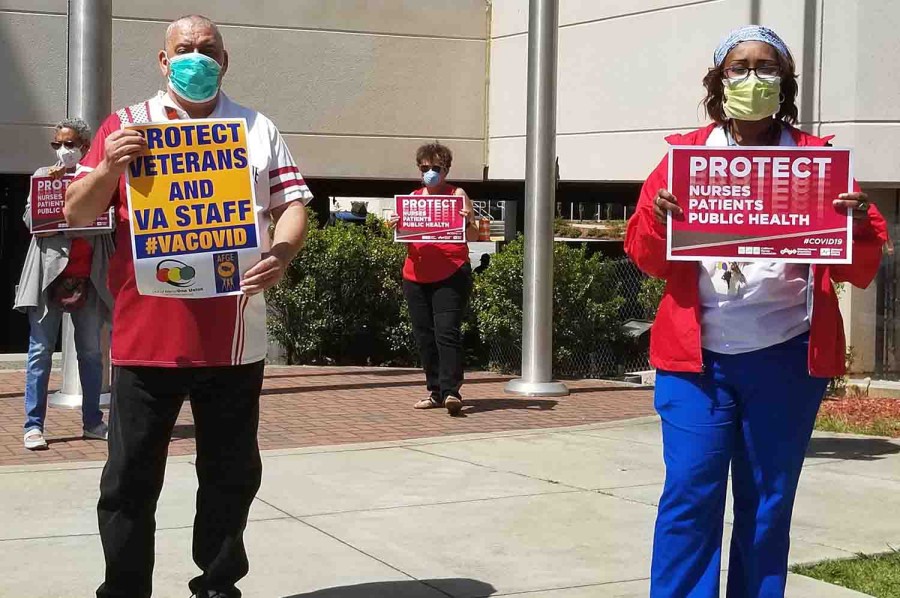 WASHINGTON—Getting fed up with Office of Management And Budget inaction, the Congressional Labor Caucus is pushing Democratic President Joe Biden to have his OMB approve a temporary federal rule forcing firms to protect their workers against the coronavirus.
The caucus letter to the chief executive, signed by 106 lawmakers, starts out by praising his handling of the pandemic so far, which has seen Biden bring order to the chaos he inherited from GOP oval office occupant Donald Trump.
Publicly, though not privately, Trump denied the virus threat. Academic studies report that since the government first declared the pandemic last March 13, Trump may not have been able to avoid the first 100,000 deaths nationwide – but the other 495,770 people it has killed, as of 5 p.m. on June 2, could have survived.
Unions say many could have survived had the Occupational Safety and Health Administration issued an Emergency Temporary Standard forcing firms to immediately create and implement anti-virus protection plans for workers and customers. National Nurses United campaigned for an ETS even before the pandemic proclamation.
Trump and his OSHA fought NNU, its allies, and the AFL-CIO on the standard, and won. Biden didn't fight, and OSHA sent a standard to Biden's OMB on April 26 for review. It has languished there ever since, and the lawmakers are getting peeved. So is the nurses' union.
"Nurses and other frontline workers across the nation continue to work without the critical protections we need to prevent COVID exposure, illness, and death," union President Deborah Burger, RN, said in a statement, using the formal name for the coronavirus.
"The failure to protect workers has cost thousands of lives. For more than 15 months, NNU has been advocating for OSHA to issue an emergency temporary standard to ensure that employers protect their workers during the pandemic, a standard that has yet to be issued," she added.  The lawmakers made the same point in their June 2 letter.
"Consequences of these delays are dire, and for some workers, the delay has been fatal," said their letter, co-authored by Labor Caucus Co-Chairs Reps. Mark Pocan, D-Wis., a Painter, Linda Sanchez, D-Calif., a Teamsters lawyer, Thomas Suozzi, D-N.Y., Debbie Dingell, D-Mich., Steven Horsford, D-Nev., a Unite Here Local 226 official, and Donald Norcross, D-N.J., former president of the South Jersey Building Trades Council and an Electrical Worker.
Other notable signers include House Appropriations Committee Chair Rep. Rosa DeLauro, D-Conn., whose panel actually helps dole out OSHA funds. The committee used past House versions of money bills to order OSHA to write such an emergency standard.
"Our nation's workers need an enforceable federal standard that will ensure their employers provide the comprehensive protections they need, including ventilation, respiratory protection, testing and screening, exposure notification, and on-site vaccinations," the lawmakers' said.
"Further, on May 13th, the CDC (Centers for Disease Control) issued new Covid guidelines which state fully vaccinated people no longer need to wear masks, avoid crowds or large gatherings, or isolate after exposure or get tested unless they are symptomatic."
The guidelines "may put frontline workers…at further risk of illness and death" without an ETS to force bosses to protect them, the lawmakers declared. "We respectfully urge you to issue the OSHA ETS and ensure it covers all at-risk workers without further delay," they urged.