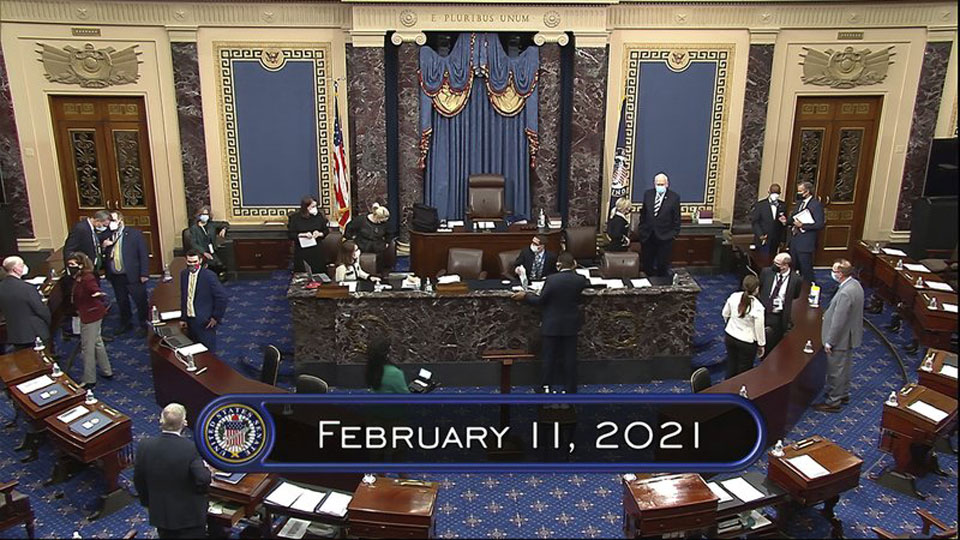 WASHINGTON—The congressional managers—prosecutors—of the impeachment case against former Oval Office occupant Donald Trump used Trump's and the invaders' own words to show why and how Trump incited the Jan. 6 insurrection in the Capitol, and argue forcefully for his conviction.
The managers repeatedly pounded away at Trump's words on Jan. 6 before pointing the invaders up towards Capitol Hill a mile away: "You have to get your people to fight, and you have to fight like hell. And if you don't fight like hell, you won't have a country anymore," Trump declared at that rally.
And they responded in loud shouts of "Storm the Capitol!" "Invade the Capitol!" and "Fight for Trump!" Upon arrival, they repeatedly, obscenely yelled to outnumbered police that Trump sent them.
In their third day of presenting evidence, the House managers also forecast what would happen if senators did not convict Trump of the high crime and misdemeanor of spurring on the insurrection. If Trump escapes conviction, "any president could incite a violent insurrection against the government" in the future, warned Rep. Jamie Raskin, D-Md., the lead manager.
"What greater offense could a president commit than to incite an insurrection against our government in our seat of power?" Raskin asked the 100 senators. "What is—what would be—impeachable conduct, if not this?"
"If we pretend this didn't happen, or, worse if we let it go unanswered, who's to say it won't happen again?" Rep. Joe Neguse, D-Colo., warned in their closing argument.
Managers also went back into Trump's history and pattern of both egging on insurrectionists, invaders, white nationalists, neo-Nazis, and other racists, then supporting them after violence occurred.
And Trump refuses still to take ownership of the invasion and its consequences, including four dead attackers and three dead police officers, plus 146 injured officers, said Rep. Ted Lieu, D-Calif.
"That sends its own unique and dangerous message: It is 'patriotic' to incite an attack and get away with it. We have to send a message this cannot be done ever again."
Even so, it's unlikely the House managers convinced 17 of the 50 Republican senators to join all 48 Democrats and both Democratic-leaning independents and convict Trump. Five are likely. Sen. Bill Cassidy, R-La., is possible. Many of the rest retreat to arguing that since Trump isn't in the Oval Office anymore, he can't be impeached and convicted. Conviction would bar another Trump presidential run.
To buttress their case with ever more facts, the managers looked both forward and backward. The backward looks were tapes of Trump's support of past racist and white nationalist violent attacks.
Those included Trump urging supporters to beat and injure dissidents during his 2015 and 2016 campaign rallies, and similar incitements once he reached the White House.
In one of the most disturbing videos, the managers showed the 2017 neo-Nazi protest in Charlottesville, Va., and the neo-Nazi's car there plowing into peaceful opponents, killing Heather Heyer—and Trump then saying "both sides have very fine people."
"Each time his supporters along the way showed violence, he encouraged it, he endorsed it, he praised it," said Neguse,  summing up both those videos and screenings of what Trump meant when he urged his legions last year and through Jan. 6 to "Stop the steal!" That referred to Trump's endlessly repeated lie that the 2020 election was "stolen."
"When his supporters sent death threats, what did he do? Trump endorsed them. And viewing a prior Dec. 12 pro-Trump rally, Trump tweeted: 'The fight has just begun.'
"Then he bought $50 million worth of ads to promote his message to that very same group" of backers, who were violent and prepared to explode, Neguse said. "You heard the chatter on social media" and websites "as a call to arms." The FBI and domestic terrorist monitors took the threats seriously.
"He invited them to a specific event, at a specific day, at a specific time" on Jan. 6 "to 'stop the steal.' And he knew it" and the danger from news reports and briefings from staffers and intelligence agencies. "He had to call it off. He was the only one who could." He didn't.
Quoting one U.S. founder, conservative Virginian George Mason, Raskin told senators "incitement of insurrection is a great and dangerous offense against the republic. Indeed, there can be no greater offense."
All that endangers the future of U.S. democracy and representative government, the managers warned. If a private citizen incited a coup, supported a foreign power or advocated insurrection, the Constitution's First Amendment protects that free speech, Raskin said.
But the president cannot incite a coup, aid a foreign power or incite an insurrection without violating the Constitution and his own oath to uphold it, Raskin, a longtime constitutional law professor, stated.
He did not, however, mention subsequent laws, such as the 1917 Sedition Act and the 2001 Patriot Act, which curb free speech. The Sedition Act, used often against workers, unionists, and Communists, has quashed dissent for a century. More recently, the feds use it to target leakers. The Patriot Act, passed after the Sept. 11, 2001, al-Qaeda attacks, gives U.S. spy agencies wide-ranging domestic powers.
Rep. Diana DeGette, D-Colo., showed repeated clips from the viewpoints of the invading crowd itself, using their own videos, tweets, and selfies, showing the perpetrators all "thought they were following orders from their commander-in-chief" and immune from arrest, to boot because they were "patriots." So far, at least 130 have been arrested.
Trump's defense attorneys will start their arguments on Feb. 12. They "argued in their brief that" Trumpites accosted the Capitol "for their own reasons and of their own accord," DeGette said. "That's not what the insurrectionists said."
DeGette played videos insurrectionists within the crowd took and posted online, saying they invaded on Trump's behalf and at his orders. And Trump was in contact with many of the later leaders of the Jan. 6 invasion for months before, Raskin pointed out. So he knew their thinking.
"We also have online extremist chants on Parler"—a far-right website that has since been kicked off of major platforms—"of 'Time to fight!' and 'Civil war is upon us,'" said DeGette. "They recited the president's very words. The president said 'Show strength.'"
The managers also went through a timeline, not just of Trump's egging on the insurrectionists, but of federal anti-terrorist officials' warnings, often ignored, of the threat of violent extremism. The Oct. 8, 2020 plot, broken up by the FBI, to kidnap and kill Gov. Gretchen Whitmer, D-Mich., was central.
Trump repeatedly denounced Whitmer for not kowtowing to his demands to quickly open her state despite the coronavirus pandemic. That plot and two earlier invasions of the state capital building in Lansing shows extremists' coordination and tactics later used in D.C. "were road-tested," Raskin said.
"What did Donald Trump do, condemn these violent extremists who planned to launch a civil war? He did not. He vilified her [Whitmer], demanded her gratitude" to the FBI "and then pivoted to attacking Antifa."
"If we let him [Trump] get away with this, and he comes back to your (his emphasis) state capital, or to here, what are we going to say?"
The complete video of the five-hour session will be available on the Senate website, along with videos of prior impeachment trial sessions.
Like free stuff? So do we. Here at People's World, we believe strongly in the mission of keeping the labor and democratic movements informed so they are prepared for the struggle. But we need your help. While our content is free for readers (something we are proud of) it takes money — a lot of it — to produce and cover the stories you see in our pages. Only you, our readers and supporters, can keep us going. Only you can make sure we keep the news that matters free of paywalls and advertisements. If you enjoy reading People's World and the stories we bring you, support our work by becoming a $5 monthly sustainer today.