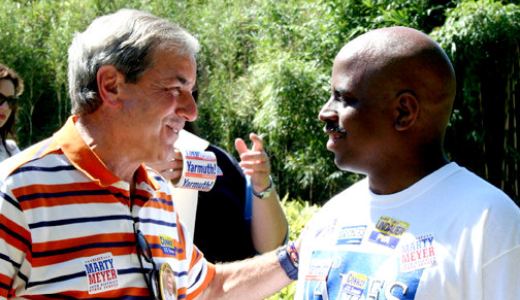 LOUISVILLE, Ky. – Though HR 2, "Repealing the Job-Killing Health Care Law" passed in the House of Representatives on January 19, Rep. John Yarmuth, D-Ky., voted against the repeal, voicing the opinion of the Kentucky working class against the corporate interests of the Republican Party. Yarmuth, who represents Louisville and the surrounding area, stood by his earlier vote for the historic health care law passed by the 111th Congress last March.
The impact of the repeal would be devastating to Louisvillians alone. It would increase costs for almost every Louisville resident – eliminating tax credits for close to 16,000 Louisville businesses; allowing health care companies to deny coverage to over 300,000 Louisvillians with pre-existing conditions (including 40,000 children); dropping 2,600 young adults from their parents' insurance (including this writer); taking away coverage from up to 24,000 Louisvillians; increasing costs for prescription drugs for 9,500 Louisville seniors, and deny new preventive care coverage to 117,000 senior citizens in Louisville.
The repeal is not expected to pass the Senate, and if it does, it will surely be vetoed by President Obama. This will not stop the Republican Party from seeking to dismantle health care for Louisville and all Americans. The GOP will attempt to cut the health care law's funding, delay its implementation, and do whatever it takes to stop the landmark reform. According to a January 17 poll by the Associated Press-GfK, about 25 percent of Americans support the repeal, whereas 43 percent want the law changed to do more to fix the health care system in America.
Yarmuth has shown his support for other progressive causes. Before being elected to the House of Representatives in 2006, he founded the Louisville Eccentric Observer (known as the LEO), a free weekly newspaper, in 1990. He also wrote a political column that was progressive-oriented, that would often appear on the first page of the LEO.
In December, Yarmuth voted for the pro-worker Mine Safety Act, which did not pass the House, but would have put more responsibility on mine owners to protect their workers. He also voted to extend unemployment benefits for workers devastated by the recession, voted for the repeal of "Don't Ask, Don't Tell," voted for the DREAM Act, and in August voted for a failed resolution directing the president to removed armed forces from Pakistan.