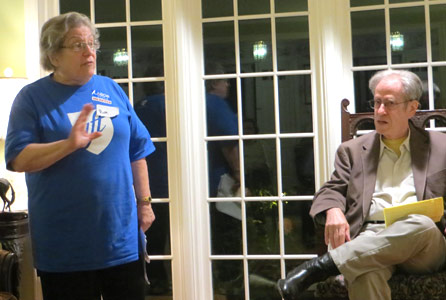 HARTFORD — Activists from the Hartford Service Workers club took time out from a busy day of door-knocking union households for Dannel Malloy for Governor to gather and commemorate the 50th anniversary of the 1964 Mississippi Summer. The occasion featured a talk by 1960s civil rights activist Larry Rubin and was sponsored by the Hartford Labor Committee of the People's World.
Larry Rubin was a Student Nonviolent Coordinating Committee (SNCC) field secretary off and on between 1961 and 1965, first in southwest Georgia and then in northern Mississippi. After SNCC, he went to Kentucky on assignment by the Southern Conference Educational Fund.
For 45 years Rubin has worked in the labor movement as an organizer, media and public relations specialist, speechwriter, publications editor and political advocate. He served four terms on the Takoma Park, Maryland city council. Until recently, he was the communications director and DC-area political director for the Mid-Atlantic Regional Council of Carpenters, an affiliate of the Carpenters union.
"Don't shy away from race and institutionalized racism, as these remain real forces in today's world. We must organize within our communities as the struggle continues," Rubin urged the gathering. He drew a parallel between the issues of the '60s and current activity. The powerful discussion that followed involved sharing of similar Mississippi experiences of those in attendance. Obvious themes included huge disparities that limit options and opportunities for working families. Rubin guided the discussion by validating causes that bring peace to a troubled world.
Discussion also focused on the struggle to get Malloy re-elected and to pass Question 1 to allow a constitutional amendment so the state legislature could enact measures for early voting. Throughout the evening the leitmotif repeated: "Organize Organize Organize!"
Connecticut has become a battleground state in the upcoming gubernatorial election as incumbent Democratic governor Dannel P. Malloy faces stiff opposition from Greenwich millionaire Tom Foley. The race is neck and neck and parallels a similarly tight race with Malloy beating Foley four years ago by a narrow margin.
With Malloy as governor, Connecticut became the first state to enact paid sick days and a $10.10 minimum wage. Home health care and home child care workers won the right to organize and have signed their first contract.
Photo: Event organizer Ruth Tulin Cion introduces Larry Rubin. Win Heimer.