NEW HAVEN, Conn. – Today's resistance movement is linked to the struggles throughout our country's history for emancipation, workers' rights, equality, peace, and social justice. We learn, draw inspiration, and build upon the courage and perseverance of countless warriors for justice who have paved the way.
Frederick Douglass, born 200 years ago, is one of those great contributors whose lifework informs today's fightback against a tyrannical administration's policies.
"Power concedes nothing without a demand. It never did and it never will," said Douglass famously. "The limits of tyrants are prescribed by the endurance of those whom they oppress."
In this spirit, the 43rd African American History Month celebration hosted by People's World in Hartford and New Haven, Connecticut under the theme, "We Won't Go Back," commemorated Douglass and his visits to the state.
Douglass, who escaped from slavery in Maryland, went on to become a foremost leader of the abolition movement and a tireless champion for the right to vote for African American men and all women. He fiercely agitated on behalf of all basic democratic struggles for human rights.
Speaking at the event held in the sanctuary city of New Haven, labor and community leader Fatima Rojas brought together the freedom struggle of African Americans with the emergency struggle for immigrant rights and to stop deportations today.
Recalling her own experience as a low wage worker, Rojas said that she quickly came to understand that her struggle as an immigrant from Latin America was a common struggle with that of the African American people against institutionalized racism, racial profiling, and mass incarceration in the United States.
"Douglass was a firm believer in the equality of all peoples, including black, female, Native American, or immigrant," said guest speaker James Bradford, community activist and chair of the Communist Party in Eastern Pennsylvania and Delaware.
Referring to the necessity of issue coalitions to unite working people to defeat reactionary extremism, Bradford pointed out that "Douglass was also a believer in dialogue and in making alliances across racial and ideological divides. When Douglass was criticized by radical abolitionists for his willingness to dialogue with slave owners, his response was, 'I would unite with anybody to do right and with nobody to do wrong.'"
In 1864, Douglass traveled to Hartford and New Haven, where he addressed more than 1,200 free Black men gathered to join the 29th Regiment of the Union Army and fight in the civil war for freedom.
"Not for yourselves alone are you marshaled – you are pioneers – on you depends the destiny of four millions of the colored race in this country. If you rise and flourish, we shall rise and flourish. If you win freedom and citizenship, we shall share your freedom and citizenship," Douglass declared.
In a dramatic presentation, Ice the Beef Youth portrayed Douglass' speech while a member of the Descendants of the 29th Regiment, dressed in uniform, looked on. Later, Raymond Sims, president of the Descendants group, accepted a framed recognition for "your dedication to commemorate and perpetuate the memory and contributions of your ancestors who fought so gallantly in the regiment for their manhood, honor, freedom, and glory and for the freedom of all in our country."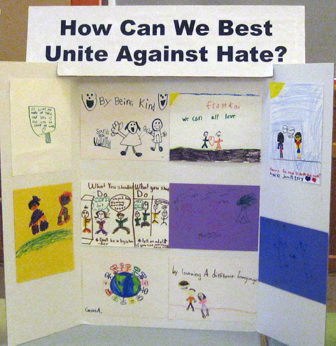 On exhibit also were drawings by public school students who had been invited to submit works in response to the question: "How can we unite against hate, bigotry and injustice to continue Frederick Douglass' legacy in today's world?" All participants were acknowledged and students with winning entries presented to the audience. The event, held at Troup School, was welcomed by Tamra Green, Family Resource Coordinator.
Speaking in Hartford and New Haven, Bradford left the audience with a challenge: "If Frederick Douglass was willing to risk his life for the sake of freedom, what are we willing to do today? What are we willing to do to change the way people think?"
"People fought and died for your right to vote. Vote!" said Bradford. "People fought and were beaten up to learn. Learn! Keep up the good fight! Maintain your zeal and enthusiasm for struggle. And as Douglass so aptly stated: Agitate! Agitate! Agitate!" Bradford exclaimed.
He called upon the audience to: "Teach the next generation of leaders and fighters. If we're not careful, all that we fought for can be lost in a matter of years. Take every election seriously. The right wing takes every election seriously from dog catcher to president. So should we!" He encouraged everyone to march, sign petitions, write and visit their member of Congress, run for office, and volunteer in a campaign in 2018.
"Help to build networks that can foster progressive change, and enable you to make connections with those who may not agree with us now, but who are potentially persuadable," Bradford concluded.