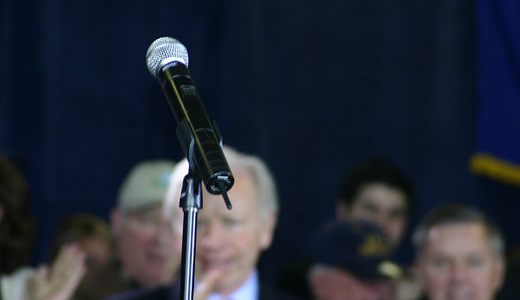 Our kids can't vote on Nov. 6. But we can.
In Connecticut, the budget cuts that Paul Ryan, Mitt Romney and Republican Senate candidate Linda McMahon support are already hurting the children, causing a shortfall of funds for public education. In New Haven 30 paraprofessional jobs are unfilled, and half the K-2 classrooms lack full staff.
Starting in 2008, the economic crisis hammered state and town budgets in Connecticut. Revenues fell, while the need for services grew. State aid to education fell by $400 million per year.
Thanks to President Obama's stimulus package most of the gap was filled. Federal aid to education increased from 5% to 9.1% of local school budgets. Stimulus funds also prevented layoff of police and firefighters, and paid for infrastructure repairs. But the stimulus only lasted for two years.
Last year, President Obama introduced the American Jobs Act, which would have continued funding for teachers, police and firefighters. Republicans in Congress blocked it. As a result 3,000 teacher jobs have been cut in Connecticut leaving classrooms in some towns overcrowded with more than 30 students.
Mitt Romney and Linda McMahon's program will cut federal funds for education even further. And it's not just the schools that will suffer. Hundreds of New Haven youth missed out on youth@work summer jobs when the stimulus funding was not renewed.
Cutting federal funds also endangers non-profits doing vital work with youth programs and education. Federal grants and loans keep thousands of students in classrooms at Southern, Gateway and other area colleges and universities, generating hundreds of jobs in New Haven.
When federal budgets are cut to preserve tax breaks for the wealthy, state and local governments are faced with a choice: close schools, libraries and clinics, or raise taxes on working people.
When Republicans blocked the American Jobs Act in Congress, the state of Connecticut stepped in with increased aid to local schools. But to pay for keeping teachers in classrooms and other state services, taxes were increased on working families.
Mitt Romney and Linda McMahon want to keep and extend tax breaks for multi-millionaires like themselves. McMahon is the former CEO of World Wrestling Entertainment. She has spent over $60 million of her fortune running for the Senate and if elected, she will be one of the wealthiest people in Congress. Romney and McMahon have a big personal stake in preserving the special tax breaks that benefit the richest 1%.
President Obama supports ending the Bush tax breaks for the rich and closing some of the biggest and most unfair loopholes. But again he has been blocked by Republicans in Congress.
For the sake of the children: our city, state and nation need policies that put children and working families first.
Voters in Connecticut have a clear choice in the race for U.S. Senate. During his seven years in Congress Chris Murphy has been a strong supporter of President Obama's economic program and healthcare reform. He has a record of fighting for manufacturing jobs, renewable energy and union rights.
"Linda McMahon's tax proposal would give her a $7 million break," he said, asking, "what is more important? $7 million more for Linda McMahon or $7 million invested in New Haven's Fair Haven, Newhallville and Hill neighborhoods?"
The Senate race in Connecticut is a tossup. If Linda McMahon wins, it could hand control of the whole Congress to the Republicans, whose highest priority is to take down President Obama. Every vote can make the difference.
Photo: The candidates are vying for the Senate seat left vacant by Sen. Joseph Lieberman, Independent. emmett.hume // CC 2.0