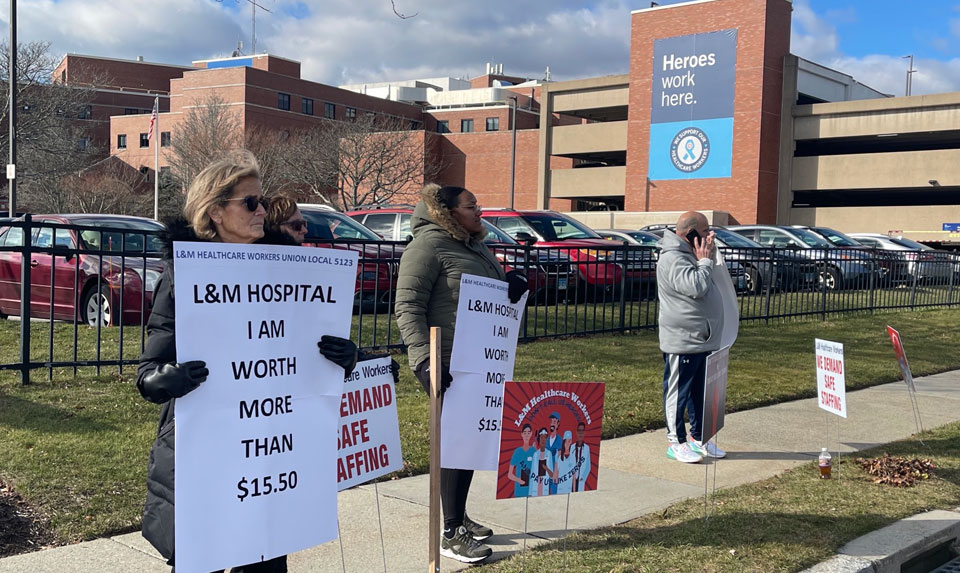 NEW LONDON, Conn. Over 900 members of Local 5123, AFT Connecticut are demanding that Yale New Haven Health administrators negotiate in good faith for a new contract that would provide living wages and affordable health care insurance. These workers provide support services that ensure patients receive adequate care at Lawrence and Memorial Hospital owned by Yale New Haven Health, one of the wealthiest and largest health care systems in Connecticut.
Connie Fields, President of Local 5123 says that union members are struggling to support themselves and their families on the $15.50 per hour wages and poor healthcare insurance provided by Yale New Haven Health. Many workers are forced to go on the Connecticut Husky Health plan to supplement the health insurance provided on the job.
This is occurring at the same time that Patrick Green, President of Lawrence and Memorial Hospital makes over $1.2 million dollars per year in salary. Their boss makes over a million dollars per year while workers have to go on the State of Connecticut health plan! It is clear that Yale New Haven Health's priorities are backwards.
Local 5123's members have been in contract negotiations since May 2022 with Yale New Haven Health's administrators refusing to agree to decent living wages, reasonable health care and adequate staffing levels.
There are 130 vacant positions currently unfilled resulting in workers having difficulty providing needed care for patients. The union members are overworked and struggling to provide adequate care and services for patients. The Hospital's poor treatment of workers extends to patients and the local community.
These health care workers are not alone in their struggle for a decent contract. This morning local leaders from New London, Groton and surrounding towns showed up on the picket line to show their support for the worker's need for adequate staffing levels to assist patients, affordable health care and living wages.
Among those joining the picket line were Mayor Michael Passero of New London, State Senator Martha Marx, and State Representatives Anthony Nolan, Christine Conley and Aundre Bumgardner. They recognized that Local 5123 members are engaged in a struggle to improve the lives of their families, patients and the broader community.
Signs carried on the picket lines illustrate these needs: " L & M Healthcare Workers: We Demand Safe Staffing" "Hero Workers Paid Like Zeros" "L & M Hospital: I AM Worth More Than $15.50"
Members of Local 5123 AFT Connecticut deserve a decent contract!