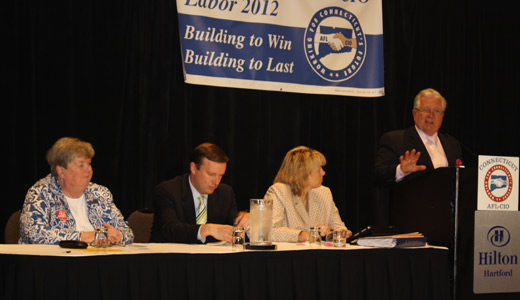 "We won't ever let them take our movement backward," exclaimed Arlene Holt Baker, executive vice president of the AFL-CIO, as delegates jumped to their feet in a standing ovation at the Connecticut AFL-CIO convention.
She concluded her passionate speech with a call to action for "an economy that honors the dignity of all workers and brings out the best in America and each other."
"This election is not about 'D' or 'R', but whose side are you on? It is not your party, but your policy," Holt Baker told the delegates, calling upon them to "join with your sisters and brothers across America to build a movement to bring jobs home."
A major rally scheduled for Philadelphia on August 11 will roll out a workers' bill of rights that will set the agenda for labor's voter mobilization and community outreach. Listening meetings on the issues will be held across the country.
"This is a campaign like no other," said Jim Snow, Northeast Regional Director, explaining that the organizing effort will be 12 months of the year, not just at election time.
The convention voted unanimously for primary endorsements of Rep. Chris Murphy for the U.S. Senate seat being vacated by Joe Lieberman, and State Rep. Chris Donovan for the 5th CD seat now held by Murphy.
Murphy, who defeated longtime Republican Rep. Nancy Johnson in 2006, in a district filled with empty factories that moved overseas, is best known for his legislation to restore the manufacturing base by requiring the government to purchase products made in this country.
Donovan, currently speaker of the state House of Representatives, has been a champion for health care, family and medical leave and raising the minimum wage. His race was complicated when a member of his campaign staff was charged with hiding the source of several large donations. An independent investigation has proved Donovan had no knowledge of the wrongdoing.
Donovan's years of work as a union organizer and his responsiveness to constituents has earned him deep respect. His campaign is attracting a large number of volunteers and small donors as the August 14 primary draws near.
The convention heard from all primary candidates, including wrestling millionaire Linda McMahon who follows the tea party script, claiming to be a job creator while defending tax cuts for the rich. In fact, her tenure at the WWE is swirling in controversy over the lack of health care or other benefits despite injuries sustained by a number of wrestlers.
Congratulating delegates on their hard work that produced across the board victories in the 2010 elections in Connecticut, Holt Baker asked the convention to commit to register at least 20 percent of any unregistered union members this summer.
Discussing the AFL-CIO endorsement of President Barack Obama, Holt Baker delineated a list of his accomplishments that have benefited working people including the stimulus, the Affordable Care Act, protection of women's rights and protection of rights on the job.
"Mitt Romney made his money off the backs of American workers," she said. "Mitt Romney is a 'job killer.'"
Delegates applauded as she said, "If we didn't get all from Obama that we wanted, it's because we didn't push hard enough. We must send Obama a congress that he can work with."
The convention adopted a resolution in support of a "dialogue for a clean energy economy that creates jobs." John Olsen, Connecticut AFL-CIO president, convened a luncheon following the convention which initiated the dialogue with labor, environment, faith-based and community leaders, focusing on alternative energy production and job creation in the state.
Photo: Conn. AFL-CIO President John Olsen introduces Rep. Chris Murphy, candidate for U.S. Senate at the CT AFL CIO convention on June 25. Courtesty Conn. AFL-CIO