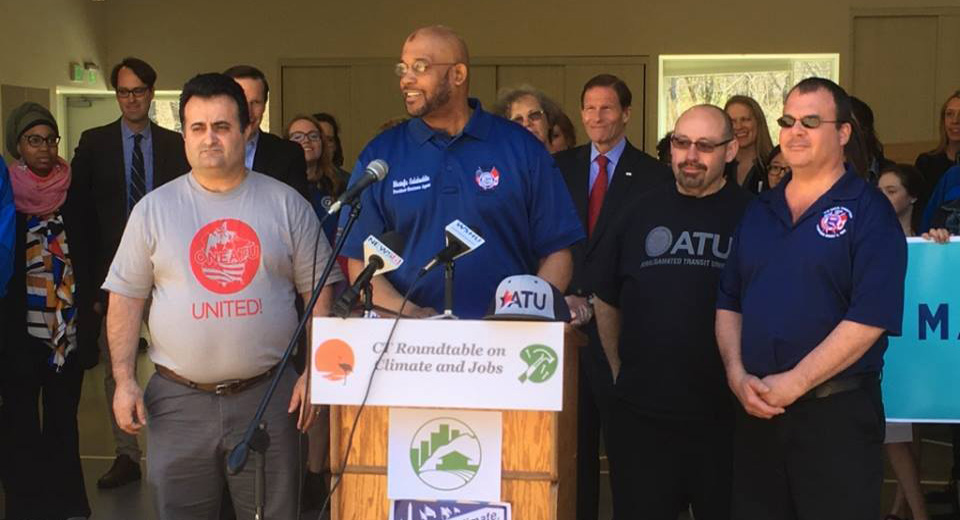 NEW HAVEN, Conn. — At a press conference overlooking the urban woodlands of Common Ground High School, labor leader Mustafa Salahuddin offered a message from his children ages 9, 13 and 14. "It is our responsibility to make the air cleaner.  Get on the bus.  March in the streets."
The media event, hosted by Connecticut Roundtable on Climate and Jobs to support the national March for Science on April 22 and March for Climate, Jobs and Justice on April 29, brought union, environmental, faith based and youth groups together with U.S. Senators Richard Blumenthal and Chris Murphy.
Salahuddin, president of Amalgamated Transit Union (ATU) Local 1336 in the nearby city of Bridgeport, said his 190.000-member national union has established a climate action committee and serves on the People's Climate march steering committee.  The health of the people of Bridgeport, a city with majority Latino and African American population, has been affected by pollution from a coal power plant and fossil fuels for years he said, calling for an increase in public transportation as a way to address climate change and create jobs.
Blumenthal called for "resources, enforcement and investment" as necessary to preserve and enhance the environment.
"Trump's 30 percent cut to the Environmental Protection Agency and 60 percent cut to enforcement betrays that trust," he said, adding, "we will fight, fight, fight."
Launched in 2012, the Connecticut Roundtable on Climate and Jobs has brought together labor, religious and environmental organizations to address the urgency of climate change and the need for good paying jobs for workers in a future without fossil fuels.
"We are here today to encourage the people of Connecticut to get up and get on the move," said John Harrity, president of the Connecticut State Council of Machinists and leader of the Roundtable.
Referring to Donald Trump's denial that climate change is real, Harrity exclaimed, "Trump cannot change reality through fiats or edicts.  But we can change political reality by organizing, marching, holding rallies, and holding all public officials accountable for addressing this crisis."
"The solution to climate danger rests with the people," said Harrity.  "We have to demand change.  We have to demand scientific and technological innovation.  We have to demand economic and social restructuring commensurate with the urgency and scope of the problem."
That innovation can create thousands of new jobs and benefit the Connecticut economy, which has had a strong industrial base, said Murphy.
"Nobody in this country wants wholesale withdrawal from clean air and water," he said, emphasizing that when people make their voices heard it has an impact. For example, he said, "The health care repeal bill was days away from passing the House.  It went down in flames because of activism."
Crediting the activists present, New Haven City Engineer Giovanni Zinn announced the New Haven Climate and Sustainability Framework, to be launched this summer, will double the solar megawatts for public schools. Mayor Toni Harp is part of the Compact of Mayors, a global coalition of 596 cities pledged to reduce local greenhouse gas emissions and enhance resilience to climate change.
New Haven public school student Tyra DeBoise, who participates in the United Church of Christ project Environmental Justice for All, explained that she has been raised to conserve water and recycle because "we share our planet. Environmental justice means clean air, water and atmosphere for everyone regardless of where they live and the color of their skin."
Common Ground High School, which includes a working farm and educational gardens, is focused on urban ecology and sustainability.  Students will be among the participants in the Rock to Rock bike ride and Science March on April 22.
Eight Connecticut buses for the Climate, Jobs, Justice march on Washington on April 29, Trump's 100th day in office, are being organized by 350CT.org,
A bus of union workers for a clean and just economy is being organized by UAW Local 6950, representing 2,200 members at the University of Connecticut/Storrs campus.
"We represent graduate teaching assistants," said president Todd Vachon. " The environmentalists and ecologists know that climate change is real, that it is a result of human activity, and that we are feeling the effects now. The sociologists know the impact of wealth inequality."
As Connecticut prepares to join with thousands from around the country in the nation's capital, Harrity emphasized, "Donald Trump is not insurmountable.  We are the people – of this great country and this beautiful world.  We will make sure climate change is addressed, and humanity has the same opportunity in the future to enjoy the gifts of earth that we have had in our lifetimes."