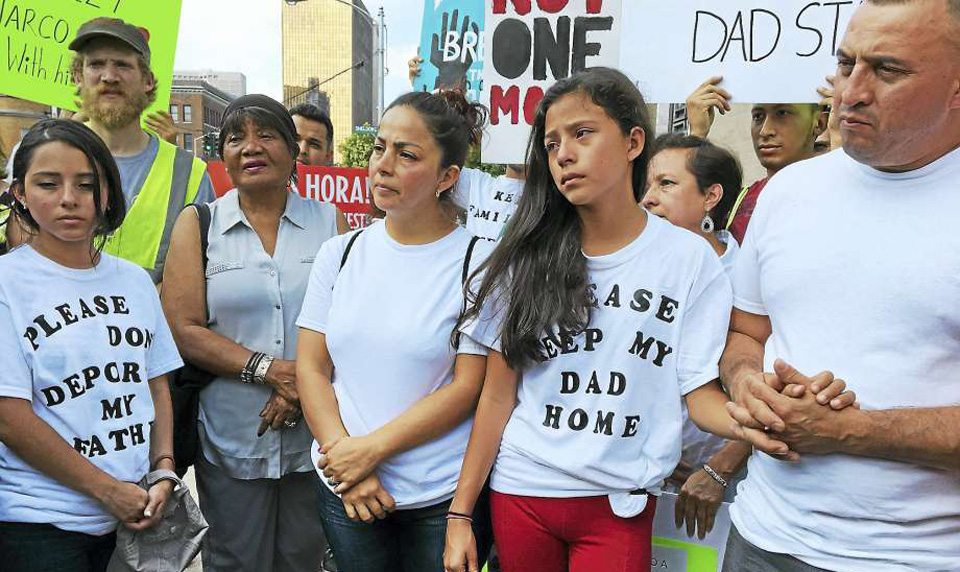 NEW HAVEN, Conn.—Marco Antonio Reyes Alvarez took sanctuary at the First and Summerfield United Methodist Church in New Haven this week instead of deporting back to Ecuador where his life would be endangered and where he would be separated from his wife and children for at least ten years.
His case has placed national immigration policy under sharp attack.
To cheers at a press conference and large rally outside the church, Mayor Toni Harp exclaimed, "Just to be clear: New Haven will remain a sanctuary city. New Haven will be a welcoming city no matter where you used to live or where you came from."
The mayor proclaimed, "Even if leaders in Washington do not do a good job of upholding the values that our nation is founded on, we will make sure that we uphold those values here and in cities across the country. We will assist Marco Reyes any way we can. We are not going to engage in helping deport law-abiding residents. We build bridges, not walls."
Speaking from inside the gated church steps, Reyes thanked everyone and explained that he made the difficult decision to seek sanctuary as the last option to prevent permanent separation from his family.
"This morning I was supposed to be in the airport at 7:45. After speaking with my wife and children I made a different decision to seek help and stay here in this holy place," he said. "I came to this country with a lot of dreams. Here I am. Here is my family. Here is my community. Here are all of us who want to live in a better world."
The Connecticut Immigrant Rights Alliance (CIRA) and Unidad Latina en Accion (ULA), as well as the sanctuary movement of faith leaders, had been working closely with Reyes and his family for several weeks. They were prepared to help.
This is one of many cases these groups are dealing with around the clock. A week earlier, they had assisted Nury Chavarria when she took sanctuary at Iglesia de Dios Pentacostal inspiring public support from the governor on down. After four days, ICE made a new ruling on Chavarria's case. She received an emergency stay of deportation and returned to her family in Norwalk.
Standing with Reyes, Sen. Richard Blumenthal, D.-Conn, said that Reyes never got the fair hearing he deserves. Blumenthal said his career in law enforcement taught him that "enforcement requires a sense of fairness, justice, and humanity. It requires discretion."
"Our country is better than the policies pursued these past seven months which will tear apart families and rip apart communities," said Blumenthal.
The Reyes family has lived in Meriden since 1997 with two children protected by DACA, and one a U.S. citizen.
After accidentally crossing the border into Canada during vacation in 2016, Reyes has reported regularly to ICE as required and has been granted stays of removal. This June, he was suddenly denied and ordered to leave the country by August 8.
When his new lawyer was not able to get a stay of deportation from ICE, Reyes and his family had a big decision to make. First and Summerfield Pastor Juhye Hahn was awakened by a call early that morning.
"When I got a call at 2:30 am saying that sanctuary was needed in four hours, we didn't ask the legal situation. We didn't ask where he was from. We simply responded. The Bible teaches us to welcome strangers and provide hospitality to all in need," said Hahn.
The church is also home to the offices of the UNITE-HERE unions that represent workers at Yale University. Speaking on behalf of UNITE-HERE, Rev. Scott Marks led the crowd in a chant, "United we stand, divided we fall."
"We stand together with brother Marco Reyes." said Marks. "One thing the [Trump] administration would like is for us to be divided and separated. UNITE-HERE and New Haven Rising calls on Black people, calls on brown people, calls on all people to stand together. If we stand together we will win."
Also addressing national immigration policy, Meriden Councilman Miguel Castro warned that "our humanitarian values and democracy are under attack… Marco Reyes and his family are victims of a national policy tearing families apart and threatening the core of our country's fabric." He called for everyone to stand together as a coalition in order to change those policies.
"Today, Connecticut has become an example for the country," said  Reyes' pastor, Omar Herrera. I believe that we have awakened."
"Marco's case breaks our heart," said Jesus Morales Santiago, on behalf of ULA. "Thousands of families in the nation are going through a similar situation. Our community is tired of being strangers in our own land. Many of us are descendants of Native Americans. Our ancestors stepped on these lands. We have the right to live here peacefully toward a better future."
In the last week, ULA was assisting in four cases including that of Mynor Espinoza, a hardworking father of four, including three U.S. citizen children. After his case became public, Espinoza was released from a detention center in Massachusetts where he was taken after being entrapped by ICE. He had been told to present himself to sign documents for his young son, but when they arrived at the ICE office, he was detained and transferred to a federal facility.
The case exposed a new tactic by ICE specifically aimed at separating families, which is being denounced for its inhumanity.
CIRA and ULA began strategizing and planning early this year in anticipation of mass deportations.  Working with local faith leaders, lawyers, elected officials, and community and union organizations, the groups established the first-in-the-country Immigration Bail Fund.
Representing CIRA, Alok Bhatt told the rally for Reyes that the courage he and his family are demonstrating "challenges us to be better advocates, to build a movement and stand up for everybody and change the policy. Justice is the justice we create."