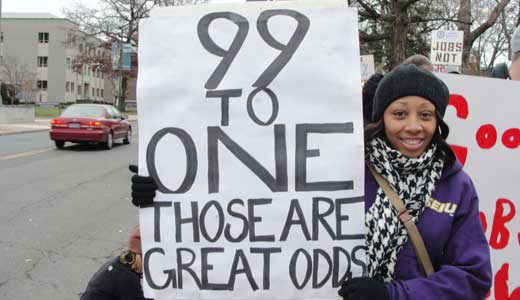 NEW HAVEN, Conn. – A closed youth center in New Haven and a highway entrance in Hartford were the sites of lively rallies Nov. 17, a national day of action that include over 300 "99 percent" protests for infrastructure jobs to meet the needs of local communities across the country.
"What do we want?" "Jobs!" "When do we want them?" "Now!" was the chant at the Dixwell Community House on Dixwell Ave. here. Horns honked in support on the busy street at rush hour as youth in middle and high school led the press conference and speak out called "The Q House Needs Work and So Do We!"
"I am so excited that the Q House is one of the sites on this national day of action," said Alderwoman-elect Jeanette Morrison, standing at the youth center in the middle of her ward, which has been closed for more than a decade. Morrison, a member of AFSCME, is one of 15 labor candidates who won election to the New Haven Board of Aldermen in November. Opening the Q House is one of her major issues, reflecting the responses she received while campaigning.
The event was co-sponsored by New Elm City Dream, a youth group that led a march of 200 through downtown days before the election in support of the provisions of the American Jobs Act and local job creation targeted to youth. The New Haven high school students spoke eloquently of the need for jobs and youth programs to help end the violence that has claimed the lives of so many of their friends and classmates this year.
"The New Elm City Dream is about getting jobs for youth. We come together and share ideas, and we have fun doing our work together," said Alexander Shakir.
"I'm tired of hearing about my friends getting into fights, because they had nothing to do after school," exclaimed Teyanna Gray. "We need youth centers in New Haven so that the youth will have a place to go and stay out of trouble."
"Really, what the youth need is a place they can call home," said Anthony Staggers. "Right now, they have nowhere to go, so they get caught up in all kinds of problems. The Q House should be a place we could call home again."
David Roy, from the Jobs and Unemployed Committee at the New Haven Peoples Center went to the Q House as a youth. He emphasized that he never had trouble finding work until he was laid off from the now closed Winchester factory down the street when it moved overseas.
MoveOn members from surrounding towns, said they were happy to learn about the Q House and participate. Stephen Monroe Tomzak of New Haven MoveOn reminded the crowd that our country has done before what is needed now – a massive WPA public works jobs program. He called for restoring taxes on the rich to fund such job creation.
Those present signed an oversized card to U.S. Sen. Joseph Lieberman, I-Conn., highlighting the shameful fact that he voted against bringing two key parts of the American Jobs Act to the floor, including jobs for teachers and first responders and jobs for infrastructure repair. The poster will be delivered to his Hartford office during the holidays.
In Hartford, over 200 protesters marched down Farmington Avenue to the Broad Street ramp onto I-84. Twelve union leaders and activists sat down in civil disobedience to bring public attention to the urgent need for funds to repair highways in Connecticut and across the country.
The members of SEIU, IAM and Connecticut Citizens Action Group sat down peacefully until police arrested them for obstruction. They chanted to hold Wall St. Accountable. Connecticut Action Alliance For a Fair Economy organized the march and protest.
"We want jobs, not cuts! We want to make the 1 percent and Wall Street pay their fair share," said Tom Swan, director of Connecticut Citizens Action Group.
Photo: Hartford, Conn. 200 protestors called for funds to repair highways in Connecticut and across the country Nov. 17.