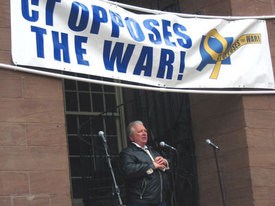 NEW HAVEN, Conn. — At the People's Weekly World annual May Day celebration here, Connecticut AFL-CIO President John Olsen recalled that only two years ago Connecticut Labor Against the War was awarded the Connecticut PWW's Newsmaker Award. This, he said, contributed to the dialogue that resulted in adoption by the state and national AFL-CIO of strong resolutions against the Iraq war.
Olsen spoke at this year's May 7 celebration, where he accepted the Newsmaker Award on behalf of the Connecticut AFL-CIO. "It is in rooms like this where things begin to happen," Olsen said.
Making the presentation, Art Perry of SEIU 32BJ credited Olsen's leadership for creating the climate where Change to Win and AFL-CIO unions in the state have continued to work together despite a national split.
Also at the event, the Winchester Citizens Ad Hoc award was accepted by Craig Gauthier and several other workers from the recently shut-down U.S. Repeating Firearms Plant here. The group vowed to keep the struggle going and to keep city officials on their toes to find another manufacturing buyer, making sure that former workers have the opportunity to be hired with union representation.
Connecticut Alliance for Retired Americans President Kevin Lynch thanked everyone for their support on last year's tremendous struggle to beat back the Bush attacks on Social Security. Special recognition was given to Community Organized for Responsible Development for their recent community benefits agreement with the giant Yale New Haven Hospital, and Unidad Latina en Accion for organizing community support for the immigrant rights movement.
The Hartford Young Communist League's Rap Group had everyone in the room rocking and clapping. The event raised over $2,000 for the People's Weekly World 2006 fund drive.
Earlier in the week here, Yale University graduate students marched from campus to join over 4,000 others marching through the downtown streets in support of immigrant rights.
This fight for justice has stirred up a powerful coalition of real grassroots organizing, Joelle Fishman, chair of the Connecticut Communist Party USA, told the PWW gathering.