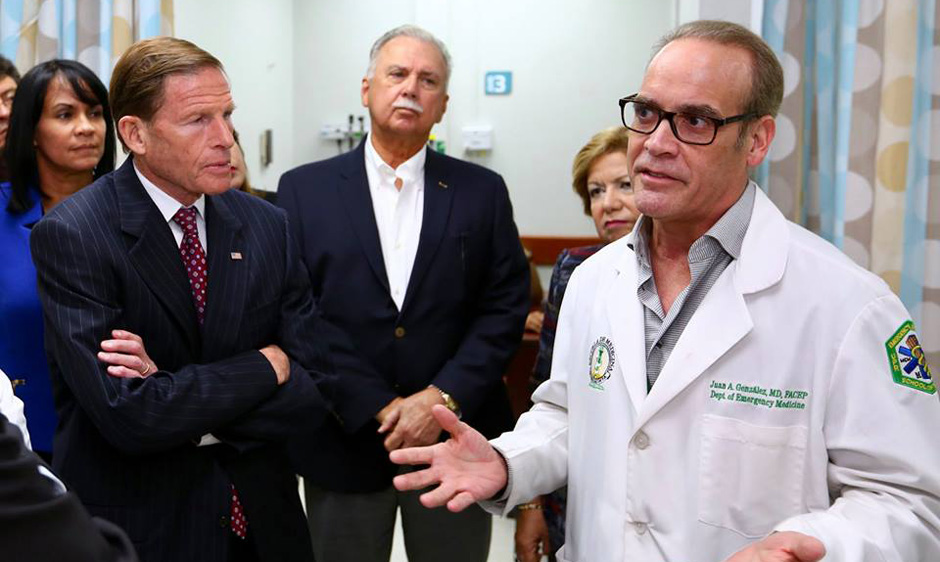 NEW HAVEN, CONN. – Connecticut's Democratic senators, Chris Murphy and Richard Blumenthal, are working as a tag team to keep Puerto Rico on the front burner since Congress nears a crucial deadline for providing financial and legislative changes that could alleviate the post-Hurricane Maria crisis on the island.
Reporting in New Haven at Fair Haven School on Jan. 5 about their Jan. 3 visit to Puerto Rico, the senators insisted upon providing Puerto Rico with the following:
Billions in disaster relief funding earmarked for Puerto Rico to be be controlled by the government of Puerto Rico and grass roots organizations in Puerto Rico
A roll back of the provisions of the new "tax reform" law that penalize Puerto Rico
An immediate increase in the Medicaid reimbursement rates paid to Puerto Rico's health care providers
With Democrats currently lacking the votes to enact these provisions, Murphy and Blumenthal called for efforts to pressure Republican senators in states with Puerto Rican populations like Florida and Ohio.
For the long-term, the senators urged the enactment of the "Marshall Plan" for Puerto Rico sponsored by Sen. Bernie Sanders. They said that the crises facing Puerto Rico that has become a life and death one following Maria actually pre-dates the hurricane itself.
They reported seeing the abysmal lack of leadership by the Trump administration in response to the crises despite the hard work of federal workers on the ground in Puerto Rico. Despite the lack of leadership, however, they said "miracles" are happening everyday as the people of Puerto Puerto Rico respond heroically to the challenges.
The tidal wave of assistance pouring in from individuals and charitable institutions from Connecticut is much appreciated, they said.