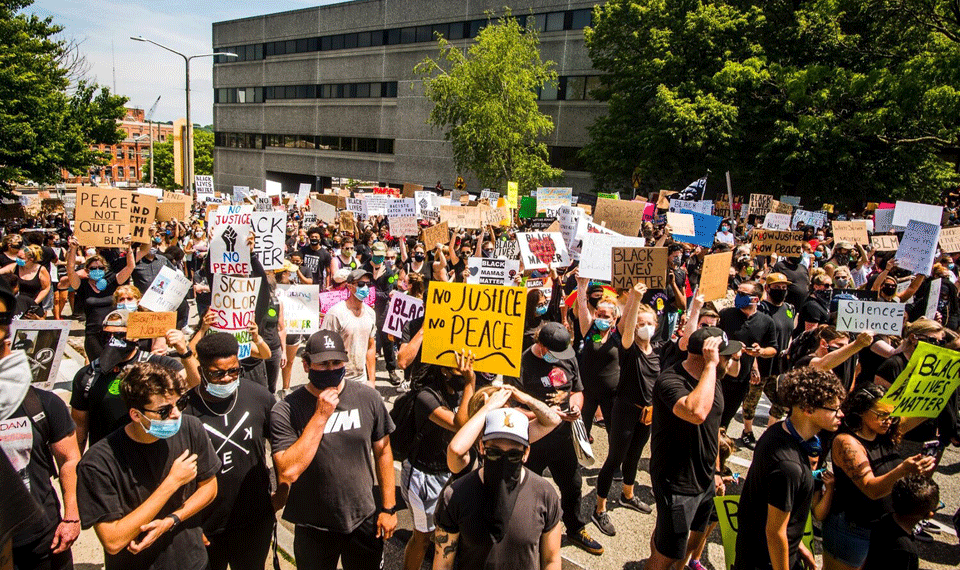 NEW LONDON, Conn. – Black Lives Matter and racial justice rallies and marches have continued over several weeks across Southeastern Connecticut cities and towns.  These events have involved people of all colors and ages in New London, Groton, Norwich, Mystic, East Lyme, Waterford, and Old Lyme.
The events show people's concerns over police violence against people of color and continuing racial inequality and oppression that have occurred over centuries.
Rallies of over 1,000 participants each were held in New London and Groton.  Their significance is they were organized by high school students and other youth who initiated and coordinated peaceful marches.
The New London march of more than 1,000 was organized by Hearing Youth Voices which included local youth in their teens and twenties.  The group's demands included community oversignt of the police contract and creating an independent review board of community members which would replace the current Police Community Relations Committee.
Another demand was to remove the Christopher Columbus statue from Columbus Square in New London.  This demand resulted in the New London City Council voting to "remove the statue from display on any public property in the city."  Shortly after this action members of Native American tribal nations from Connecticut and Rhode Island held a drum circle and performed traditional dances recognizing the removal of the Christopher Columbus statue.  They then had a moment of silence for George Floyd.
The peaceful march and rally reflected the city's diversity.  Chants included "Get Off My Neck," "No Justice, No Peace," "Don't Shoot," and "I Am The Future. My Life Matters."
Maya Shepard, a march organizer, said, "Young people organized this. Young people are clear about what they want.  Young people are clear that their schools don't have what they need, and they have been clear about it for a long time.  We're tired of forcing people to listen.  We're demanding it now."
A Black Lives Matter march in Groton, with about 1,000 participants, was organized by students from Fitch High School.  Several student organizers were pleasantly surprised at the large turnout.
The crowd was so large that call and response chants starting at the front of the march were relayed to the entire march in a wave.
Amara Robinson, 17, spoke to the crowd at Groton City Hall saying, "Yes, protesting is amazing and it needs to be done, but it is what we do after we protest that will make the real change."
Groton City Mayor Keith Hedrick urged participants to register to vote, complete the 2020 Census form and participate in local government.
The City of Norwich had an Enough is Enough: Black Lives Matter march which opposed racism and  police brutality attended by hundreds of people.  Also in Norwich, leaders of many faiths held a vigil calling for people to work together for peace and unity.  Speakers represented the variety of faiths in the community.
Rallies and marches also occurred in the region's suburban towns.
Waterford held a march with approximately 400 participants.  The event was organized by two Waterford High School graduates and came out of their experiences in town.  Several Black youth spoke about their experiences as Black youth in Waterford.
East Lyme's rally attracted about 300  people who heard speakers from the NAACP and a former Black teachers' aide in East Lyme who described working alone in a school building during the evening when town police showed up with guns drawn demanding to know what he was doing in the building.  His employees' badge apparently was not adequate to establish that he was carrying out his job responsibilities.
Mystic was the scene of Black Lives Matter rallies over several weeks organized by Rise Up Mystic.  Hundreds of people chanted, held signs and cheered as passing drivers honked their car horns in support of the rallies.  The Mystic rallies were held during weekdays and weekends for several weeks.
The variety of signs at the marches and rallies reflect the broad support for ending racial injustice in our country.  People's concerns focused on Black Lives Matter and related issues.  The involvement of people of all colors, ages and backgrounds in these events show the potential for this movement to begin to create a real democracy.
One sign at a Mystic rally expressed this sentiment: "This Uprising is the seed of a better world."  Building this racial justice movement, voting to remove Trump and the Republicans from public office in November, and then continuing to build the movement can move us closer to a better world.