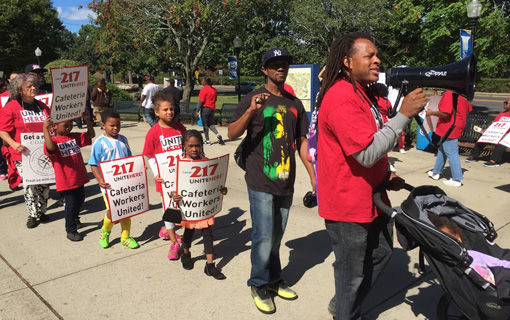 NEW HAVEN, Conn. — Food service workers at Southern Connecticut State University's dining locations are not giving in to contract negotiation proposals by Chartwells Schools Dining Services to lower health insurance, pension and life insurance benefits.
Chants of "No Contract! No Peace!" spread throughout the campus last Saturday on a sunny fall afternoon as Unite Here, Local 217 members from Chartwells locations around the state marched and rallied together with students and community allies.
For several weeks the union members have been holding job actions to get their message out.  Workers at SCSU's Connecticut Hall and Michael Adanti Student Center dining areas have been wearing "No Contract, No Peace?" union pins which get conversations started with students.  The members of Unite Here, Local 217 have walked off the food services lines and joined together for a quick solidarity chant before returning to their work stations.
Long-time Local 217 shop steward Nicholas McDonald explained, "We're fighting for a fair contract. These are things we stand firmly on and fought hard to maintain.  We are not allowing the company to take them from us.  We want decent jobs above the poverty level."
The  food service workers on the campus, mostly African American, live in the New Haven area.
"We are just using our First Amendment rights to march, rally, and do small demonstrations on the job site peacefully until our voices are heard and we have a better contract," said McDonald. "This is just one of many tools we use to show the company and university the strong bond and comradeship  among workers and unions alike. We are a part of the Southern Connecticut State University community, and we want to be recognized as such."
In addition to SCSU, Local 217 food service workers throughout the state are in contract negotiations with Chartwells.  The workers have reached out to clergy, politicians, community organizations and other unions for solidarity and to apply pressure from the outside.
At Saturday's rally the SCSU workers were joined in the fight by their Unite Here, Local 217 union brothers and sisters from the University Of Hartford, Eastern Connecticut State University, Trinity College, Electric Boat, Weslyan University, cafeteria workers at New Haven Public Schools, and New Haven Rising.
The crowd started out enthusiastically chanting, "We are the union, the mighty, mighty union" in front of the Connecticut Hall dining facility and then marched to the university's bridge carrying a union banner that read "SCSU Food Service Workers United." They took pictures and encouraged cars driving by to honk their horns.  After marching back to Connecticut Hall, they entered the cafeteria to confront Chartwells resident district manager, Juan Dominguez.
The workers let Dominguez and Chartwells know that all the union food service workers are united and willing to fight for what they have.  The workers sent a strong message that they are not giving in or moving backwards and they want decent contacts benefits and wages that keep providing vital jobs and lives for their families.
Unite Here, Local 217 members at Trinity College, University Of Hartford, and Fairfield University are all currently in contract negotiations with Chartwells Dining Services. A series of upcoming actions have been announced.  On Sept. 29 there will be delegations at each campus.  Public actions will be held at Trinity on Oct. 8, at the University of Hartford on Oct. 15 and at Fairfield University on Oct. 22.
Photo: Art Perlo/PW