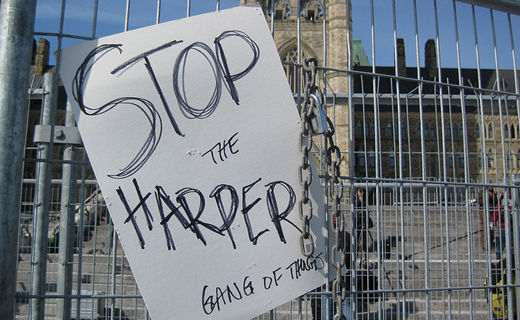 VANCOUVER, Canada – The right-wing Conservative Party government of Stephen Harper has finally succeeded in imposing U.S. Republican Party style voter suppression legislation in Canada. The Conservative dominated Senate approved bill C-23 June 27.
While the Conservatives claim that the law, which they have dubbed The Fair Elections Act, is necessary to fight electoral fraud and ensure the integrity of the Canadian electoral system, critics charge that the bill is designed to discourage voter participation and tilt the political playing field in favor of the Conservatives during the 2015 elections.
Among other things, the bill will scrap vouching, which allows one voter to vouch for another voter who has a government issued voting card but lacks ID proving name and residence. The most controversial of the proposed changes, critics charge that it will disenfranchise tens of thousands of non-conservative voters. A voter whose ID doesn't list an address can sign a written oath of residency. Another voter, with full ID, would have to co-sign the oath.
Chief Electoral Officer Marc Mayrand, who heads Elections Canada, (the electoral agency in charge of running elections) has denounced the bill as anti-democratic and said the end of allowing voters to vouch for others and the enactment of mandatory ID requirements will adversely affect more than 100,000 voters.
"Many electors still have a challenge producing proper identification documents at the polls – especially certain groups that come to mind are aboriginals, young people, even seniors that are increasing in terms of population and have increasing difficulty producing proper identification documents," Mayrand said.
In 2011, 120,000 people voted through vouching. Elections Canada has found no evidence of widespread voter fraud through vouching.
Elections Canada also will no longer be permitted to monitor and investigate election fraud. Instead, a new commissioner of Elections, placed under the authority of the director of Public Prosecutions, a Cabinet appointee who is in turn answerable to Cabinet and the prime minister, not Parliament, will be created for this task. But the new commissioner – unlike Elections Canada before the changes – will have no power to investigate fraud, such as compelling witness testimony.
Bill C-23 will expand the role money plays in influencing election results. Under campaign finance rules, corporations and unions cannot donate money to parties and individual donations are capped. Under the new bill, allowable donations will increase from $1,200 to $1,500 and $1,200 to $5,000 for candidates to their own campaigns. Critics charge that this will benefit large parties with big donor lists. The Conservatives, of all parties, have the largest number of donors.
While Elections Canada will be able to offer programs explaining voting to elementary and secondary students, it will not be allowed to run larger campaigns to encourage voter turnout as it previously did. Instead political parties will have the responsibility to mobilize people to vote.
A long list of experts and organizations have spoken out against Bill C-23, among them: the opposition New Democratic Party, Greens, Liberals, Communists, Canadian Federation of Students, Leadnow, Council of Canadians, the Chief Electoral Officer of Ontario Greg Essensa, former rightwing Reform Party leader Preston Manning, 150 political scientists who signed an open letter, former Auditor General Sheila Fraser and Commissioner of Canadian Elections Yves Cote; an open letter signed by 19 international scholars. Tens of thousands of people across the country signed petitions against Bill C-23.
The Conservatives first introduced Bill C-23 in January, saying it was necessary to fight voter fraud and ensure clean elections. Critics were alarmed with the haste in which the Harper Conservatives pushed through the 242-page bill. After introducing it to Parliament, the Conservatives – who control 54 percent of seats – moved a motion to limit debate. The Conservatives then refused opposition requests to hold public hearings on the bill, saying it would create a circus like atmosphere.
Public opposition and outrage forced the Conservatives to finally modify the bill in April, at the urging of Canadian Senators, to calm public anger and ensure that its own members of Parliament would vote for it. Among other things, the sections permitting the winning party to appoint supervisors to run voting stations during elections, and allowing parties to claim fundraising expenses were withdrawn.
Most parties across the political spectrum, from the Liberals and the Libertarians on the right, to the New Democrats, Greens and Communists on the left, have vowed to continue their fight against Bill C-23. The Liberal Party, which is running neck and neck with the Conservatives in the polls, has promised to do away with the legislation if elected government in the 2015 elections.
The Council of Canadians and the Canadian Federation of Students is taking the Fair Elections Act to the Supreme Court. Among other things, the two groups charge that the law's ban on Elections Canada running campaigns to encourage voter participation will reduce voter turnout among young voters who tend to vote for parties other than the Conservatives.
In 2012, evidence emerged suggesting that the Conservatives committed widespread election fraud to win the 2011 elections by sending tens of thousands automated phone calls to non-conservative voters directing them to non-existent polling stations and altering voting results in favor of Conservative candidates. As a result, opposition parties and many Canadians are deeply distrustful of the Harper Conservatives who they fear will take advantage of the new changes to commit more dirty tricks to win the 2015 elections.
Photo: Protest sign against election fraud hangs on Parliament fence in Ottawa, Canada in 2012 (Peter Blanchard/CC/Flickr)