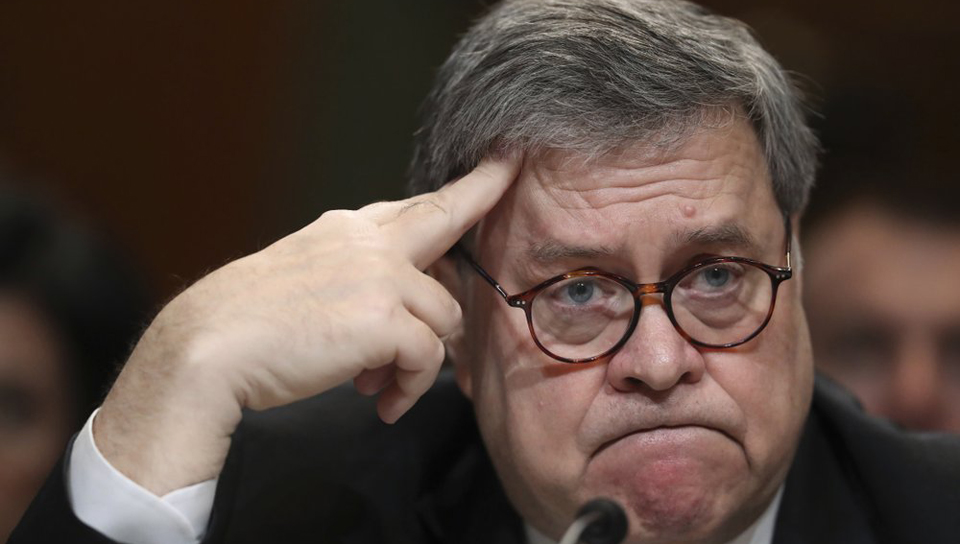 A bit under the radar with all the news about the elections, Attorney General William Barr has moved, at the behest of Donald Trump, to directly intervene in any criminal cases that interest the president in any way.
Roger Stone, 67, an American lobbyist, political consultant, and fervent Trump ally, was found guilty by a jury of his peers for obstruction of a congressional investigation into Russian interference during the 2016 presidential election, giving false statements to Congress (five counts), and witness tampering.
This made Stone the sixth Trump aide or advisor to be convicted of charges brought forward as part of the Department of Justice special counsel Robert Mueller's Russia investigation.
In their original sentencing memorandum filed Monday, Feb, 10, federal prosecutors recommended Stone serve between 87 and 108 months in federal prison, following the established federal sentencing guidelines. Such a sentence would send a clear message deterring others who may be considering lying or obstructing a congressional probe, from acting in such a manner.
"Roger Stone obstructed Congress's investigation into Russian interference in the 2016 elections, lied under oath, and tampered with a witness. And when his crimes were revealed by the indictment in the case, he displayed contempt for this Court and the rule of law. For that, he should be punished in accord with the advisory Guidelines," concluded prosecutors in their memo.
On Tuesday, arguably less than 24 hours after the initial sentencing memo was submitted, the four attorneys who prosecuted Stone's case quit. Their reason: The DOJ's extraordinary decision to unilaterally overrule their sentencing recommendation and lower the amount of prison time it would seek for Trump's ally.
The quick departures raised several questions over whether Trump's overnight tweets Monday, disparaging the original sentencing recommendation, had any influence on the Justice Department, a department he views as an extension of his White House.
The DOJ insisted its decision to undo the sentencing recommendation was made before Trump's tweets Monday night, and prosecutors had not spoken to the White House about it. Despite the denial, the mass exodus of career, non-partisan prosecutors breaks open the simmering dispute over the punishment of a Trump loyalist whose case has all but captured Trump's undivided attention. It also begs the question, is the DOJ able to operate free from White House influence in matters of criminal investigations tied to presidential politics?
Attorney General William Barr, the DOJ's leader and staunch Trump ally, chose to clear the president of obstruction of justice, and announced Mueller's Russia investigation, where the charges against Stone originated, had been based on a "bogus narrative."
It is unprecedented for a DOJ leadership to reverse the course of its own prosecutors, and extremely rare for the Attorney General to act as personal legal counsel to the president.
Trump's tweet Wednesday morning made it clear Barr will not act independently—an actual miscarriage of justice—and continues the speaking of false political narratives.
"Congratulations to Attorney General Bill Barr for taking charge of a case that was totally out of control and perhaps should not have even been brought. Evidence now clearly shows that the Mueller Scam was improperly brought & tainted. Even Bob Mueller lied to Congress!" read Trump's tweet.
The government's revised sentencing memo called for a prison sentence that is "sufficient, but not greater than necessary" and "based on the facts known to the government, a sentence of between 87 to 108 months' imprisonment, however, could be considered excessive and unwarranted under the circumstances [Stone's age and health]."
It did not offer a specific time frame, ultimately leaving it up to the judge, who may side with the original recommendation.
U.S. District Judge Amy Berman Jackson repeatedly reprimanded Stone for his out-of-court behavior, including a social media post he made of the judge with what appeared to be gun crosshairs.
Judge Jackson now too finds herself in the crosshairs of Trump's twitter attacks, in an attempt to intimidate her and secure a softer sentence for Stone.
Trump's Tuesday tweet read: Is this the Judge that put Paul Manafort in SOLITARY CONFINEMENT, something that not even mobster Al Capone had to endure? How did she treat Crooked Hillary Clinton? Just asking!"
Trump has made it a habit to attack judges who rule against him and often questions the judiciary's constitutional authority—a dangerous pattern, and one brimming with despotism.
House Intelligence Committee Chairman Adam Schiff said it would be a blatant abuse of power if Justice Department leadership intervened on Trump's behalf.
"Doing so would send an unmistakable message that President Trump will protect those who lie to Congress to cover up his own misconduct and that the Attorney General will join him in that effort," he said.
And Democratic presidential candidate Elizabeth Warren released a statement saying: "Congress must act immediately to rein in our lawless Attorney General. Barr should resign or face impeachment. And Congress should use spending power to defund the AG's authority to interfere with anything that affects Trump, his friends, or his elections."
Stone, like Trump, has consistently denied all wrongdoing and criticized the case against him as politically motivated. He did not testify during the trial, and his defense team did not call any witnesses for their side.