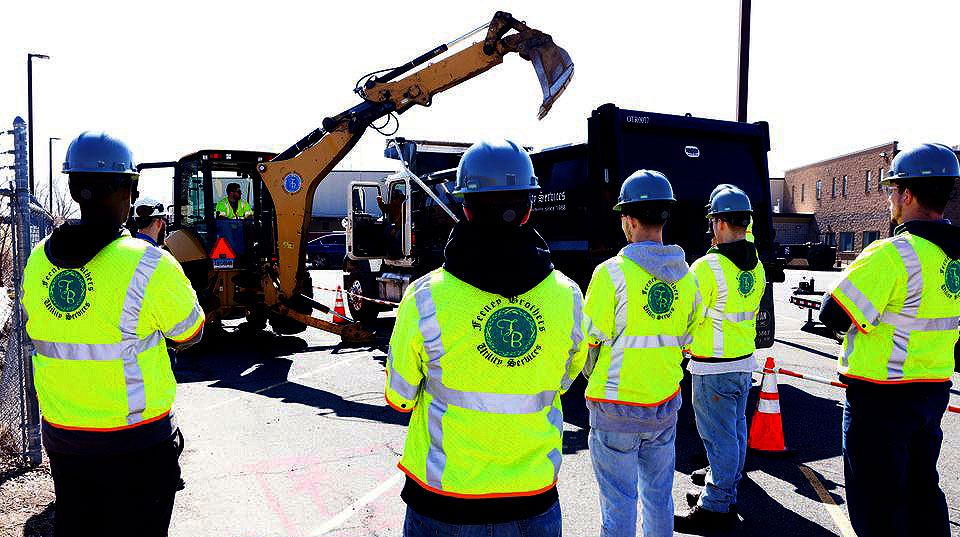 CHICOPEE, Mass.—A Boston-area construction company, pushed by greed from a past private equity fund buyout of what was a family-owned firm until 2012, has led to job hazards, one worker with a severed arm—and a Laborers organizing drive.
As an example of how greed pushes Feeney Brothers to exploit workers, Laborers regional Organizing Director Scott Gustafson and organizer Paul Goodrich add the worker who jumped into the four-foot-deep trench to save the injured colleague's life got less than thanks.
Instead, Goodrich says, bosses later denied the rescuer his week of vacation. They said he had already used the week to recover from being so distraught at his colleague's injury, which occurred when a little-trained non-union operator "didn't pull the emergency brake" on his crane. The vehicle rolled into the trench and severed the worker's arm.
The rescuer's immediate supervisor had told him to take the week after the April 28 accident in Chicopee to recuperate. There was no discussion then of lost vacation.
Abuses and exploitation like that led the Laborers District Council covering the Boston area to try to organize Feeney, which employs 1,700 people, Gustafson and Goodrich told Press Associates Union News Service in a zoom interview.
"Feeney's among the big players" in the Boston area's construction industry, says Gustafson. Success in organizing Feeney would resonate with workers at other non-union firms. The message to Feeney and the others, he adds: "You should provide the highest level of training, pay, and benefits. You have to do it—and get it right."
Right now, Feeney gets it wrong. But it's not alone.
"Wage theft, safety problems, lack of training—you name it, it's happening at Feeney," says Gustafson. He could have added labor law-breaking and corporate abuses driven by the profit motive, all documented by the Laborers in a June 2022 investor briefing paper.
Union "organizers have observed and documented with photographs the existence of job site conditions that are unsafe for workers and the general public," the paper adds.
"These conditions include uncontrolled dust, equipment left in an unsafe condition for the public at the end of the day, improper flagging of a project, a fluid leak from a vehicle, a shattered vehicle windshield, pipes left directly on the ground, and lack of environmental controls for water runoff."
Such conditions, plus worker exploitation and injuries are especially rife in construction, federal data show. Organized labor, led by the late Tony Mazzocchi, virtually wrote and pushed through the Occupational Safety and Health Act in 1970. Its enforcement produced steep declines in deaths and injuries. But rates are still higher in construction than in other large sectors.
The annual federal Census of Fatal Occupational Injuries, published in December, showed the third-highest fatal injury rate in 2021 was in a construction craft: Roofers. In 2021, there were 59 fatal injuries per 100,000 roofers, up from 47 per 100,000 the year before.
The Chicopee injury and its aftermath were particularly notable, the two organizers say. Not only was the injury horrible, but Feeney already had a bad safety record, including two prior federal Occupational Safety and Health Administration (OSHA) fines of more than $45,000 each for serious safety hazards on other job sites.
Separately, the Massachusetts Department of Public Utilities ruled Feeney violated the state's Dig Safe Law 26 times between Jan. 1, 2018, and May 2022 on various projects, and proposed $252,000 in fines. It's collected $54,000 so far.
The injury Goodrich and Gustafson discussed occurred in a trench for an underground natural gas line, an especially hazardous situation for any building trades worker. There's a long list of other Feeney labor law violations, including job safety hazards, wage theft, and labor law-breaking against the organizing drive. "We'd like to organize the whole gas industry," says Gustafson, referring to workers—many untrained—who dig trenches for gas lines.
"Utilities are making a fortune" by using "bottom-of-the-barrel contractors" such as Feeney, he adds. Taxpayers wind up subsidizing exploitation. Many workers live in public housing because it's all they can afford. "And why should workers be on MassHealth"—the state-run health system–"when Feeney is making $100 million?" asks Gustafson.
Those workers who can jump, have, to union contractors. Gustafson reports 120 have done so in recent months. "It's tough getting our voices heard" at Feeney, adds Goodrich.
That's where the Laborers' report to investors comes into the picture, says Erin Hutson, the union's top official on investments and their impact. While Gustafson and Goodrich keep organizing the workers on the inside, Hutson uses her data to convince investors that bad practices on the job are bad for business.
She figures the financiers can put pressure on the company to clean up its act. The Laborers' target: The private equity fund, CD&R, which in 2021 bought out the original fund which took Feeney private in 2012.
CD&R "owns Feeney and they control its budget," says Hutson. "We don't think they're trying to union-bust, but their parent company is in financial trouble, so they gave the order to cut costs. They're underwater" because CD&R saddled Feeney with millions of dollars in debt.
The cost-cutting includes labor law-breaking, formally called unfair labor practices, which could get expensive for Feeney if it loses at the National Labor Relations Board. Violations include "termination of a worker" on May 4 "in retaliation for his brother's protected union organizing activity at Feeney," a Feeney manager giving an anti-union oration at a company safety meeting the day before, and illegal surveillance of workers' conversations.
"CD&R's investors should ask that Feeney management remains neutral regarding workers' right to
organize and collectively bargain, consistent with the rights of workers at other subsidiaries," the report to investors declares. The equity fund's own labor policy "supports this goal already," it notes.
"Limited partners' capital will not be spent on union avoidance consultants or other legal fees meant to actively campaign against unionization" it recommends. And "CD&R (should) set up an oversight committee to improve worker retention, worker training, and workforce investment at Feeney Brothers."