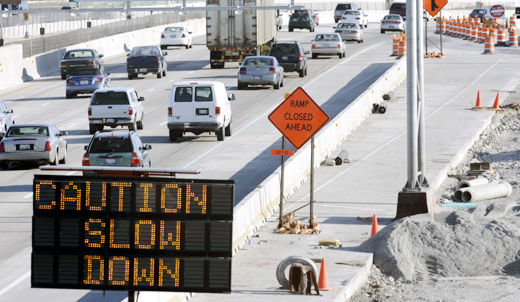 CHICAGO – Two area construction unions – the Laborers' District Council of Chicago and Vicinity and the International Union of Operating Engineers Local 150 – have been on strike for weeks over wages and health care benefits.
The strike affects approximately 15,000 workers and has stalled dozens of projects leaving the future of hundreds of road and building plans throughout Chicago at stake.
One project includes a $95 million resurfacing of the Eisenhower Expressway, which runs west from Chicago, and an $87.7 million high school renovation project in the southwest suburb of Naperville. Others involve the Stearns Road Bridge being built in Kane County, a parking lot at Stevenson High School in Lincolnshire and road resurfacing in Arlington Heights.
Officials say the strike affects about 300 Illinois Department of Transportation projects across the metropolitan region including others in 10 counties.
Union workers are seeking a total wage increase of 15 percent over three years to offset the rising cost of health care, union officials say.
The unions' three-year contracts expired May 31.
Mid-America Regional Bargaining Association, which represents the construction companies, is offering a 3.25 percent hike over three years.
Union officials say they had no choice but to strike. Workers are dealing with hours reduced from an average of 1,600 annually to 1,000 as well as unemployment among laborers and operating engineers. Rising health care costs of 10 percent to 12 percent a year are hurting members, they note.
Local 150 President-Business Manager James M. Sweeney says the companies offer further supports the union's charges against the contractors for unfair labor practices.
"They are simply not attempting to bargain in good faith," Sweeney told the Chicago Sun-Times. "We made ourselves available 24 hours a day. The livelihoods of thousands of working men and women depend on these negotiations, and while we have made ourselves available, the employers are running out the back door or meetings," he said.
MARBA representatives say they are not seeking to reduce wages and are surprised that the workers would strike during the midst of an unstable economy. The construction companies argue that funds are tight because of the economic downturn.
"We are feeding 1,000 families a week with boxes of food," said Sweeney. "We are covering COBRA payments for 1,200 families who have lost health-care coverage. We have spent millions upon millions of dollars to make sure that our members are provided for, so for them to insinuate that we are not aware of the economic conditions is insulting."
Sweeney's union said in a press release they plan to use its reserves to cover the approximate $150 million health care shortfall over the next three years caused by the reduction in hours worked.
"Local 150 members took money out of their pockets to stabilize these funds last year, and now we are using our reserves," said Sweeney. "We have done our part, and we are asking employers to share the burden. These funds are administered jointly by labor and management, so they have a responsibility as we do to ensure that these funds are stable."
Officials with the Illinois Department of Transportation worry that other unions may join the strike including the carpenters, cement masons and technical engineers.
Ed Maher, spokesman for Local 150 told Chicago Public Radio that union members want to get back to work as soon as possible.
"But they don't want to do it at the cost of 30 years worth of bargaining," he said. "No body likes this strike. A strike is never a first option. But we're certainly not going to give up our health care without a fight, and certainly not to an organization that isn't willing to negotiate with us."
Speaking to the Chicago Tribune, Maher adds, "They forced our hand. We're simply not going to get jerked around when we're worried about maintaining health care for more than 23,000 members."
Photo: View of Chicago's Dan Ryan Expressway during a two-year reconstruction project in April, 2007. (M. Spencer Green/AP)