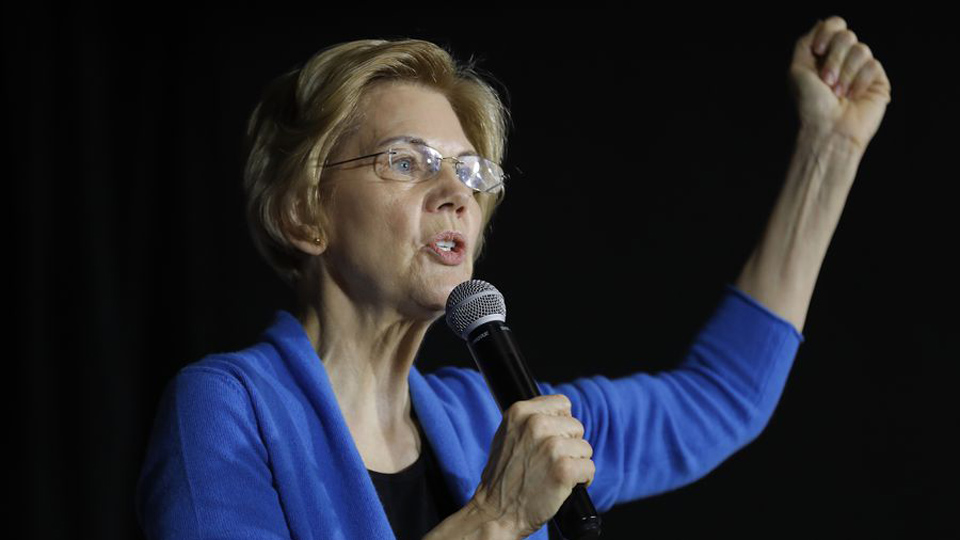 WASHINGTON—The National Consumers League and the lawmaker who created the Consumer Finance Protection Bureau (CFPB) blasted the decision by GOP President Donald Trump's new CFPB director to let "payday lenders" virtually run amok.
And the lawmaker, Sen. Elizabeth Warren, D-Mass., asked the new director, Kathy Kraninger, to dump Kraninger's own anti-worker, anti-consumer brainstorm.
Trump named Kraninger, a former top aide to Office of Management and Budget Director Mick Mulvaney, to head the bureau, which Warren created as part of the 2010 Dodd-Frank financial re-regulation law. Mulvaney, a CFPB-hater, preceded Kraniger at the bureau.
Once she got in, Kraninger, who has no consumer or financial regulation experience, yanked the Obama-era rule reining in the payday lenders. The payday lenders are known for outrageous triple-digit-interest loans, rolling them over as the payments exponentially pile up.
They're also known for particularly preying on workers, minorities, the poor and people who live in "banking deserts." Under Obama's CFPB Director, Richard Cordray, the agency required payday lenders to, among other things, disclose their interest fees and terms up front and to evaluate whether customers could quickly repay, thus avoiding the oceans of red ink.
With the payday lending lobby cheering her on, Kraninger dumped all that.
"Assessing a borrower's ability to repay before making a loan is common sense," said National Consumers League Public Policy Director Brian Young. "Whether a consumer is applying for a mortgage or borrowing to pay the electric bill, no one should be given a loan that they cannot possibly pay back." NCL has fought such extortionate loans for decades.
"CFPB's rollback of a rule that would require assessment of a borrower's ability to repay is indefensible, Young continued. The agency itself reported "four out of five consumers who take out payday loans with interest rates in excess of 400 percent either default or take out additional short-term loans."
"A 400 percent interest rate loan is not a lifeline. It is a textbook example of exploitation. The CFPB's mandate is to protect consumers, not the interests of a predatory industry. The CFPB should do its job and refrain from repealing this critical consumer protection."
Warren was similarly outraged, and wrote to Kraninger to reverse the decision. Letting payday lenders prey on consumers is contrary to the CFPB's mission, Warren said.
"This new rule eliminates crucial protections for borrowers and makes it clear that the CFPB is not doing its job to protect consumers. Instead, it is giving the payday lending industry free rein to squeeze consumers and catch them in cycles of debt," Warren wrote to Kraninger.