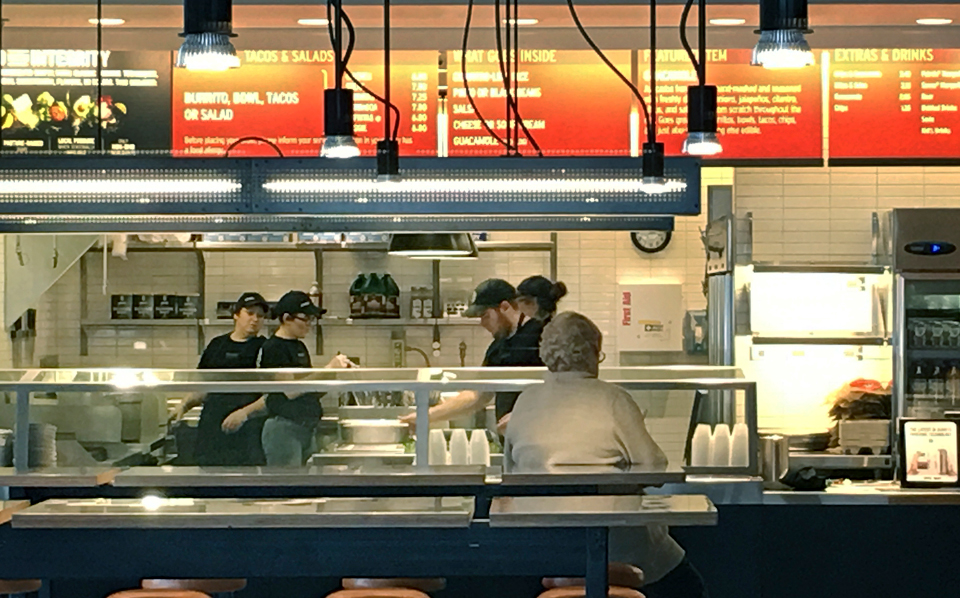 WASHINGTON—After reading this, you might want to think twice about eating at Chipotle—and not just because it exploits its workers. But because it could be hazardous to your health.
Starting in 2015, Chipotle, the supposedly upscale fast food chain which prides itself on using fresh, pesticide-free, and chemical-free food, suffered a huge corporate black eye—and a precipitous drop in business—when customers got sick, very sick, after eating there.
Salmonella, e. coli, and norovirus sent dozens of customers to the hospital vomiting or worse. Thousands more swore off eating at the chain's restaurants. The problems persisted, despite a widely publicized company cleanup program, for three years or more. In 2018, more food-borne illnesses at Chipotle outlets sickened 647 Ohioans.
Guess what? Interviews with dozens of workers, public documents, published reports, and New York City investigations and citations show Chipotle's problems continue.
The dangers are documented in a new report commissioned by the National Consumers League and the Service Employees International Union, whose Local 32BJ is trying to organize Chipotle workers. The Unsavory Side of 'Food With Integrity' details worker exploitation and more than 200 health code violations at Chipotle's New York City restaurants alone.
It also describes how managers at Chipotle outlets would tip off colleagues elsewhere that auditors were on the way, so the other outlets could do fast cleanups. Workers were forced to work while sick—including one worker who vomited during his shift—or under unhealthy conditions, such as one cook with no protective gear or hazmat suit who was detailed to clean up bathrooms fetid with feces.
Managers pressured workers to toil through their lunch and dinner hours, so much so many workers did not get a chance to wash their hands for sanitation—a basic requirement for workers in any restaurant. And an ill-trained grill cook undercooked chicken for customers, raising the risk of food-borne illness.
The findings of the 36-page report show "Chipotle's management and workplace practices are at war with the company's own branding of 'food with integrity' and its stated goals of customer safety," the probers concluded. Other key points included:
– A "managerial pay bonus program that incentivizes cutting corners." "Managers can earn 25% bonuses by meeting performance standards such as keeping labor costs low"—which has resulted in 145% yearly employee turnover—and cutting corners on food safety and worker protection. Even the salaried managers burn out, as 49% leave annually.
– The tipoffs that inspectors are coming. "Worker interviews revealed general managers frequently know when audits are coming because they are tipped off by other managers in their region who are inspected or even field leaders. Workers reported managers relaxed rule-following outside of inspection periods and tightened up adherence to food safety protocols when an audit is imminent."
– Insufficient sick leave. Unless a local city or state has paid sick leave laws, Chipotle offers workers only three days of paid sick leave a year, though it orders crew members to stay home for three days after the day they vomit on the job. That uses up all their sick leave. If they get sick again and have to stay home, they get docked. New York City Chipotle workers reported managers pressured them to work sick.
– Little training. Chipotle prides itself on using fresh food without pesticides or herbicides, but handling such food requires more intensive training and more time. Instead, workers reported they had to "learn as they go" from co-workers. Managers also pressured meat cutters to use the same cutting boards, without washing them, turning them over or both, during heavy lunch and dinner rushes.
– Understaffing, especially at grills. That jeopardizes food safety and can sicken customers. Managers seek high line speed, leaving workers little or no time to wash hands, the top safety measure. "Understaffing of the grill position is especially problematic as the grill worker may not be able to keep up with line speed while checking every piece of chicken is cooked to a safe temperature," the report says. Managers, the workers told NCL, also often save money by refusing to fix broken equipment.
Schedules are unpredictable, hours are short, sexual harassment occurs, and violations of workplace safety and health laws lead to the high worker turnover, the report adds.
Things are so bad at Chipotle's New York City eateries that the City Department of Consumer Protection sued the firm last September for $1 million for violations at just five of its restaurants in the Big Apple. And three years before, the agency found food safety and health violations at 74 of Chipotle's 84 New York City outlets. Chipotle owns all of its 2,500 restaurants nationwide.
The report shocked Sally Greenberg, the National Consumer League's executive director. Her group co-authored the report with SEIU Local 32BJ, after the local flagged Chipotle problems its organizers were hearing about from pro-union workers.
"The findings call into question the effectiveness of measures Chipotle put in place to solve their food safety crises of a few years ago," she said. "If Chipotle executive management and the (chain's) Food Safety Advisory Council are responsible for making sure this program is implemented effectively to keep the public safe, they have been asleep at the wheel."
Worker advocates, such as the National Employment Law Project and Make The Road New York, are upset too. So is City Council Public Health Committee Chairman Mark Levine. He promised to hold hearings on Chipotle's practices.
"We chose to blow the whistle on these practices and abuses because our Chipotle managers did not listen to us," worker Jeremy Espinal told NCL. "It's a pressure-packed workplace where supervisors intimidate you and retaliate against you." Added colleague Jahaira Garcia: "I am speaking out because I want to make Chipotle a better place to work and a better place for customers to eat."
Levine called the report's findings about Chipotle "deeply troubling."
"Risk of contagion should not be aggravated by an aggressive incentive structure that encourages managers to abuse workers and cut food safety corners. The public needs to know more and Chipotle needs to change their policies," he added.