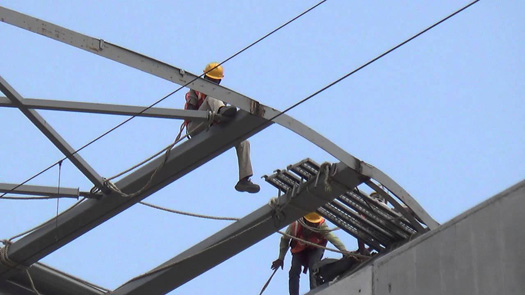 With summer coming and teenagers around the country seeking work, the National Consumers League is again warning teens – and their parents – of the most-dangerous jobs for those youths, and why.
"Jobs for teens are an important part of growing up and becoming an adult, providing both needed income and teaching valuable work skills. According to research, teen jobs increase future earnings and also decrease the likelihood the working teen will drop out of school," the nation's oldest consumer group warns. But some of those jobs have more danger than they're worth. As a result, a teenager dies on the job every two weeks, NCL notes.
NCL's Five Most Dangerous Jobs for Teens in 2016 are as tobacco harvesters, harvesting farm crops and using farm machinery, being part of "traveling youth sales crews," in construction and as landscapers, groundskeepers and in lawn service.
"Agriculture, construction, landscaping, and machinery operators all experience much higher occupational injury and fatality rates. And traveling sales crews expose vulnerable working teens to many dangers including vehicle accidents, arrest, sexual exploitation, and workplace violence," NCL explains. Its horrifying prior examples of deaths of teens include:
– Heather Marie Barley, 17, of Buckley, Mich., died suddenly while working on a hog farm last December. She inhaled carbon monoxide and hydrogen cyanide suspected to have come from a steam generator connected to a pressure washer
– On his first day on the job feeding tree limbs into a wood chipper, also last December, Mason Cox, 19, of Gastonia, N.C. was pulled into the chipper. Cox died and his upset employer had a heart attack.
– Oscar Martin-Refugio, 19, was shot in the heart by robbers as he worked in a Bridgeport, Conn., pizza shop last December. He died soon after.
NCL recommends teenagers and their parents discuss job possibilities, emphasize "a sense of safety consciousness that will help protect them on the job," and empower the teens to ask for needed safety training and to reject company or boss' requests that they undertake dangerous tasks.
The league also says teens should specifically reject jobs involving door-to-door sales out of their own neighborhoods, those with long-distance teen-only travel and/or extensive driving, jobs where they drive forklifts, tractors, and other potentially dangerous vehicles, jobs involving dangerous machines or use of chemicals, work in grain storage facilities such as silos and work on ladders, where they risk falls.
"Always follow safety training. Working safely and carefully may slow you down, but ignoring safe work procedures is a fast track to injury. There are hazards in every workplace – recognizing and dealing with them correctly may save your life," NCL adds. And ask for workplace training, beforehand.
Photo: Worker safety is highly important. | Youtube screenshot