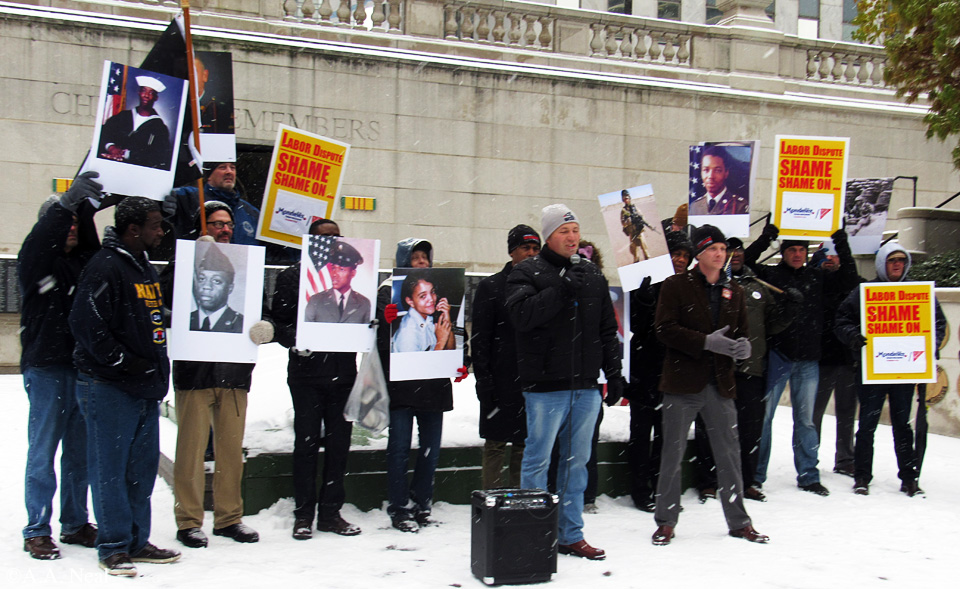 This article won Best Feature Story in the 2018 International Labor Communications Association's Labor Media Awards.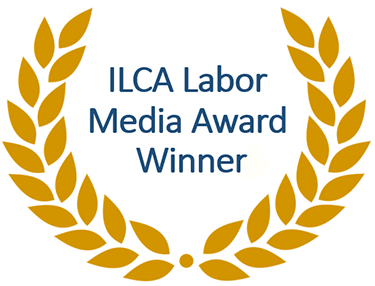 CHICAGO —"This was going to be my career," said 41-year-old Anthony Jackson. In 2011 Jackson, a Navy veteran, was hired to operate the machine that blends sugar and oil to make the sticky sweet white Oreo icing that Americans of all ages love.
On Veteran's Day this year, Jackson demanded that Nabisco/Mondelez "do the right thing" and restore the hundreds of jobs his fellow workers lost when the company made the decision to outsource production. Jackson said that among the hundreds who lost their jobs, many are veterans like him.
Jackson spoke at a Nov. 10 union rally outside the city's riverfront Vietnam Vet memorial demanding that the multi-million dollar corporation bring back their jobs,
Jackson was discharged from the Navy in 1999 where he served as a machinist mate on the USS Ponce out of Norfolk, Virginia. He returned to his hometown, Chicago, he said, then bounced from job to job for a few years before landing the $26.03/hour machine operator position at Nabisco in 2011—"a good paying union job!"
His exact date of hire—October 12—is still fresh in his mind. "I felt this would be my chance to really take care of my kids, put them in a better position than I was, coming up," said Jackson, emphasizing that he had good parents who did the best they could, but he wanted to do more—like start a college fund for his three daughters. "I'm not going to be able to do that now," he said.
The job also allowed him to take his first vacation ever—a trip to Puerto Rico—he wistfully recalled. "It was my first time being on a true vacation," he said. "It might seem superficial," he added, almost apologetically, but the good job allowed him to "keep up with technology," enabling him to acquire a laptop, a projector and to have badly needed foot surgery.
Jackson's experience gives him a lot of empathy with other residents of his beleaguered Englewood neighborhood. "I've seen the devastation of lost jobs in Chicago," he said, citing a 35-40 percent unemployment rate among African-American men in Englewood.
With good-paying jobs being moved overseas, "many people who were positive citizens may now be forced into the underbelly of society," said Jackson.
Problems with violence have economic origins and are historically linked to jobs, he asserted. And the good-paying jobs that are exported become harsh low-paying jobs in other countries.
Will Attig, head of the Union Veterans Council, AFL-CIO, said the rally was calling out corporations for sending veterans' jobs overseas. "It's shameful and unpatriotic that veterans come home and have their job ripped from them by a greedy corporation."
Ten percent of the workers laid off by Mondelez/Nabisco are vets, he told People's World, and most are minority. "They had to watch as a corporation sent away jobs in a country they had fought and bled for."
Attig, 33, is from Carbondale, Illinois, and has his own story.
His mother raised four kids while working as a housekeeper. He joined the military when he was 17 and went through multiple deployments to Iraq. When he came home, it was hard to find his place. He too bounced around $10/hour jobs till he got to be a union pipe-fitter.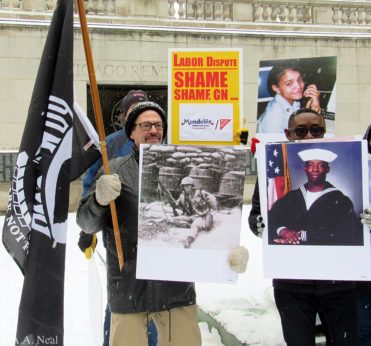 Attig is convinced that suicides and divorces, "all the problems we're having," could be addressed by vets "if you could give them a job with dignity. Give those who volunteered to put on combat boots—give 'em a job and give 'em work boots," he said.
Attig took the narrative beyond himself: "The story of American veterans and the story of American workers are intertwined." The kids who serve are not the sons and daughters of CEOs and billionaires, he points out. They are the young men and women from the southside of Chicago, from downstate Illinois, from Spokane, Washington, from urban minority communities and impoverished rural areas.
"I'm sick and tired of it—they send young men and women and then wrap the flag around themselves and take pictures with us, then send their jobs away from the country they had fought and bled for. Their façade of how they're taking care of this generation of vets — it's all BS!"
Secretary Treasurer of the Chicago Federation of Labor Bob Reiter agreed: "There's nothing less patriotic than taking American jobs out of this country and sending them somewhere else."
Piling into vans, the Nabisco vets and their co-workers headed to Mondelez-Nabisco's suburban Northbrook headquarters to present a Veteran's Day letter demanding the corporation do the right thing and bring their jobs back.
Tefere Gebre, executive vice president of the AFL-CIO, called on the company to "sit down and negotiate with the union, sit down and work with your employees who have made you millions and millions over the years."
However, no one at corporate headquarters could make time to speak to the representatives of the workers, Jackson later told People' s World.
The rally was organized by the Chicago Federation of Labor, AFL-CIO; the Union Veterans Council, AFL-CIO; the Bakers, Confectionery, Tobacco Workers, and Grain Millers Union; and the Utility Workers Military Assistance Program.
A reporter's attempted inquiry for a response to the workers' charges against Mondelez-Nabisco encountered a recorded message announcing that the corporate media office was unstaffed at that time. The call was not returned.