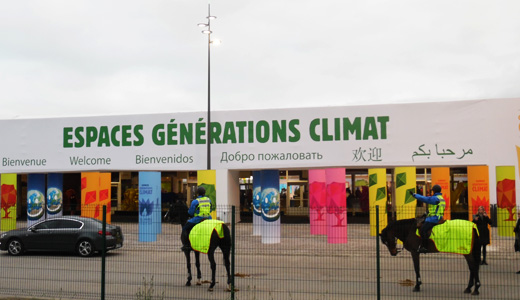 PARIS — Here at the 2015 UN Climate Change Conference (COP 21), many eyes are upon the world leaders whose talks will set the agenda for serious counteraction against climate change. But deserving of equal recognition is the action taking place on the periphery, including workshops and civil societies, and the countless young activists who have flocked to France's capital to take part in what is shaping up to become a monumental and global environmental event.
One of those environmentalists was Jackie Carter, who came all the way from Tennessee, setting foot in Paris for the first time ever, in order to observe the outcome of COP 21. But it was more than that; it was also to be a part of this wave of activism – a veritable green tide, sweeping in from numerous countries – and to hone her own skills in combating an issue she dealt with back home: climate change denial.
A member of the Sierra Student Coalition, Carter came here not as a representative for the organization, but rather, of her own accord, out of a personal desire to learn more and do more. "I'm a sophomore in college," she told the People's World, "and I've come across a lot of people back home that still don't believe climate change exists. So I want to help break away from the frequent and persistent climate denial going on in the southern U.S. I want to get a feel for everything that's being covered here, find new ways to talk about and educate people on environmental justice, and take that back with me to use in influencing others to wake up and see the real problems that are going on."
The Student Coalition, meanwhile, does have plenty of members at the conference who are representing it. A part of the Sierra Club, the coalition is a broad network of high schoolers and college students throughout the U.S. The group is fighting for climate and social justice, which, as opening speeches delivered during COP 21 yesterday confirmed, cannot be achieved apart from one another.
In the Paris suburb of Le Bourget, the Student Coalition set up a table at an important side event outside the conference proper, called Climate Generations, replete with educational exhibitions, conferences, film screenings, and more. The Sierra Club students distributed informational pamphlets, pins, and badges emblazoned with slogans like "Our Future, Our Choice," and with images of trees made out of fingerprints – commentary on the mark that people have left on the environment. Members like Jessica, who is part of the group's San Francisco chapter, came here to take part in communicating with and educating people.
And she was in good company. Katelyn Liesner came from New York to volunteer with the Indigenous and Tribal Peoples Authority Organizations of Suriname. She was impressed by the turnout at the event, enjoying being in the company of many others who have come from the states and pointing out interesting and unexpected occurrences. "Francois Hollande walked through here earlier today," she said. "But I couldn't see him. He was surrounded by people with cameras. I'm hoping Obama walks through here next. That would be really exciting."
No stranger to travel, Liesner said she had been to the villages of Suriname, remembering how friendly the people were, and recalling the exotic wildlife (like big jaguars) there. She was fully aware of the inextricable link between the welfare of indigenous peoples, the animals and ecosystems of their lands, and climate change. "I think people understand that here," she remarked. "That's why there are so many all-encompassing events." It's true – everything from student issues, to indigenous rights, to conservation, and to labor and trade union issues, is represented at Climate Generations.
The presence of so many young activists was also heartening because they came to Paris – many traveling outside the U.S. for the very first time – in the wake of the terrorist attacks that occurred here in November, and in spite of them, to boot.
"People have still come," said Liesner. "They haven't let what happened stop them, and neither have I. I remember the prices for airline tickets for Paris just dropped after the attacks, and I got kind of worried and wondered if I should still go. But I decided that I wasn't going to live my life in fear. I'm glad I came, this is a great event."
Still, the climate conference has felt the effects of those attacks, something made noticeable by the fact that the environmental demonstrations that were set to take place in Paris were cancelled – a move that has not been undone, and one that has not gone unnoticed by younger people, many of whom feel that it was the wrong decision.
"It's upsetting to me that the demonstrations didn't go on as planned," said Jackie Carter. "A huge part of why I came was to take part in those and to see all the people gathering to make their voices heard. But it's good that there are still all these side events, civil societies, workshops, and forums taking place. That's a real opportunity for people like us to really get involved and become a part of things. I'm happy I came to Paris; I'm happy and proud that so many others came, too."
Photo: Climate Generations. | Blake Deppe/PW