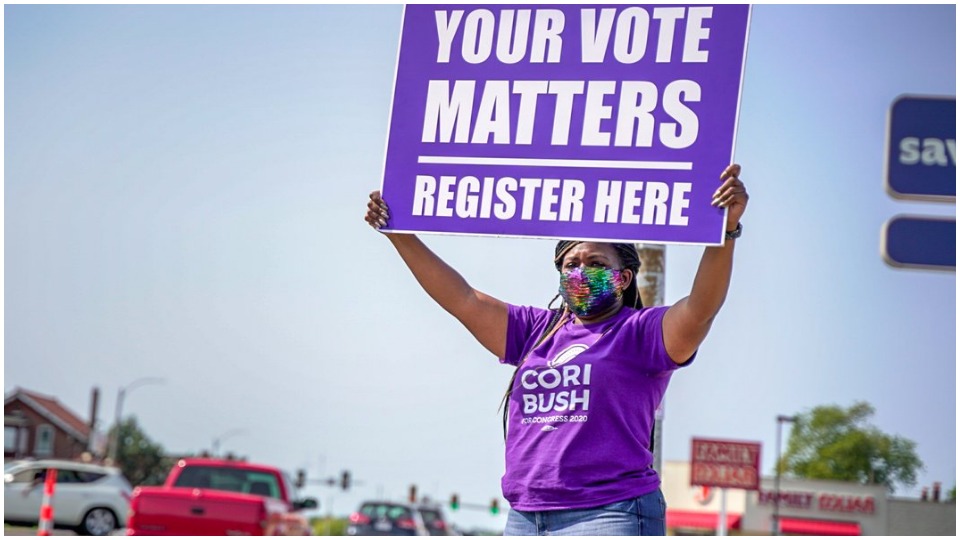 OAKLAND, Calif.—The nation's largest union of registered nurses, National Nurses United, will open a new, week-long advocacy drive for premium pay for frontline anti-coronavirus pandemic workers and protective gear for all of them on Oct. 26.
The Nurse Advocacy Action drive, which will run through Nov. 1, will feature coordinated vigils outside hospitals and nursing homes, targeting CEOs for their failure to provide personal protective equipment (PPE) to workers while pocketing millions of dollars' worth of pay and perks. The action is part of a new initiative launched by the union, the Nurse Advocacy Network.
The NNU drive is being cheered on by Cori Bush, an RN who is the prospective new U.S. representative for Missouri's First District, covering majority-minority areas of St. Louis. Bush unseated longtime Democratic incumbent William Lacy Clay in the party primary in August. She would also be Congress's first Black Lives Matter activist. She's backing the effort to support frontline workers and pushing for a mass turnout at the polls for Nov. 3.
"I never wanted to go into politics. I've been a nurse manager or clinic director for 12 years," Bush told NNU members on an Oct. 13 Zoom call in preparation for the advocacy drive. What pushed her into activism was the Ferguson police's murder of unarmed Black man Michael Brown in 2014.
Bush "went out into the streets at night" after her job shifts ended, to take care of people, or, since she's also a minister, "to pray with them." And she felt cop violence first hand while doing so. "I was stomped and tear-gassed while trying to save a woman who was having a heart attack."
"We stayed on the streets for 400 days," Bush continued. "And the number of elected officials who joined us could be counted on the fingers of one hand. They stood by during our destruction."
So she transitioned to political activism. Then the pandemic hit, including her personally, after she announced her congressional run against Clay. "I was bedridden for two months" with coronavirus, she said, one of the 26,881 confirmed cases in St. Louis city since the pandemic began.
"When elected leaders don't rise to the occasion" and help pandemic victims, "regular people do," Bush declared. Like her.
And that's exactly what NNU is doing. In addition to neglectful CEOs, a second target of the Nurse Advocacy Action Drive will be their Republican enablers in Congress, especially in the GOP-run Senate. NNU will demand those lawmakers agree to either version of the House-passed Heroes Act (HR6800 and HR925). The union will be initiating multiple actions in various areas of the country, material and coaching available from NNU for local groups.
"The CEOs and politicians are literally rolling in money, and they watch their pockets while nurses get sick and die," one NNU organizer said.
Both of the two Heroes bills would not only set aside federal money for manufacturing PPE but also force the GOP Trump regime's Occupational Safety and Health Administration to order firms to implement plans to protect workers against the virus. As of this writing, almost 8 million people have tested positive for the coronavirus in the U.S., and nearly 218,000 have died.
According to NNU, that number includes at least 229 registered nurses.
Bush told the NNU listeners her campaign platform includes hazard pay for front-line workers, such as RNs, who must battle the pandemic. It also includes a living wage plus health insurance coverage, which she lacked when she fell ill.
And it includes a key provision NNU is campaigning for that's within both versions of the House-passed Heroes Act: Forcing the president to invoke the Defense Production Act to order factories to convert to making more PPE.
And, especially, "the right to form a union must be protected," she declared.
The NNU members gave her an enthusiastic welcome and, in turn, Bush declared, "Remember, you are not alone." When she wins her safely Democratic district, working people will have another ally in Congress.
---
Like free stuff? So do we. Here at People's World, we believe strongly in the mission of keeping the labor and democratic movements informed so they are prepared for the struggle. But we need your help. While our content is free for readers (something we are proud of) it takes money — a lot of it — to produce and cover the stories you see in our pages. Only you, our readers and supporters, can keep us going. Only you can make sure we keep the news that matters free of paywalls and advertisements. If you enjoy reading People's World and the stories we bring you, support our work by becoming a $5 monthly sustainer today.