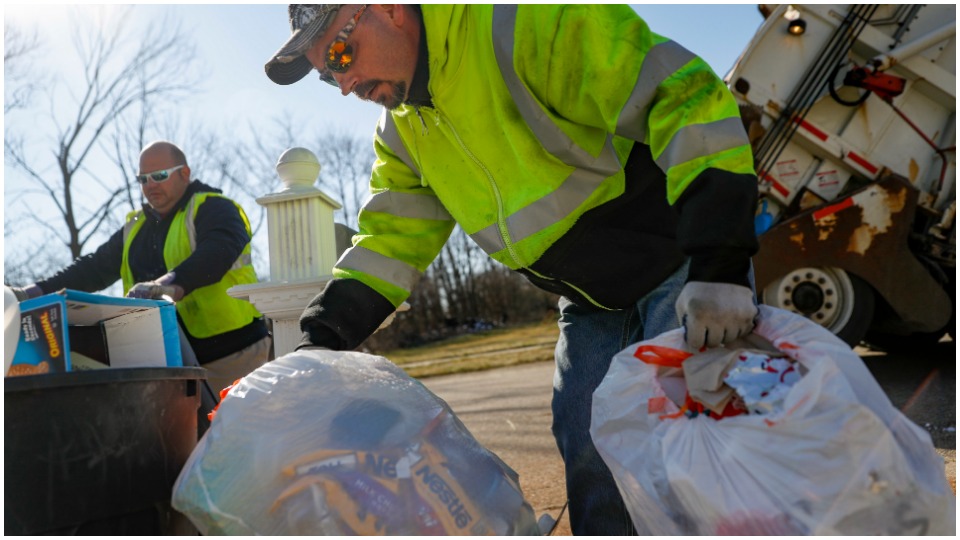 Wherever there is poor sanitation, disease and illness spread. That's why those who work in the waste management industry are just as much an "essential service" right now as are health care, pharmacy, grocery, and restaurant workers. Dealing with all the trash society produces is a dirty and dangerous job even in normal times; during a global health pandemic, it gets even riskier. The Department of Homeland Security agrees, deciding on March 20 to designate waste workers an "Essential Critical Infrastructure Workforce."
According to the EPA, each person in the United States produces an average of four-and-half pounds of solid waste every day; exactly how that number might change under quarantine conditions is unknown. It's possible that sanitation workers could soon be facing an onslaught of residential garbage as millions of people stay home and put a lot more boxes, bags, jars, food take-out containers, hand sanitizer bottles, Lysol wipes, latex gloves, and masks out on the curb.
That means heavier loads and longer hours—as well as the potential for exposure to COVID-19-contaminated trash.
For the men and women who empty the bins we all put out each week and the landfill workers who bury the stuff, there are new questions about safety and paid time off for sick employees. What precautions are the garbage companies taking to look after workers' health and well-being?
Harrison Persinger, who works for a waste collection firm in the Detroit metro area, says that "Signage regarding COVID-19 has been posted" at his garage, "and drivers have been provided with gloves and cleaners."
Despite significant automation of the industry in recent years, much of the work is still done manually. A single worker on a residential route comes into contact with the garbage of hundreds or even thousands of different individuals every day. This raises concerns about how long the virus survives on surfaces—including on the surfaces of objects put in the garbage can.
"Elevated risk of exposure"
Even more perilous is the mountain of medical waste being created as hospitals and clinics ramp up coronavirus testing and treatment. Every single COVID-19 test, for instance, produces a pile of personal protective equipment that goes straight to disposal—gowns, masks, face visors, gloves, and more. When it's disposed of properly, the most dangerous medical waste is supposed to be incinerated and never touched by sanitation workers. Beyond items such as needles and other sharps, though, a lot of these materials go into the regular garbage.
The Occupational Health and Safety Administration (OSHA) has issued COVID-19 guidelines for the industry that say beyond "typical engineering and administrative controls," no special measures are required at this time. It acknowledges, however, that waste workers are at an elevated risk of exposure. "Workers and employers should manage municipal (e.g., household, business) solid waste with potential or known COVID-19 contamination like any other non-contaminated municipal waste," the agency says.
But the National Waste and Recycling Association, the industry's main employers' organization, is requesting that federal and state authorities grant regulatory exemptions on a number of other fronts in order to keep garbage trucks on the streets and waste under control. These include such things as extensions on expiring drivers' licenses and delays in regularly-scheduled physical exams for workers at a time when medical facilities are already strained.
The NWRA's Healthcare Waste Institute has also issued its own FAQs about COVID-19-contaminated waste for workers to consult.
For workers on the garbage frontlines, some guidelines are easier to follow than others. Social distancing, for example, is not so easy for Persinger and his colleagues to stick to. Keeping space between co-workers has been recommended at his yard, Persinger says, "but it's been difficult to go about, especially with our two- to three-man trash crews sitting together in a truck for a decent chunk of the day." If one crewmember gets sick, it could be easy for his co-workers to end up infected as well.
That's why the Teamsters union is asking CEOs at the "Big Three" garbage collectors—Waste Management, Republic Services, and Waste Connections—to provide details on the steps they're taking to ensure the health and safety of sanitation workers.
In a letter sent to the companies on March 16, Chuck Stiles, director of the union's Waste and Recycling Division, made a number of specific requests. Stiles wanted to know how workers will be protected from coronavirus-contaminated waste, what kind of risk management plans are in place, and what personal protective equipment and safety training is being provided.
Stiles also asked whether the waste corporations are going to grant increased paid time off for any workers who end up ill or stuck in quarantine. "Many Americans will transition into telework to avoid exposure, including many of your corporate employees," Stiles wrote to the trash executives. "Our members, however, won't have that option. Their boots will be needed on the ground each and every day." Given existing attendance and PTO policies, Stiles said that "infected employees may find themselves…unable to afford to take unpaid medical leave."
Waste Management, the country's largest employer in the waste sector—along with competitors Republic Services and Waste Connections—says it is sticking to information provided by the Centers for Disease Control and Prevision (CDC), the Public Health Agency of Canada, and state and local agencies. No clear word on extended paid time off, yet.
At his non-unionized Detroit-area employer, Persinger says there's been no mention of extra paid sick days, either.
Essential public service in a time of crisis
The solid waste industry directly employs nearly 470,000 people in the U.S., with a payroll approaching $30 billion, and many of those workers are employed by municipal governments or smaller private collection companies other than the Big Three.
The New York Department of Sanitation (DSNY), the largest city-operated waste collector in the United States, saw its first employee diagnosed with COVID-19 on March 18 at a facility in Queens. The workplace had to be immediately shut down, cleaned, and disinfected.
A DSNY spokesperson told the media that extra risk mitigation measures are in place department-wide, including equipping garages with extra sanitizing materials, the wipe-down of all surfaces before and after each shift, and hand-washing guidelines. It is also moving up daily collection schedules to 5 a.m. to expose workers to even less crowds or street traffic.
The city's sanitation commissioner sent a letter to Teamsters Local 813 this week recognizing workers as "essential employees who perform a critical public service for the City in this time of crisis."
For those sanitation workers who are typically assigned to commercial and industrial pick-up routes rather than households, a different kind of danger is emerging: job loss. With factories, stores, malls, schools, restaurants, and offices shuttered across the nation, there is the potential for an unprecedented fall off in the amount of recyclable materials and garbage coming from such institutions.
Mike Hellstrom, secretary-treasurer of Laborers Local 108 representing some private-sector workers in New York, told Politico this week, "We're hoping it's a temporary, big ugly hiccup and that there's a really rapid recovery on the other side of it." The longer quarantines and business closures drag on, though, the grimmer the situation could become. "If it lasts until August," Hellstrom added, "I would say call me back…and I'll tell you how many people have been laid off."
Meanwhile, for Harrison Persinger back in Detroit, busy season is on the horizon. "The region I work in is about to begin compost season." Yard waste and leaf pick-up ratchets up in April, and since most people are going to be spending a lot of time at home, they'll have time for more gardening and landscaping. "Tonnage typically increases for trash and recycle" this time of year, too, he says, "due to spring cleaning and increasing summer consumption."
With COVID-19 turning life upside down and the economy along with it, no one can yet predict exactly how the waste management industry will have to adjust or change, but Persinger is committed to the job and is ready for what comes. He sees the job of sanitation workers as a public service. "Rain, snow, plague, or apocalypse, we will be here."