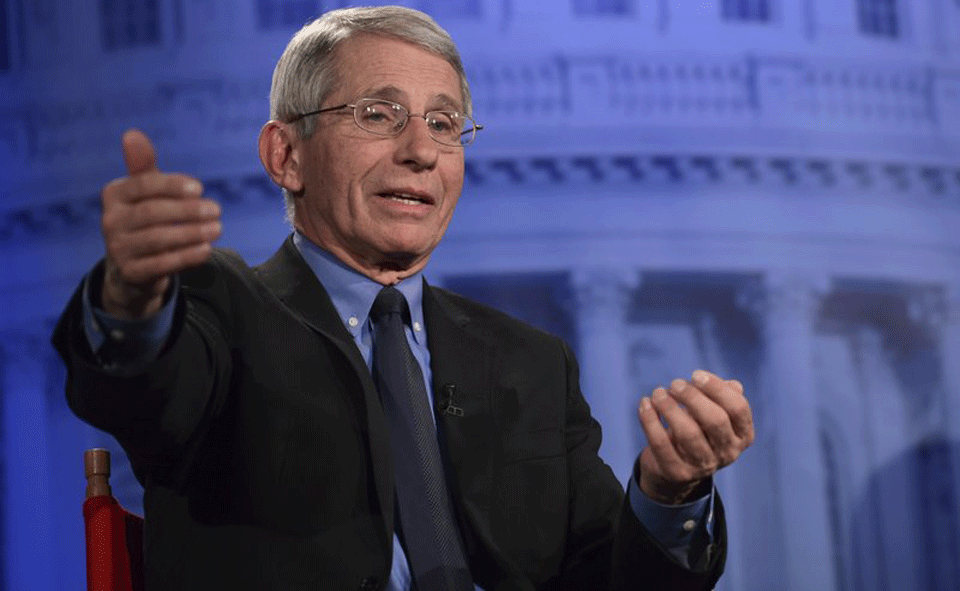 WASHINGTON — The coronavirus pandemic is roaring back with Dr. Fauci warning now that we may see 100,000 new COVID-19 cases per day. Some 45 states are now reporting hikes in daily infection rates, after a wave of sharp hikes first appeared recently in Southern and Western states that reopened too early.
The push to reopen too early, led by Donald Trump, has clearly boomeranged.
Trump is to blame, his opponent Joe Biden declared yesterday.
The boomerang is appearing in both coronavirus numbers and in forecasts from medical experts, led by Dr. Anthony Fauci, director of the National Institute for Allergies and Infectious Diseases.
Fauci, the nation's top expert on viruses, told senators on June 30 that the current number of confirmed new cases nationwide, which was more than 44,000 that day, could double to more than 100,000 per day.
"We've really got to do something about that, and we need to do it quickly. Clearly we're not in total control right now," he told Sen. Elizabeth Warren, D-Mass. "I'm not satisfied with what's going on because clearly we're headed in the wrong direction."
Texas, Arizona, Nevada, South Carolina, West Virginia, Georgia, and California all saw seven-day averages of new coronavirus cases rise by at least 25% in the past week, Johns Hopkins University's coronavirus tracker shows. Nationally, as of 8:30 a.m. on July 1, 2.6 million people have tested positive for the virus since the pandemic started, and 127,425 have died.
Biden, the former vice president and presumptive Democratic presidential nominee, who spoke at a high school in his hometown, Wilmington, Del., and then took press questions, recalled Trump dubbed himself "a wartime president" against the virus.
"Now, what has happened?" Biden asked. "It's almost as if he's surrendered, waved the white flag and left the battlefield.
"It didn't have to be this way."
Biden said that until there is a proven vaccine against the coronavirus, everyone should continue to heed science, follow the social distancing, wear the anti-viral face masks, and take all other precautions, including bans on large crowds, recommended to prevent the "community spread" of the coronavirus. He previously said that if elected to the Oval Office this fall to replace Trump, he would listen to the scientists and experts.
"Today, we're facing a serious threat, and we have to meet it," Biden continued. "We have to meet it as one country. But the president gives no direction, and he pits us against one another." Trump has also disdained, dismissed, and sidelined scientists, including Fauci.
"We can't continue like this, half recovery and half getting worse, half wearing masks and half rejecting science. We can't continue half with a plan and half just hoping for the best," Biden added.
"We won't defeat this virus with a piecemeal approach, lifting restrictions prematurely, increasing the volatility of the crisis, raising the likelihood of needing to reimpose restrictions."
The coronavirus boomerang shows up in both numbers and in political decisions, especially in "red states," whose GOP governors took their past cues from Trump. They rushed to reopen for business. The result was people discarding masks, gathering in crowds in bars, thronging beaches and shopping malls—and spreading the virus.
California reopened beaches, but Gov. Gavin Newsom (D) has had to close them again. But the impact showed up anyway: Los Angeles County is now the first in the U.S. to pass 100,000 cumulative coronavirus cases, with 103,850. And 3,371 of those victims have died.
Arizona's Trumpite governor, Republican Doug Ducey, let things run loose with unmasked bar crowds jamming up against one another. The impact was swift. Pima County (Tucson) is running out of hospital beds and nurses. And Maricopa County (Phoenix) has passed the Bronx for fourth place nationwide in the cumulative number of virus cases by county, with 48,592. Of those, 771 have died.
In Texas, the Houston Chronicle reported the state set a new one-day high in cases,  7,700, on June 30. So Harris County (Houston) extended both the city's disaster declaration and a mandatory order telling people to wear masks in public, through August 26. The order from the county's top official, County Judge Lina Hidalgo, also tells businesses to require customers to mask their noses and mouths.
That flies in the face of GOP Texas Gov. Greg Abbott, a Trump follower and early reopener. But days before the Harris County decision, Abbott, too, had to backtrack after the Texas boomerang. He ordered all Texans to resume wearing masks in public. Texas has 159,986 people who have tested positive, the fourth-highest state total in the U.S., and 2,424 deaths.
In an indication that Texas still hasn't totally accepted the need to battle the pandemic, the Chronicle also reported Abbott and Houston Mayor Sylvester Turner intend to go ahead with this month's state Republican convention there. The event will draw thousands to an indoor arena, and is precisely the type of move Fauci warned against.