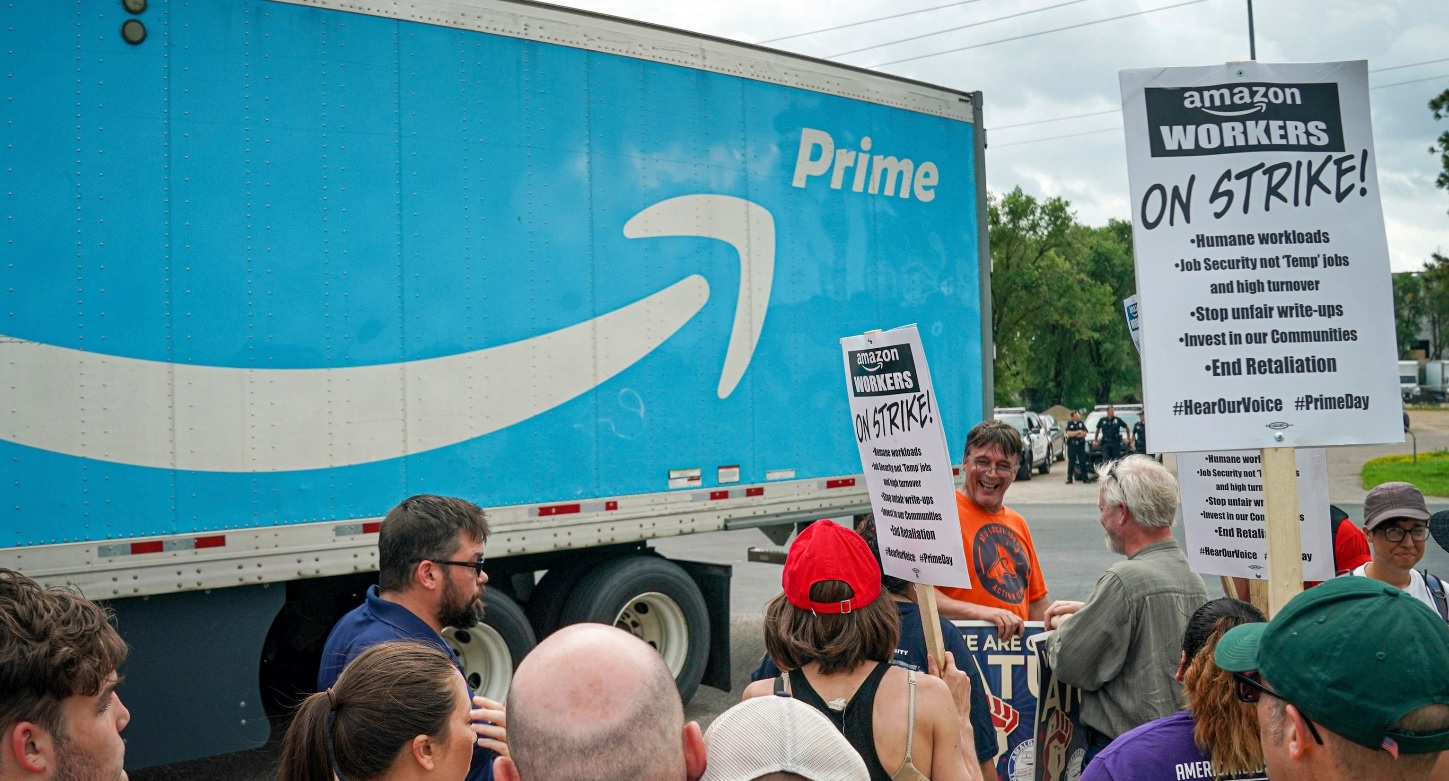 WASHINGTON —In the months since the coronavirus pandemic officially was declared in the U.S. on March 13, 2020, the nation's world of work has turned upside down—and, it seems, hundreds of thousands of workers have had their eyes opened to the need for protections unions offer.
First, the statistics:
Among U.S. workers who remained employed, the proportion working from home doubled from 22% in 2019 to 42% in 2020, the Labor Department reports. The catch is most of those workers are in white-collar occupations with access to computers and other ways of easily working without an office.
Blue-collar workers, especially working women, were much worse off. Millions lost their jobs entirely as their employers shut down, in restaurants, hotels, leisure and hospitality, the performing arts, home health care, and the like. Joblessness in hotels, motels, and restaurants shot up to almost 30%. Unite Here reported that at the worst point in the pandemic, more than 90% of its members had been laid off.
Sometimes the two types of workers had been in the same household.
A common scenario: Pre-pandemic, a working woman, union or not, would go off to her office or her classroom. A woman child care worker—often a worker of color—came to care for her toddler, at pay averaging $11-$12 an hour. The toddler's older sister went off to elementary school to be taught by a woman teacher, usually a union member, after a woman school bus driver transported her to the school building.
Then the coronavirus closed the school and the office. Both kids were at home, and so was their mother. The teacher kept teaching, via Zoom and Skype, but from her home. Mother worked from home via computer while also monitoring the kids, including the student. The bus driver wound up transporting not kids but hot school lunches to kids who qualify for them.
But guess who got laid off? And who hasn't been hired back, yet?
"Child care is now a full-time job for (working) mothers," Brookings Institution economist Lauren Bauer told the Associated Press. And the mothers tried to put in full workdays at home, but millions couldn't, she said. They were spending at least eight hours a day on child care.
Tens of millions of people who wanted or sought jobs, in the U.S. and worldwide, couldn't find them, the International Labour Organization (ILO) reported. The coronavirus had forced millions of businesses to close. "Unemployment numbers reflect only a small proportion of the jobs lost . Many people who wished to have a job became inactive because they could not see any opportunity to search for a job successfully," or couldn't search due to coronavirus restrictions, it said.
One big negative: Up to 40% of teleworkers and workers at home are now classified as "independent contractors" of one form or another worldwide. That means, in the U.S., no regular jobless benefits, no workers comp, and the worker must pay both the employee's and the employer's share of Social Security and Medicare payroll taxes.
U.S. teleworkers who are independent contractors—including those forced to telework by the virus—also don't have the right to organize. The Protect The Right To Organize (PRO) Act, comprehensive labor law reform, would make millions of them "employees," with that right, and with Social Security, Medicare, jobless benefits, and workers' comp, too.
Other millions of employed workers took pay cuts, ILO added. Working hours declined by 8.8% worldwide last year, and are projected to drop another 3% this year, with the largest loss (4.7%) in high-income nations such as the U.S. Those hourly cuts meant income cuts too: $3.7 trillion in 2020 for workers around the globe. ILO didn't have an estimate for this year's losses.
Hundreds of thousands of U.S. workers realized that while GOP Oval Office occupant Donald Trump considered them" essential" and ordered them back to work, their bosses considered them disposable. If they caught Covid-19 on the job, the bosses thought, so what? Personal protective equipment (PPE) was in short supply, even for unionized workers, as National Nurses United quickly made clear.
For "essential" production workers, the nadir came in Iowa. Bosses at a pork plant not only defied county health officials who demanded it be shut until it was safe to work, via masks and physical distancing. They also did nothing when the virus broke out—except to set up a betting pool on how many workers would get sick and how many would die. The ultimate answers were 1,000 and six. The bosses were fired. One worker's family is suing the firm.
In the U.S., many workers responded to manifestations of the coronavirus threat by realizing that if bosses didn't care for them, they'd have to unify, stand up and fight back. And that meant unionizing or turning to their unions to organize joint action against the virus.
"This pandemic amplified" positive public views about unions," AFL-CIO President Richard Trumka told CNBC earlier this year. "It showed how helpless workers are without a union. They couldn't even get PPE and unions were able to get it for them."
And the essential workers became visible when, in non-union shops, notably Amazon, they stood up for their rights, especially their right to be safe on the job, and were illegally fired for doing so.
The firings at the Amazon warehouse on Staten Island, N.Y., were so outrageous, and Amazon's reasons so flimsy, that New York Attorney General Letitia "Tish" James is investigating. "It is disgraceful Amazon would terminate an employee who bravely stood up to protect himself and his colleagues," James said when announcing the probe in spring 2020.
"At the height of a global pandemic, Chris Smalls and his colleagues publicly protested the lack of precautions Amazon was taking to protect them from Covid-19. Chris Smalls was fired. In New York, the right to organize is codified into law, and any retaliatory action by management related thereto is strictly prohibited…This action was also immoral and inhumane. The office of the Attorney General is considering all legal options," said James.
Lack of virus protection was also one reason workers at Amazon's Bessemer, Ala., warehouse, which employs 5,600, first called the Retail, Wholesale and Department Store Union. "The equation changes when you are talking about your own life and the lives of your family members," RWDSU President Stuart Appelbaum later explained.
Amazon labor law-breaking and intimidation eventually defeated the RWDSU, but not before the world learned how the coronavirus endangers workers in Amazon's warehouses. Meantime, a National Labor Relations Board administrative law judge ruled against Amazon, threw out the election returns, and ordered a rerun. Amazon is appealing the decision.
It's not just Amazon. Organizing drives occurred at high-tech firms. Other workers, still on their regular jobs and menaced at them by the coronavirus, are calling unions to discuss organizing. They range from forklift operators to grocery workers, health care workers, retail workers, and fast food workers. Workers in all those fields walked out in "protected concerted activities" last year, to use labor law's phrase. Why? Low pay, lack of virus protection, or both.
Meanwhile, NNU members staged dozens of informational picket lines when hospital bosses either wouldn't provide PPE against the virus or locked it away where the nurses couldn't use it.  A typical example: A one-day unfair labor practices strike on July 26 by NNU nurses at the privately owned Community First Medical Center on Chicago's Northwest Side.
The key causes were management's refusal to bargain on mandatory issues: Short-staffing which violates Illinois law, and lack of PPE during the pandemic. The virus killed three nurses there last year. The lack of PPE led NNU to call the Occupational Safety and Health Administration in to inspect it. It found violations and has fined the hospital $13,000.
The ILO expects such impacts from the virus and its danger will continue to reverberate among workers, in the U.S., and around the world. It's calling on governments to step in and protect workers against bosses who don't protect them against the virus.
"When the world was brutally hit by the pandemic, wide swathes of the world's workers turned almost overnight to home work as a way of protecting both their jobs and their lives," ILO concludes. "There is no doubt that home work is likely to take on greater importance in the years to come. It is thus time for governments, in cooperation with workers' and employers' organizations, to…ensure all homeworkers move from invisibility to decent work."-