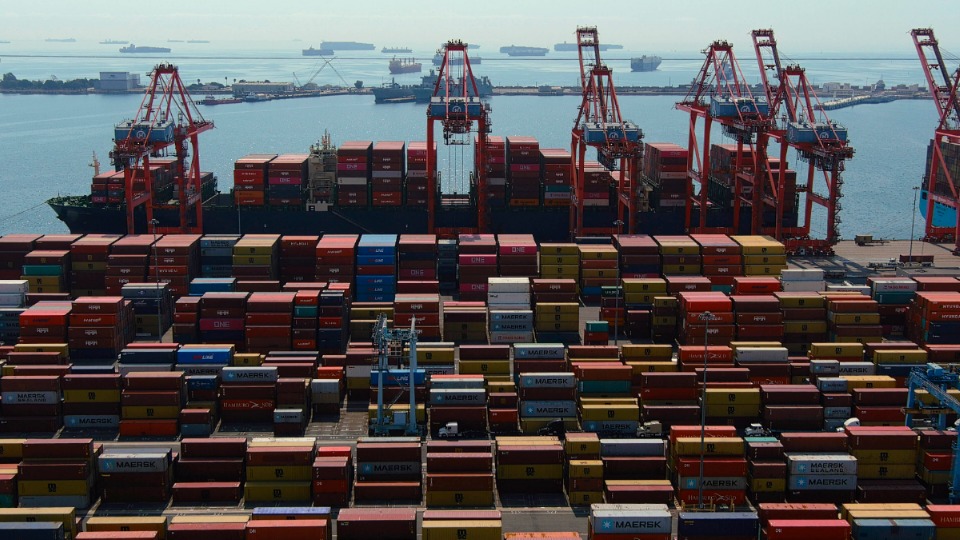 WASHINGTON—Vice President Kamala Harris met in a closed-door session Wednesday with corporate execs, union leaders, and transport giants to break the bottleneck at the Los Angeles and Long Beach ports in California, which combined handle 40% of all containerized U.S. commerce.
While the major media have been reporting on some of the decisions made at the meeting, they left out discussion that happened concerning one of the most important reasons the nation's ports are now in deep trouble: Corporate greed, reflected in misclassification of workers as "independent contractors," has intensified the disaster.
A severe shortage of port truckers and not enough rail lines and workers to staff them is behind the backlog affecting product supplies and prices across the country, a key labor participant at the closed-door meeting Wednesday, told People's World. AFL-CIO Transportation Trades Department President Greg Regan said in a telephone interview that the problem goes beyond what's been reported in the mainstream press.
Joining Harris, Regan, Teamsters President James Hoffa, the ILWU's Adams, and Secretary of Transportation Pete Buttigieg were corporate participants, including the presidents and/or CEOs of UPS—which the Teamsters have unionized—FedEx, Walmart, the Chamber of Commerce, Home Depot, the National Retail Federation, and Target, among others.
Regan told People's World that Hoffa bluntly offered a solution to the problem of a lack of truckers: "Make port trucker jobs attractive by making workers employees and not independent contractors under labor law."
Then the drivers could organize and bargain for decent pay and for the firms to cover expenses such as gas, tires, and insurance. They'd also be eligible for jobless benefits, Social Security, Medicare, and workers' comp. The Teamsters have been trying to organize the drivers for five years.
Right now, the misclassified drivers are really "indentured servants," Hoffa told the others, including Harris, Regan said. Hoffa told of one port truck driver working for more than 40 hours a week, "and after deductions, he took home a paycheck of zero."
"Make sure they're properly classified with decent wages and benefits," Hoffa added, and there'll be more drivers, according to Regan. In a later phone interview, Regan was asked how Biden administration reps reacted to Hoffa's statements. Biden's National Economic Council chair, Brian Deese, agreed with Hoffa, Regan said.
After the back-and-forth, the group reached an agreement they said was designed to both solve the nation's immediate shipping problems before the holiday shopping season hits and to get started on permanent fixes. It's those fixes—which involve ending attacks on worker rights to organize—that were ignored by most of the media.
They're necessary, Regan said, because the nation faces a fall, winter, and beyond of more transportation bottlenecks. Regan said that if the classification, wage, and benefit problems are meaningfully addressed, then it's logical there will be more drivers.
He was asked how, in front of the vice president and others, the execs reacted to the positions taken by labor leaders. "The corporate folks were smart enough not to push back," he said.
Immediate measures will include running the ports of Los Angeles and Long Beach 24/7 and adding off-peak and nighttime hours and weekend shifts, the White House said Wednesday. And big shippers, such as UPS, which is unionized, agreed to add workers to pick up freight there.
On the union side, International Longshore and Warehouse Union President William Adams pledged to find more stevedores to unload the ports' clogged cargo ships around the clock. His union represents those workers at the two ports.
Attacks on other workers and their working conditions are also behind the current disaster at the ports and will cause problems in the future if left unresolved.
Besides the port truck drivers problem, U.S. Class I freight railroad workers have problems even though most of them are unionized with AFL-CIO unions, plus the Teamsters Rail Conference, independent unions, and SEIU's Firemen and Oilers.
The railroad owners have converted to and depend upon "precision scheduling," while also lobbying for one-person (or fewer) freight train crews, over union opposition. But as a result, when a flood of imported goods, lined up in ships off L.A.-Long Beach, hits our shores, those freighters must wait at least a month to unload, transportation experts point out.
That problem could be solved by running more rail lines into the ports and employing more rail workers, Regan noted. Even though UPS and others committed to more trucks, railroads didn't commit to doing anything, according to a White House fact sheet. Railroads cut their workforces by 22% in the four years before the coronavirus pandemic hit, Regan noted.
So between the lack of port drivers, few rail lines, and cuts in rail workers, delays lengthen.
Participants also agreed to set up a White House task force to meet three times a week to hash out long-term solutions, Regan said. Those solutions include "expanding port infrastructure," using federal funds in Biden's $974 billion transportation bill pending in Congress.
Regan noted there was a key and positive difference between this session and past White House confabs on transportation difficulties: Union leaders were in the room, and were heard and listened to.
He also expects the rail unions will be part of the task force "and they'll be identifying choke points" in their industry, such as Chicago's "backed up" freight rail yards.
"And the unions can identify members who can quickly relocate to deal with chokepoint problems and how do we get out of this mess," Regan noted. "In the past, corporate America would say they're riding to the rescue without acknowledgment of how they got us into it in the first place" through their quest for ever-greater profits.