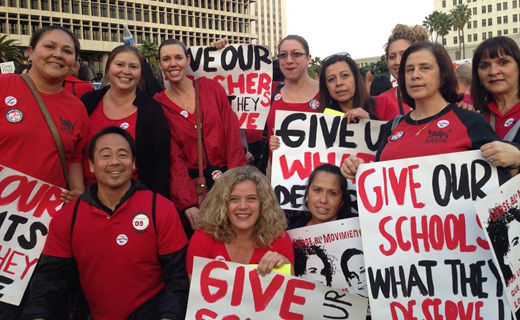 LOS ANGELES – The teachers' union here, along with parents and community leaders, faced off against a powerful, well-financed challenge from the corporate-sponsored California Charter School Association in Tuesday's school district elections.
Bennett Kayser, the incumbent backed by the United Teachers of Los Angeles, was forced into a runoff against CCSA's hand-picked candidate, Ref Rodriguez. CCSA funded a PAC called "Parent Teacher Alliance in support of Rodriguez." The runoff will take place May 19.
Bennett Kayser is a public school classroom teacher with over 40 years of community service. Ref Rodriguez is a well-paid charter school administrator who runs a non-profit charter school organization, "Partnerships to Uplift Communities." Most charter schools in Los Angeles are non-union. CCSA advocates who have funded Rodriguez include the Koch Brothers, Walmart, Microsoft, Hewlett Packard, junk bond billionaire Michael Milken, KB Home, Eli Broad, and other billionaires.
Rodriguez has attacked the teachers' union for supporting the incumbent and has falsely claimed that Kayser has discriminated against Latinos. The Latino community would have nothing to do with this desperate attack and negative campaign tactic.
In response, Bennett Kayser gathered support from Los Angeles County Supervisor Hilda Solis, labor leader Dolores Huerta, City Council member Gil Cedillo and many other elected Latino and community leaders. His support by the teachers union and his support for the Dream Act have also been well received in the community.
Rodriguez was criticized in the campaign for paying low wages to his workers while making a substantial income from his non-profit charter organization. CCSA and Rodriguez claim that charter schools save money and allow for more classroom flexibility. By contrast, Kayser said, "The charter school reformers are nothing more than privatization advocates attempting to dismantle public education."
The charter school advocates criticized UTLA for supporting incumbent Bennett Kayser. Yet it is the teachers union that has been responding and addressing concerns by parents, students and educators. The local political pundits and media never mention who the corporate sponsors are responding to. LAUSD board member Kayser said, "I will always put students first, no matter what the special interests want."
A union official not authorized to speak publicly about the campaign said, "There is indeed a need for addressing concerns and issues facing the Los Angeles school district. But do we really need corporate-style school reform where children are seen as a product, and a business system of accountability is the priority and not servicing children. What happens to teacher creativity and innovation? What happens to parent involvement outside the testing model? This is not school reform." The union, community residents and city officials hope that voters will turn out for the May 19 election. The primary election had only a 10 percent voter turnout.
Photo: UTLA Facebook page