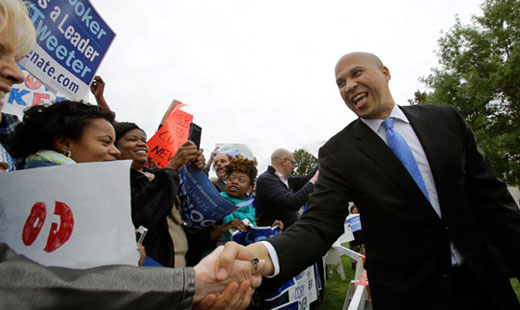 NEWARK, N.J. – Democrat Cory Booker defeated his tea party opponent Steve Lonegan and made history last night by becoming the state's first African American U.S. senator.
Booker triumphed over Lonegan with a sound margin of 56 to 44 percent.
"This victory reaffirms that New Jersey voters strongly support Cory Booker's vision for social progress, compromise, raising New Jersey's minimum wage via Ballot Question #2 this Nov. 5 and an economy that works for all," the state's AFL-CIO said today. "At the same time, this election sends a strong message that New Jersey families strongly reject the divisive and regressive thinking of tea party ploticians like Steve Lonnegan."
Lonnegan has served as mayor of Bogota, a small town in the northern part of Bergen County and tried often during the campaign to sharpen the divide between New Jersey residents in small towns and those who live in bigger cities like Newark and Jersey City.
The tea party candidate took extreme right wing positions throughout the campaign, often engaging in outrageous, slanderous and barely veiled racist attacks on Booker. In one debate Lonnegan blamed pollution in New Jerey's groundwater not on unregulated industries but on "the dead bodies killed in the streets of Cory Booker's Newark regularly dumped into our streams and lakes and offshore waters."
He supported the tea party's government shutdown but, during his campaign, like so many other Republicans across the country, tried to blame it on the Democrats.
"The tea party has proven that they are wholly unfit to hold elective office. We are glad that voters in New Jersey recognized this fact and in turn defeated tea party candidate Steve Lonnegan, who would have only exacerbated partisan discord in Washington and emboldened the obstructionist wing of the Republican Party," the state's AFL-CIO said.
"In contrast," the fedration statment added, "Cory Booker will bring together New Jersey's many diverse communities and put forth a constructive agenda focused on building up our state and nation. Booker understands that we must move beyond partisan gridlock so that we can create jobs, uplift working families and ensure that America remains a leader for social progress and economic opportunity."
Unions were out in force during the election, campaigning for Booker.
Photo: Corey Booker. AP
TOWN HALL May 2 – Confronting the COVID Economy: Women Fight Back