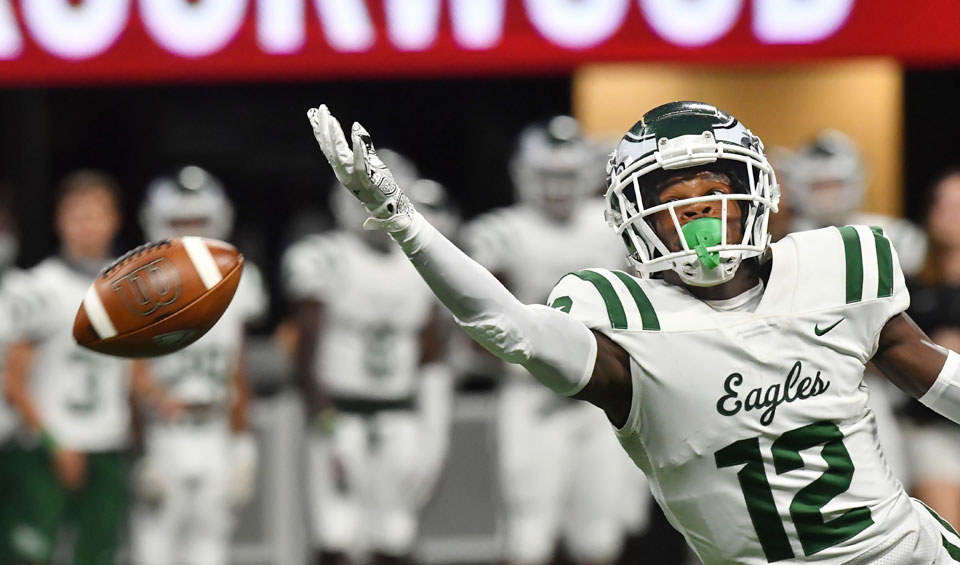 The world of collegiate sports and professional football was shocked when the number-one high school football recruit in America, Georgia high school student Travis Hunter, changed his decision to attend Florida State University on a football scholarship, a highly prestigious athletic program and farm system for future NFL players, and opted instead to attend Jackson State University in Mississippi, a historically Black college.
It was the first time in history that the country's top football recruit chose to attend a Historically Black College. The significance of this event is that up to now talented Black athletes were practically required to attend predominantly white universities under the supervision and control of white coachers, white athletic directors, white administrators, and wealthy white alumni sponsors with a mostly white fan base if they would have any hope of being drafted in the top rounds by an NFL team.
Black athletes who attended Historically Black Colleges and Universities (HBCUs) were at best relegated to the lower rounds of the NFL draft, or were undrafted and had to pursue a career as a free agent or give up any hope of playing in the NFL.
The head coach at Jackson State, former NFL star player and TV analyst "Prime Time" Deion Sanders, played a significant, even indispensable role, in convincing Hunter to break his commitment to Florida State and play instead for Jackson State. Sanders played the same position as Hunter, defensive backfield, and was one of the most successful NFL players at that position. However, in addition to identifying with Hunter as a defensive player, most importantly Sanders was able to relate his own experiences as a Black college player and the struggles he had to endure with Hunter and his family.
Decades ago, HBCUs were the only option for many Black athletes to play football and other sports at the collegiate level, especially schools in Southern and many Midwestern states, where Black students were prohibited from attending. Like the Negro Leagues in professional baseball, football programs at HBCUs attracted some of the most talented athletes in the country who could not play elsewhere. In addition, Black coaches would have the opportunity to coach some of the best players in their sport which they would not have with predominantly white schools.
For example, almost every historian of college football agrees that Eddie Robinson, who coached at Grambling State University in Louisiana, was the best if not one of the best coaches in the history of the game. He would not have been able to achieve that record, however, if he didn't have highly talented Black players who had no choice other than to attend HBCUs like Grambling.
Beginning in the 1960s with the civil rights movement and the desegregation of many universities, including those in the top tier of collegiate sports, opportunities became available for Black athletes to break into the upper echelons of athletic competition and increase their chances of becoming highly-paid professional athletes. Talented athletes who would otherwise be more likely to attend HBCUs were now actively recruited to play for predominantly white schools and supervised by white coaches. Just as Negro Leagues became extinct after Black players were openly recruited to play for Major League Baseball, athletic programs at HBCUs were in danger of becoming irrelevant or even discontinued.
When Jackson State hired Sanders in 2020 to be their head football coach, it was hoped his background, experience, and personality would help in recruiting talented Black athletes to play football there. The recruitment of the number-one-rated high school senior in the country was the culmination of hopes that moving forward more top Black athletes would be attracted to play not only for Jackson State but other HBCUs as well.
The movement of the best and most talented Black athletes from attending predominantly white schools, and favoring white coaches, to playing for HCBUs with Black coaches would be a huge shift favoring HCBUs and making them more competitive and prestigious to play for. That would result in greater attendance at games, as well as lucrative media deals promoting "name brand" recognition. That means more money, greater revenue to support not only athletic programs at HBCUs but to subsidize expenditures for non-athletic programs as well.
Although it is to be hoped that bringing more athletic talent to HBCUs will elevate those schools both academically and professionally, it is still likely that more needs to be done to enable those schools to compete on an even playing field with predominantly white schools, and for coaching and front office staff members at mostly white colleges and universities to more accurately reflect the diversity of athletic talent on the field of play.
Despite the large percentage of Black athletes in collegiate sports, it is still difficult to find a Black head coach in collegiate football or almost any other collegiate athletic program. Despite the fact that Black athletes are responsible for billions of dollars in revenue to colleges and universities, they receive only a very tiny, even infinitesimal, percentage of that revenue as compensation. On the other hand, the white coaches they play for are in some instances, especially in high-profile athletic programs at publicly-owned state universities, the highest-paid public employees in that state.
Despite spending millions of dollars' worth of self-promotional public service announcements in a campaign to improve their image on race relations and social justice, the National Football League has done nothing more than give lip service to achieving diversity within their front office and coaching staff to accurately reflect the diversity of their players who produce the revenue enjoyed by team owners, general managers, and CEOs. Last year, three of the four offensive/defensive coordinators of the two teams in the Super Bowl were African-American, and yet not one of them was offered a job as head coach despite eight vacancies.
On the other hand, a white college head coach with no NFL experience, who gained his reputation and his wealth exploiting amateur collegiate athletes, many if not most of them African-American, was hired as an NFL head coach and then subsequently fired a few months later for unprofessional conduct, personal misbehavior, and even physically abusing his players.
We can only hope that Travis Hunter's decision to reject the more glamorous and lucrative opportunity to play for a top collegiate football program at a predominantly white college in favor of attending Jackson State University will be the start of a trend for talented Black athletes to pursue their athletic achievements at HBCUs, which benefits both the schools and the African-American community as well.
A positive sign of this going forward is the decision a few days ago by Kevin Coleman, one of the top wide receiver prospects in the country, to turn down offers from the top, predominantly white, schools to play for Jackson State. Hopefully, this trend will continue to make the white coaches, administrators, and alumni at these so-called top-tier "elite" schools start to shake and sweat.
It is noteworthy that in 1970 Jackson State was the scene of an unprovoked shooting by police of protesters which resulted in the deaths of two Black students and dozens more wounded. It may be that if recent trends continue, Jackson State will become known for something more than a police massacre.