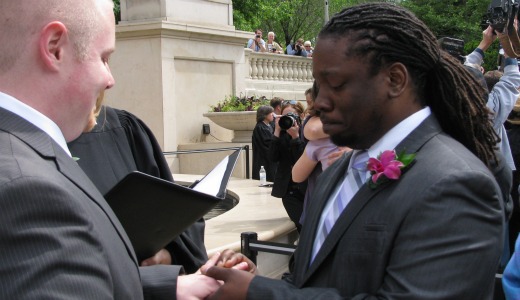 CHICAGO – Rose petals scattered on a Millenium Park pathway here was just one sign of joyous celebration of the new Illinois civil union law here, June 2, the first day of ceremonies. The bill was passed in December 2010 and signed into law by Gov. Pat Quinn in February.
In their black robes, Cook County judges performed the individual, public ceremonies for more than 30 gay and lesbian couples.
Children, families and friends of the couples surrounded them in the separate "stations" as the judges said, ""I now pronounce you civil union spouses."
Couples, many with tear-stained cheeks, kissed and then took photographs in front of the park's Wrigley Square fountain and Greek Doric-styled columns.
Quadree and Troy Holmes of Forest Park, Ill., were among those celebrating their union with family members. In grey suits and deep pink boutonnieres, the couple of six years, renewed their commitment to each other.
The civil union law is "huge," said Quadree Holmes, 32, "it's nice to know that our relationship is finally recognized by the state. And we have similar rights as other couples.
"We want to grow old together and raise a family," he said.
Troy added that the ceremony marks a "renewal" of their commitment to each other, not the beginning, a theme repeated throughout the event. (Story continues after slideshow.)
Gov. Pat Quinn said one of the "most important bill in anybody's memory" meant "everybody is in and nobody left out" in Illinois.
"Love is patient, love is kind, love never fails," he said.
Mayor Rahm Emmanuel thanked the governor for his leadership, and said the city made sure to announce that health care and other benefits for city workers are now extended to civil union partners.
The law provides that same-sex and opposite-sex civil unions are accorded state-level rights and benefits automatically granted for married couples. Among them, civil union couples can make medical decisions for an incapacitated spouse, receive survivor benefits from a state pension and inherit property if the spouse has not made out a will.
Two hundred supporters clapped and held signs of "Congratulations" and "Equality" outside the park. Pastor Trey Hall stood with a colleague and parishioners from the year-old Urban Village Church, which welcomes gay and straight worshippers with a tag line: Bold. Inclusive. Relevant. We're doing church differently.
"This is a small step of making equal the covenant of love," Hall said. "These couples have been in love for a long time. The law doesn't validate their humanity, but it recognizes them as equal citizens."
Hall said he hoped marriage equality would not be too far off in the future. "I'm not a politician, but people generally are saying yes to gay and lesbian couples."
As if to highlight the shift in public attitude, just past the numerous supporters and celebrants stood four men who held a brief prayer together and then unfurled a "defense of marriage" banner.
According to recent nationwide polls, for the first time more people support same-sex marriage than oppose it. Yet laws are slower to catch up to public opinions. Illinois is only the sixth state to pass civil union law. Five states plus Washington, D.C. and the Coquille Indian Tribe in Oregon grant marriage licenses to same-sex couples. New York, Rhode Island and Maryland recognize same-sex marriages but do not grant licenses.
In 1996, the Congress passed and President Bill Clinton signed into law the Defense of Marriage Act that says the federal government defines marriage as only between a man and a woman, denying same-sex couples more than 1,000 rights and benefits.
Gay and lesbian rights groups applauded the decision by the Obama administration to stop defending DOMA in the courts because it was unconstitutional.
Photo: Quadree Holmes places a ring on Troy Holmes' finger during their civil union ceremony in Chicago's Millenium Park, June 2. (PW/Teresa Albano)