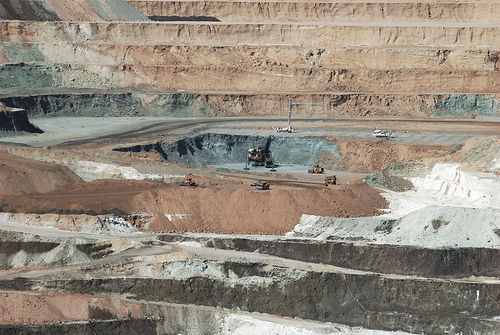 The recent victory of workers at Rio Tinto's huge mine in the small town of Boron, tucked away in southern California's high desert, is a textbook case of how to win against a giant transnational corporation.
"It was David vs. Goliath," International President Bob McEllrath said in the latest issue of the Dispatcher, publication of the International Longshsore and Warehouse Union (ILWU).
Some 570 miners, their families and their union in Boron faced down Rio Tinto, the giant conglomerate operating mines in five continents, in a hard fought battle to save their union, their working conditions and their town.
In the end, after a 15-week lockout, ILWU Local 30 members approved a new contract May 15, pushing back the package of 81 "take-away" demands they had rejected one day before the Jan. 31 lockout.
"We're going back with our heads held high, but we're also guarded about dealing with a company that locked us out," said Terri Judd, Desert Storm veteran and official spokesperson for Local 30 members during the lockout.
Under the original management takeaway ultimatum, the company demands included authority to cut employee pay at will, to give raises to those of their choosing, to convert full-time jobs into part-time positions, and to do away with seniority.
The new six-year contract that members approved by a 75 percent vote margin guarantees annual wage increases of 2.5 percent across the board, provides a $5,000 one-time bonus per worker, protects full-time jobs and seniority rights, and sends scabs packing, the Dispatcher reported.
Local 30 President Dave Liebengood praised the membership for "sticking together and fighting for the best agreement we could from a company that wanted to destroy our union."
"We didn't get everything we wanted, and we had to make some compromises," Liebengood added, "but the final contract was a real victory for us."
The compromises included replacement of guaranteed pension benefits with a 401(k) savings plan for new hires, according to the Dispatcher.
The miners and their union fought off a powerful and resourceful transnational corporation that walked away with nearly $5 billion in profits in 2009 despite the global recession.
But the widespread united action with which the workers and the ILWU met the company's challenge was no less powerful and resourceful and, in the end, perhaps more so.
ILWU President McEllrath said, "Beating back Rio Tinto was a huge undertaking and a victory for the labor movement." He noted the new contract "sets the standard higher for other mining contracts."
The ILWU International, working with Local 30, mounted a national and international campaign of solidarity with the aim of guaranteeing the unity and wellbeing of Local 30 members and their families during the lockout while exerting maximum pressure on the company in the U.S. and globally. (For more detailed information refer to the April/May 2010 issue of the Dispatcher www.ilwu.org).
McEllrath credits the victory "to the courage and effort by the members and leaders of Local 30, and to the solidarity within our ranks and from those around the world who still believe: An injury to one is an injury to all."
Photo: Rio Tinto's borax mine in Southern California. (CC)