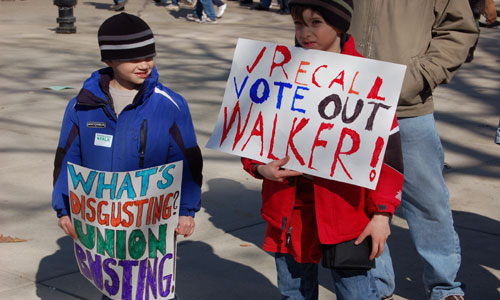 MADISON, Wis. – Late Friday afternoon a federal judge here struck down two parts of GOP Gov. Scott Walker's 2011 anti-worker law that killed collective bargaining rights for public workers.
U.S. District Court Judge William Conley ruled against the provision that ended payroll deduction for public sector workers' union dues and also ruled against the section that required unions to win 51 percent support of all employees in units that are certified to represent during annual recertification votes, instead of the majority of employees who voted.
Under Walker's law, all those who did not vote were to be counted as "no" votes.
"This proves that Gov. Walker rammed through his radical and secret agenda without regard to the U.S. constitution, the rule of law, or to what is right and fair for the people of Wisconsin," said Wisconsin State AFl-CIO President Phil Neuenfeldt.
Neunfeldt warned, however, "there is still much to be done before we reverse the harm that Gov. Walker has done." The union leader said that while the labor movement is pleased that the courts are seeing through the governor's attempt to flout the First Amendment, the rulings actually raise the stakes for upcoming recall elections.
"The reality remains, even after the court rulings," Neunfeldt said, "that Walker lied his way into office by concealing plans to wipe out 50 years of collective bargaining, and the fight continues until the right of workers to negotiate for fair wages and safe working conditions is fully restored."
Photo: A family in Madison protests Walker. Blake Deppe/PW