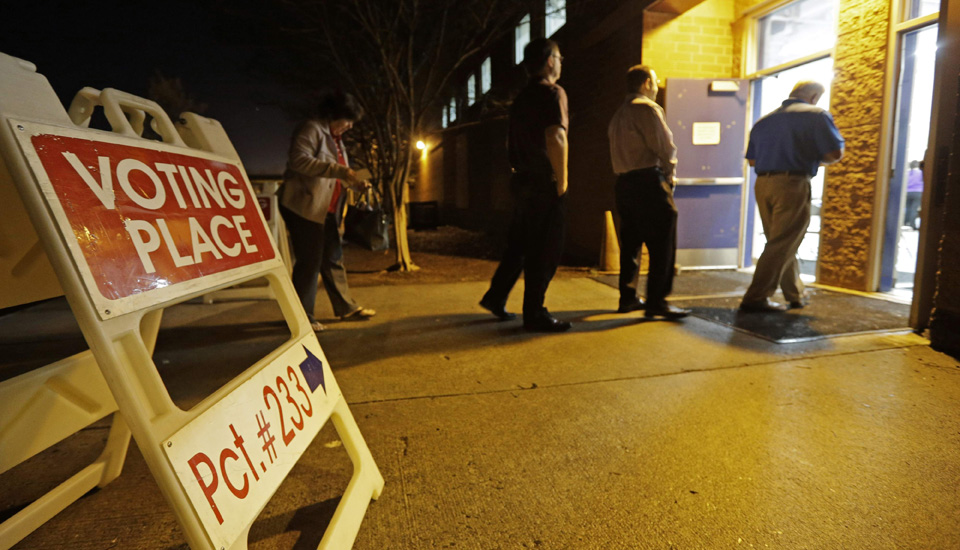 Add Ohio to the list of states where Republican efforts to restrict voting have been struck down by courts.
A federal appeals court has said that a rule used by Republican Secretary of State Jon Husted to decide who should be removed from Ohio voter registration rolls is illegal.
In recent months, courts have struck down North Carolina's voter identification law, Wisconsin's restrictions on early and absentee voting and Kansas' proof of citizenship requirement. Also, a judge blocked North Dakota's voter ID law and an appellate court sent Texas' voter ID law back to a lower court with instructions to devise a way to allow those lacking state-approved identification to be able to cast a ballot.
In each and every case, the restrictions on voting had been put in place by Republicans who had gained control of state legislatures and governorships.
And now a three-judge panel of the U.S. Court of Appeals for the Sixth Circuit has said that Ohio's "use it or lose" rule for deciding who stays on and who is removed from voter registration lists violates the National Voter Registration Act of 1993.
Under "use it or lose it," voters not responding to letters seeking to confirm their addresses and who have not cast a ballot since 2008 were removed from lists of eligible voters.
Tens of thousands of voters had been removed from the eligibility lists by Husted. They were disproportionately voters of color, poor, and Democrats.
According to the Washington Post, a study done by Reuters found that in Cleveland, Cincinnati and Columbus, Husted took voters in Democratic-leaning areas off the rolls at about twice the rate as voters in GOP-leaning areas.
The Ohio chapter of the A. Phillip Randolph Institute and the Northeast Ohio Coalition for the Homeless took Husted to court. They were represented by the American Civil Liberties Union of Ohio.
They lost in U.S. district court.
The U.S. Justice Department then joined the plaintiffs and took the case to the Appeals Court.
In overruling the decision of the lower court and knocking down "use it or lose it," the Appeals Court judges waxed eloquent and a bit sarcastic. "A state cannot avoid the conclusion that its process results in removal 'solely by reason of a failure to vote,'" the Court said, "… by providing that the confirmation notice procedure is triggered by a registrant's failure either to vote or to climb Mt. Everest or to hit a hole-in-one."
Ohio Republicans have expressed concern that the Appeals Court ruling might lead to voter fraud. However, according to the Post, a 2014 study by Loyola Law School professor Justin Levitt found a mere 31 cases of voter impersonation out of more than a billion ballots cast.
Ohio Democratic Party Chairman David Pepper called the Appeals Court decision "a huge win for Ohio voters."
Nevertheless, Ohio voters will remain burdened by a limited early voting period.
After voters faced long lines in 2004, the state added an additional week of voting.
When the Republicans captured the Ohio legislature, they took back the week.
The Ohio Democratic Party appealed to a federal judge who found this to be unconstitutional but his decision was overturned by an appeals court and the Supreme Court refused to intervene.
Photo: Despite the favorable court ruling Ohio voters will still be burdened with short early voting periods forced on them by the GOP. Long lines at Ohio polls were what motivated the state to introduce additional days of early voting. Now the GOP has taken them back.  | AP